A Foreign Ministry spokesman announced the Premier will visit Kazakhstan, Serbia and Thailand from Dec 14 to 20. Connectivity and trade will dominate the to-do list and will involve economies in Central Asia, Central and Eastern Europe and Southeast Asia.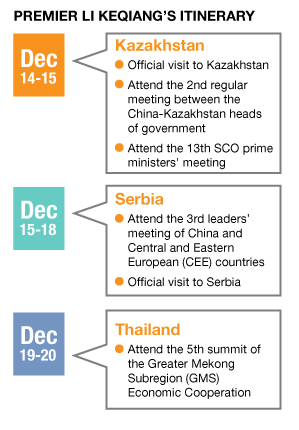 China will continue to follow the diplomacy of amity, sincerity, mutual benefit and inclusiveness as well as strengthening partnership and friendship with neighbors.
Speaking at the Opening Session of the Greater Mekong Subregion Summit in Bangkok, Thailand on Dec 20, 2014
We will firmly uphold regional peace and stability and firmly support the process of ASEAN integration, and will always take ASEAN as a priority in our diplomatic agenda.
Speaking at the Opening Session of the Greater Mekong Subregion Summit in Bangkok, Thailand on Dec 20, 2014
PREVIOUS VISITS