Speaking at big data summit, Premier Li stressed integrating innovation and craftsmanship spirit to fuel reforms.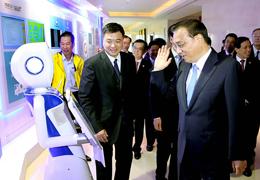 Premier Li Keqiang said at a big data industry summit that China will integrate informatization with the real economy.
China will create a more equal market to attract foreign investment in big data and e-commerce, Premier Li said.
If we can incorporate new technologies, such as big data, into the craftsman's spirit, the products we make will better meet the demands of consumers.
At China Big Data Industry Summit in Guiyang on May 25
When cutting excess capacity, superfluous workers must be transferred to other jobs instead of being laid off.
During a visit to the Wuhan Iron and Steel Corp on May 23