The growth of the Chinese immigrant population in Toronto also has seen an increase in Chinese supermarkets. Some are concerned that immigrants who shop only at the stores will not integrate into society, but others believe that will not happen as the ethnic stores move closer to the mainstream and represent the embodiment of multiculturalism in Canada, reports Li Na in Toronto.
Zhang Chunyan, a resident in Richmond Hill, a town located north of Toronto, drives 30 minutes every Saturday to a supermarket in the capital city with a shopping list that includes chicken paws and marinated pork feet.
He's not alone.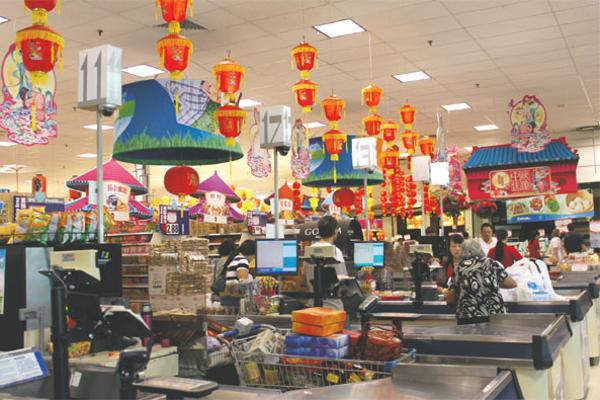 Chinese supermarket Foody Mart is decorated with Chinese red lanterns to celebrate the Mid-Autumn Festival.Li Na / China Daily
Along with the growth of the Chinese Canadian community have come Chinese supermarkets. Since the mid-1980s, more and larger Chinese supermarkets have opened in Toronto's suburbs. Now, more than 200 Chinese grocery stores of various sizes are in the greater Toronto area to serve the Chinese and Asian population.
That population has become the fastest growing ethnic group in the country with 537,060 Chinese living in the area, according to the 2011 census, the latest available data.
Whether they are newcomers or well-established immigrants in Canada, ethnic Chinese prefer to shop for food at a Chinese supermarket not only because some items may not be available elsewhere, but also because they feel more comfortable speaking their own language and getting service like at home, according to Lucia Lo, a professor of geography at York University in Toronto.
Lo did a study of ethnic identity and the cultural translation of the marketplace a couple of years ago that consisted of surveying more than 500 Chinese and non-Chinese families.
Critical factors
Apart from price, which is regarded as one of the most important factors in a purchasing decision, culture is another critical factor that affects the ethnic shoppers' decisions, Lo said.
"Not only Chinese customers, all the people here prefer to shop in a supermarket which reflects their own cultural background," she told China Daily. "The shopping environment is distinct between Chinese and non-Chinese."
Dr Ken Ng, president of the Federation of Chinese Canadians in Markham, believes that there is a tendency for immigrants, especially new ones, to find a place where they can be comfortable and which feeds their nostalgia for home.
"This is especially so with immigrants who do not know the English language well," he said. "Chinese supermarkets are therefore places where they can gather and exchange news or talk about things at home. This is not just so with Chinese immigrants but with other ethnic groups too."
While the growth of ethnic supermarkets has been a welcoming signal to the Canadian economy, some say the expansion may reduce the need and desire of immigrants to integrate with mainstream society.
"On the one hand, the Chinese have created an ethnic economy away from their home country. This is an important step toward achieving economic integration," said Wang Shuguang, a professor of geography at Ryerson University. "However, Chinese-owned and operated supermarkets should not be too narrowly focused on consumers within the Chinese group. A broader customer orientation not only helps with business success, but also enhances social integration."
For Zhang, who came from Hubei province in China three years ago, driving to the Foodymart Warden Branch in Toronto means it's easier to not only find Chinese food for his family, but "buy various vegetables there which are cheaper than anywhere else".
A two-minute drive from Foodymart is the T&T supermarket Warden & Steeles branch in Markham, where Zhang can buy Asian snacks and daily food supplies.
Like many Chinese residents in the greater Toronto area, Zhang and his family will split their food shopping between a Chinese grocery store and a local supermarket, such as Costco or Nofrills.
Founded in 2001 by a group of Chinese immigrants from Fujian province, China, Foodymart has grown into a chain of eight large-scale Chinese supermarkets. In its Warden branch with 60,000 square meters of store space, the daily number of customers often reaches 10,000, according to Wei Chengyi, president of Foodymart Corp.
Although Chinese supermarkets also carry non-ethnic food, the shopping environment is very Chinese not only in decorations, but also among the workers, with most of them of Chinese background.
Right after Christmas Day last year, the Warden store was fully decorated for the upcoming Chinese New Year and the food aisles were full of special items in celebration of the big day.
More holidays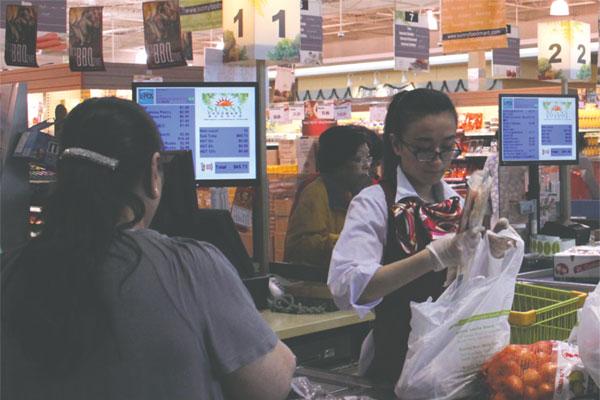 Cashiers in Sunny Foodmart. Some Chinese supermarkets have expanded to serve different ethnic groups with diverse products and the cashiers they hire.Li Na / China Daily
During the Chinese Dragon Boat Festival in early June, more than 30 types of rice dumplings were on sale in the store, including Rice Dumpling with Rose & Longan, Osmanthus & Red Dates, Shanghai Rice Dumpling, and Taiwanese Rice Dumpling.
Now it's time for another Chinese holiday, the Mid-Autumn Festival, and the store has been decorated with Chinese red lanterns to attract people to buy the festival's traditional food, moon cakes.
"We try to keep the Chinese traditions within our shopping space," said Wei. "Since we are far away from our home country, we hope our descendants can experience our traditional culture through the Chinese festivals provided here."
More than 60 percent of Foodymart's products are imported from China and Asia, and cooks prepare varied Asian cuisine at the store all the time for customers to taste.
"The markets are also social and cultural spaces to consumers, thus the ethnic Chinese entrepreneurs reproduce homeland images and reinforce ethnic identity in the consumption atmosphere," Lo explained.
Some Chinese immigrants to Canada differ from newcomers who want to continue the way of life they experienced back home, and they try to integrate into the culture of their new country by shopping in mainstream or general stores. Still others try to find a middle ground, according to both Lo and Wang.
Expanding to serve
A few of the Chinese supermarkets have expanded to serve different ethnic groups with diverse products and even the cashiers they hire. One of them is Sunny Foodmart. The multicultural grocery chain store is run by another Fujian group and led by Bill Chen, a young Chinese Canadian who was a student before he came to Canada in 1999.
After launching the Leslie and Finch store in 2004 as an Asian supermarket that catered to Chinese and Korean customers, Sunny Foodmart started to diversify.
When its Don Mills store at Flemingdon Park Shopping Centre opened in November 2010, the 35,000-square-foot store attracted a long line of local shoppers. Sunny Foodmart had stocked multicultural food and ingredients and even reached out to Muslim customers with a certified Halal meat counter.
"We aimed for both Chinese and multicultural, and we are very mindful of the area's Muslim core," said Chen. "Our management team made friends with Muslims for advice on how to get the Halal goods to be unique."
The store's regular meat counter also carries pork, which is 100 meters from the Halal meat counter, and has a separate receiving door and storage cooler.
"Canada is a multicultural society and our business needs to diversify, too," said Chen.
While Wang believes that Chinese supermarkets should try to become more multicultural, he said: "It would be a challenge for ethnic supermarkets to attempt to translate themselves to non-ethnic consumers, unless they have abundant resources to operate a large store network and be able to compete with other large chains."
Immigrant owned
The owners of Foodymart and Sunny Foodmart came from Fujian, China. It is said that 90 percent of Chinese supermarkets in the greater Toronto area are owned by the Fujianese immigrants.
"We borrow money from relatives to start up the business; it's our tradition to help each other in Fujian community," said Chen.
In 2010, seven Fujianese-operated supermarkets formed a business alliance known as the Oriental Food Mart.
Yu Jianwei, commercial consul of the Chinese Consulate General in Toronto, noted that some of the Chinese supermarkets have expanded, operating chain stores in small and medium-sized cities and created job opportunities in local areas.
Many Chinese stores do not necessarily target only the Chinese community; they are trying to serve all communities. An example is Pacific Mall, an Asian shopping center in Markham where various types of people, not just ethnic Chinese, shop.
Some of the supermarkets have become anchor stores in mainstream shopping plazas, serving Chinese as well as non-Chinese consumers and taking market share from mainstream retailers.
In 2009, T & T Supermarket, Canada's largest Asian supermarket chain, which was established in Vancouver in 1993, merged with Loblaw Companies Ltd, the largest food retailer in Canada. T & T is set to continue to expand, bringing Asian products to even more Canadian mainstream families.
"Our mission is to bring fresh foods to Chinese-Canadian families and introduce the Asian foods and culture to mainstream Canadian families," said Paul Ho, T&T's marketing manager.
"This is an important step toward achieving economic integration," Lo said.
In recent decades, Toronto has developed a singular distinction: the city of diversity, according to research conducted by Martin Prosperity Institute.
From its summer festivals to its TV news teams to its municipal motto, "Diversity Our Strength," Toronto's identity is tightly intertwined with this perception of itself.
Skills to improve
"I am happy to see immigrants come here and run their various and diversified businesses successfully; the more, the better," said Michael Chan, minister of citizenship, immigration and international trade.
"I don't think that the rise of supermarkets owned by Chinese Canadians poses a challenge for integration. Ontario has created an environment to welcome all ethnic groups with open arms, where all can live together in harmony. If an individual wishes to be actively engaged with society, a supermarket won't be a problem," he said.
Chan noted that Ontario supports newcomer settlement programs across the province that have helped thousands of Chinese Canadians learn English or French, as well as skills to improve their economic integration.
Meanwhile, ethnic-owned and operated supermarkets are suggested to not only focus on the consumers within the ethnic group. A broader customer orientation can help to enhance the business success and social integration.
Chungsen Leung, MP and parliamentary secretary for multiculturalism, said, "We encourage ethnic businesses to participate fully in the society to build Canada."
While saying that Chinese immigrants have made tremendous contributions to the Canadian economy over the last 30 years, Leung said: "At the same time, they also need to integrate in the main society so they won't isolate themselves. We hope it will change with time, with the next generation growing up."