Cultural challenges provide a steep learning curve for star architect Meinhard von Gerkan. Liu Wei reports in Hamburg, Germany.
Meinhard von Gerkan, 79, has left his print across Germany. Considered as one of the country's patriarch architects, his name is behind numerous landmarks, such as the Berlin Central Station and the Berlin Olympiastadion, which hosted the 2006 FIFA World Cup.
Yet in the past two decades, the most important stage to showcase von Gerkan's expertise and experience has been China, a country in the midst of a drastic transformation of both economy and landscape.
Of more than 130 of von Gerkan's projects in China, the best known is the refurbishment of the National Museum of China, the largest of its kind in the world, which covers 192,000 square meters and accommodates 19,000 visitors daily.
Situated at the east of Tian'anmen Square near the Forbidden City, the venue that was built in 1959 has been more than just an exhibition hall from its beginning, and is also a symbol of the 5,000-year-old civilization's past and future.
Its refurbishment was a continuous process of competition and negotiation, especially for a foreign architectural firm.
Von Gerkan, Marg and Partners Architects, the firm von Gerkan co-founded with Volkwin Marg in 1965, one year after von Gerkan completed his architectural studies at the Carolo Wilhelmina Technical University in Braunschweig, was one of 10 companies that bid for the project.
Gmp previously had prominent commissions, including Tegel Airport in Berlin first designed in 1965 to handle 2.7 million passengers, which still works well for 19.6 million travelers now, and multiple urban planning projects, theaters and transportation facilities across the world.
However, in 2004, gmp was a relative newcomer in China known primarily for designing a school and apartment complex for the German Embassy.
Von Gerkan and his partners had to compete with nine of the world's best architectural firms, including Foster and Partners, Kohn Pedersen Fox, OMA and Herzog & de Meuron.
Gmp won quick favor from the Chinese authorities, though, by a bold plan of substantially converting and extending the original building.
The plan included a large exhibition space - 30 percent of the total exhibition capacity - in a voluminous attic floor, which was situated above a grand hall and could be reached via long escalators. The roof would be clad with polished copper and include a protruding parapet.
The special feature of the design was that visitors who ventured up to the elevated exhibition floor would be offered a view of both Tian'anmen Square and the Forbidden City, forming a visual dialogue with the vicinity.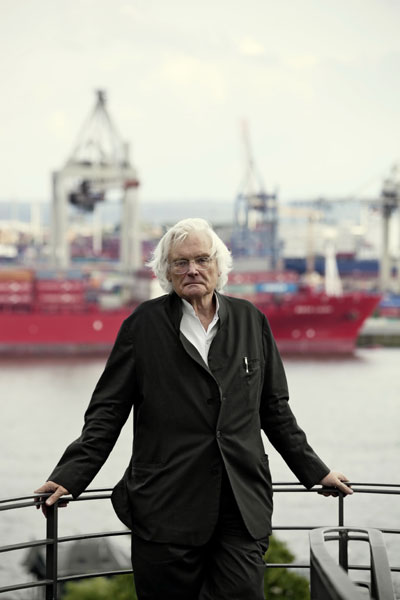 Meinhard von Gerkan is one of Germany's best-known architects. [Photo by Jessica Broscheit/For China Daily]
However, as the design progressed into more details, severe public criticism arose.
The design was discussed on TV as to whether it remained a Chinese building with any Chinese identity, and above all why a foreign firm was designing China's national museum.
"We were asked if we would be willing and able to change the first design," says von Gerkan in gmp's headquarters in Hamburg, Germany. "They wanted us to find a middle ground, to bring our design nearer the existing situations of Tian'anmen Square, the Forbidden City and Mao Zedong's memorial hall, not to break from the past, but to bring it together.
"I told the client we could do that, but the gmp has its own philosophy, which highlights function, dialogue and simplicity among others - we can do that if we stick to the philosophy."
The negotiations went on for a year and the foundation stone was laid in March 2007.
"You may call it a compromise, but it is also a combination of East and West, old and new," says von Gerkan.
The revised design tries to retain the uniformity of the original roof parapets, considered to be part of a long Chinese tradition and one of the most conspicuous architectural elements in China.
As a result, the roof is clearly inspired by the Forbidden City, but instead of traditional ceramic tiles, they are made of colored metal for a more contemporary look.
The entrance doors has perforated bronze plates that filter daylight and thus produce a muted atmosphere in the interior, such as is peculiar to traditional Chinese buildings with their ornamented window shutters.
The motif of perforation was inspired by an ancient bronze artifact among the million works of art that make up the museum's collection. This ornamentation also recurs in the balustrades in the interior of the museum.
At the same time, the interior space, using cherry wood, bronze and granite, is a contemporary, austere and straight-lined space with 48 exhibition halls, a 712-seat theater and 264-seat cinema, a library and a hotel, among other modern facilities.
"The museum is a result of the successful compromise and combination between old and new, between traditional Chinese and modern international architecture, with the latter deferentially fitting into the local culture," von Gerkan says.
In the preface he wrote for gmp's The National Museum of China in Beijing, a book on how the refurbishment was completed, the museum director Lu Zhangshen said the design "fulfills all aspects of functional and aesthetic aims".
The success of the National Museum brings more business opportunities for gmp in China, where the booming economy is showcased by the aspiration to change the urban look.
Half of gmp's current clients are from China, including second-tier cities like Chongqing and Qingdao, as well as a satellite city in suburban Shanghai called Lingang.
"There is no doubt, China is now the most important client of gmp," von Gerkan says.
It is also one of the most challenging clients, he says. The cultural differences, which gmp dealt with in the National Museum refurbishment, provide a steep learning curve.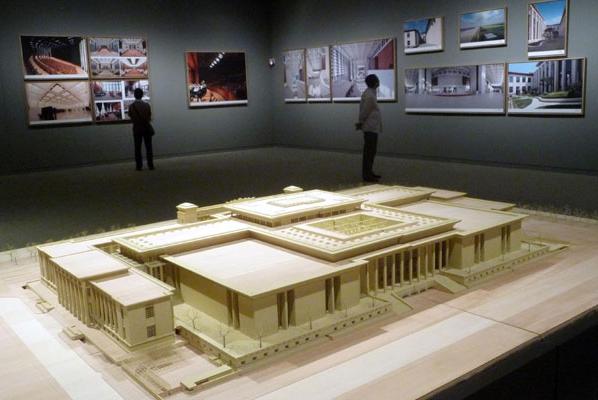 The architectural model of the National Museum of China is on display in the museum after its re-opening in 2012.[Photo by Wen Bao/For China Daily]
Von Gerkan says when he first came to China in the 1990s, the clients cared for only two items, time and cost, not quality. Things have greatly improved now, he says, but time is still a key factor.
"In China, a project is largely dependent on a powerful person's decision, which is very different from the situation in Germany. What in Germany progresses at a snail's pace takes place at breathtaking speed in China," he says.
"The advantage is, the efficiency would be much better - plus people here work 12 hours a day, seven days a week; but the disadvantage is equally obvious. If the powerful person has bad taste, it will be a disaster."
Such a disaster happened on one of gmp's projects in China, when von Gerkan found the client had covered an area supposed to be lawn with artificial grass, because it saved time.
The architect was furious and protested, and the offending fake grass was removed. Ironically, in a typically Chinese speed of only three weeks, a real lawn was laid out.
The ambiguous Chinese way of doing business - often in the context of social activities such as a shared meal - was also a subtle issue for von Gerkan.
He recalls when bidding for the Shanghai Lingang New City project in 2003, gmp was among three final candidates picked up from about 10 by the client.
They were all invited to dinner with the government authorities one night to announce the result. His Chinese partner Wu Wei went to the dining room before the feast started and came back to congratulate him, because he saw von Gerkan's place card was next to head of the organizing committee of Lingang. Von Gerkan did not believe the seating order meant gmp had won the bid, but it turned out where you are seated means a lot in China.
The architect still loves doing business in China, although sometimes a "perhaps" may actually mean "no", and the straightforward German style of giving frank opinions could lead to embarrassment.
"To compare the Chinese and European thinking is meaningless, it is like comparing a rose and a duck, they are just two different things," he says. "But in China, you definitely have more opportunities to try experimental ideas."
He spoke of a number of Western architectural works in China in recent years, among which he particularly dislikes the CCTV building in central Beijing, nicknamed by Chinese the "big underpants" for its twisted structure and two "legs".
"It is a total disaster," he says, "because it is only a symbol for itself and in fierce conflict with its surroundings. It is dysfunctional, too, with too much steel and glass in it."
Good architecture, says von Gerkan, who will celebrate his 80th birthday in January, has a standard that barely changes over time.
"It needs to provide both atmosphere and function for the humans living or working in it," he says. "And those two factors will promote each other."