When Michael Chow appeared at a public talk in Beijing on Jan 22, the owner of the Mr Chow restaurant chain didn't say a word about his catering empire. Rather, he spoke about his paintings and the enlightenment he has gotten from his father, Zhou Xinfang (1895-1975), the Peking opera legend.
Chow, who looked much younger than his 76 years, wore his trademark round glasses with bold, black frames. He left his favorite custom Hermes suit in the hotel, arriving instead in a T-shirt and jeans dotted with paint splotches.
Two-and-a-half years ago, Chow decided to end a 50-year-long "radical sabbatical" from his own painting, and started to execute large-scale works. He is displaying 12 of these abstract paintings at a solo exhibition at the Ullens Center for Contemporary Art-juxtaposed with 11 portraits of himself created as gifts by those art figures frequenting Mr Chow, such as Peter Blake, Keith Haring and Jean-Michel Basquiat.
Chow dubs his paintings as collages. He dabbed oil pigments, cracked eggs on them, and attached gold leaves. He stapled household trash and plastic bags containing bank notes, tubes and all kinds of stuff.
These "half-sculpture, half-painting" works capture his visions of pollution, wars and bomb explosions, among other problems in society. He created seemingly disorder and chaos on the canvas, which however present a balanced visual effect at a distance.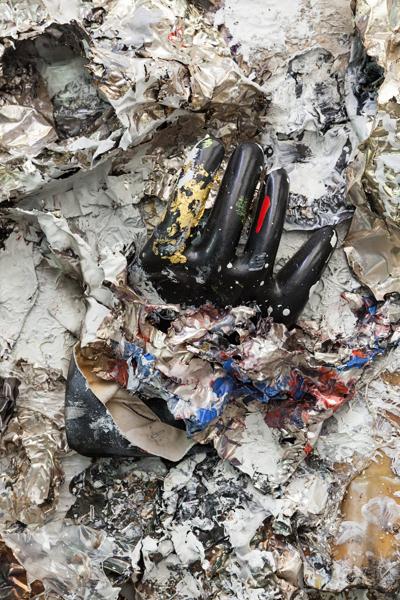 [Photo/Provided to China Daily]
Chow's approaches demonstrate the influences of surrealism, post-war European art and American abstract expressionism. The conflicts among different materials being put together imply his dramatic life journey from China to Britain, then to the United States.
"My life is like a film. I'd been sick since I was born. Thus I was spoiled and weak."
At the age of 12, he was sent alone to a boarding school in Britain.
"I lost everything familiar and dear to me-culture, parents," he speaks in half English and half Mandarin with his native Shanghai accent. "It created a void somewhere inside me and all my life, I've wanted to fill that hole."
He resorted to painting after graduating from Central Saint Martins in the 1960s. But the London art world then wasn't supportive of a Chinese artist, he says, and Chow had to turn to another medium of art for a living-though he had not given up on being creative.
"I designed architecture. I was an actor-if not very successful-taking part in 16 films. And for 47 years, I'd spilled my blood, sweat and guts to present the best Chinese restaurant experience and bring out the artistry of Chinese cuisine.
"It's fate that has brought me back to painting, which is one of the most sensitive, true to the time and noblest professions."
Chow attempts to achieve in his works a harmony between himself and nature, which is essential to the spirit of Chinese art. Chow says he has the DNA of an expressionist. His father, an expressionist on stage, was once looked down upon because his profession as an opera performer was low in the social hierarchy, but Zhou Xinfang kept inspiring him and giving him confidence. His mother, who was a quarter Scottish, attained all kinds of social skills to make herself notable in a society that didn't quite accept her.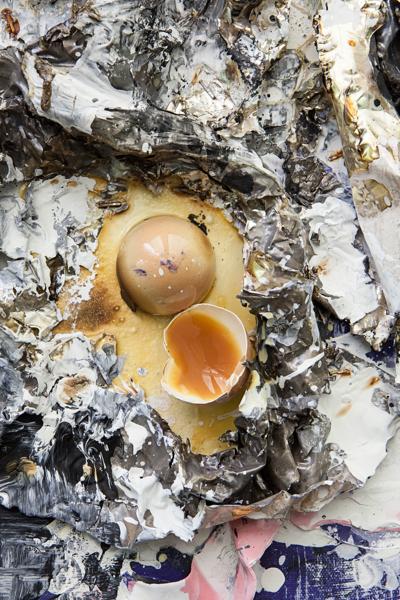 [Photo/Provided to China Daily]
With all these skills he'd inherited, Chow says he could assimilate into different cultures of the cities he lived in and develop an ability of self-education. And he has injected in his works the abilities he has mastered from engaging in different professions over the past five decades.
The exhibition, titled Voice for My Father, is also part of a series of celebrations of the 120th anniversary of Zhou Xinfang's birth in Shanghai, with events there as well as in the capital. Dozens of old stage photos showing Zhou's innovations to the Peking opera are also on display.
"It is an epic script I wrote for and about my father and his journey throughout his lifetime. His career coincidentally reflected many important events in China," he says. "To me, my father represents the spirit and strength of China.
"My paintings, like the Qi School my father founded, are universal and powerful in every detail."
The show includes a short video titled The Recipe for a Painter that Chow directed, showing how he handles the heavily physical working process. He says a painting may include 4,000 instances of stapling, burning and hammering.
He has employed an assistant for only the past year to help with "a little bit" of the work, he says, because the creating process should be very personal and only the personal things make what are universal. He works with the same efforts and attention to details that he requires of the staff at Mr Chow to place a wine cup, fold a napkin and hold a tray, he says.
"Craft is seeking for perfection; art is seeking for expression. Craft is functional and art is useless, that is why art is superior.
"I'm in my 70s and I want to do it passionately and quickly."
If you go
10 am-7 pm, Tuesday to Sunday, until March 22. UCCA, 798 Art District, 4 Jiuxianqiao Road, Chaoyang district, Beijing. 010-5780-0200.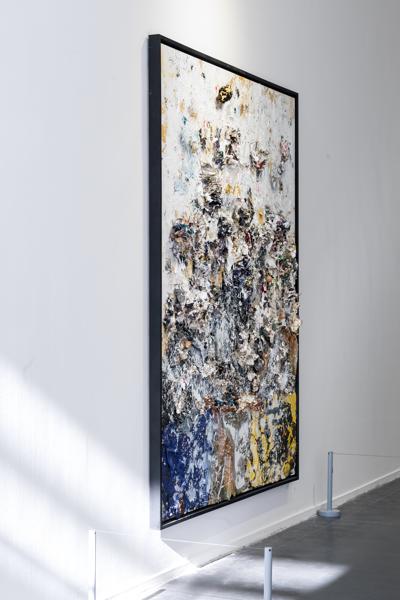 [Photo/Provided to China Daily]