Beijing's Palace Museum unveils its yearlong display schedule, including newly opened areas, Wang Kaihao reports.
A famous 12th-century Chinese painting will return to public display after a three-year hiatus.
Beijing's Palace Museum, located in the Forbidden City, recently announced Along the River During the Qingming Festival will return to public view as part of its celebrations marking its 90 years in operation.
Along the River was drawn by Zhang Zeduan (1085-1145), reflecting landscapes of the flourishing city of Bianjing, which is today's Kaifeng in Central China's Henan province.
More than 800 people and 30 ancient construction projects are shown on the scroll, making it a reference material for Song Dynasty (960-1279) studies, in addition to its remarkable aesthetics.
The scroll will be included in an exhibition titled Shiqu Baoji, which is named after an 18th-century catalog of royal paintings and calligraphy works. The museum display, starting from Sept 5, will run for two months and showcase some other rarely seen ancient artworks.
"Almost every piece is a national treasure," Shan Jixiang, director of the Palace Museum, said at a news conference last week. "I am sure there will be long lines waiting to see them."
Paintings and calligraphy works created by five emperors from the Qing Dynasty (1644-1911), are also expected to be presented as exhibits at the museum later this year.
Though Shiqu Baoji will likely be a star draw for visitors, there are as many as 18 major exhibitions planned at the museum through the year, when about 80 percent of the exhibits will be presented for public viewing for the first time in modern China, according to Shan.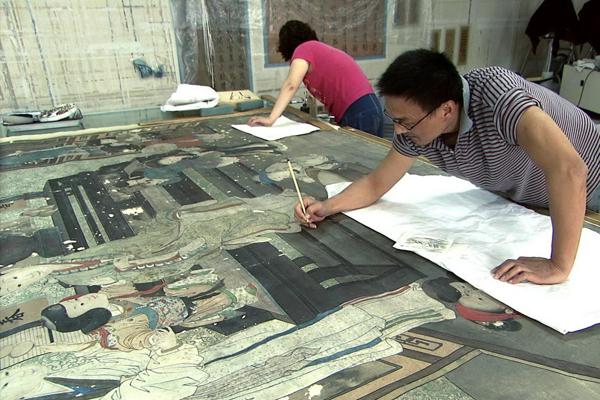 Artisans repair ancient paintings at the museum.[Photo/Provided to China Daily]
An exhibition showing Qing Dynasty royal rituals will be held in a new 2,800-square-meter display hall at Yanchi Lou, a building near the entrance to the museum. This year's repertoire of displays includes royal porcelain articles dug out of China's ancient kilns, old and new cultural relic restoration techniques and old photographs taken at the Forbidden City in the late 19th century.
"The old photographs are important files for the protection of ancient construction," says Shan, citing more than 18,000 pictures that have been preserved in the museum.
"It will be interesting to note what today's people see when they compare earlier pictures."
Some exhibitions will be held in newly opened areas. The western wing of the former palace, where queens and concubines of kings once lived, will open in August. About 52 percent of the palace can now be accessed by the public, but that will increase to 65 percent by year-end.
"Visitors will have the chance to see a Buddhist temple in the Forbidden City for the first time," Shan announced at the news conference.
Although the palace is said to have about 70 Buddhist temples, none currently open to the public.
Cining Gong (Palace of Compassion and Tranquility), the key site in the western wing, will be opened as the museum's first exhibition hall specifically for ancient sculptures.
But Shan confessed that even if more areas are opened, there will still be some that will not be able to receive visitors owing to safety concerns.
A digital exhibition hall will be opened in September near the palace's Duanmen Gate to provide high-definition virtual tours of some closed areas as well as key collections of the museum. It will also open at night.
Some cultural relics such as embroideries are too fragile to be placed in public, according to Shan. But interactive screens on online tours will provide insights into such works, he added.
More details of the upcoming exhibitions at the Palace Museum can be found on dpm.org.cn (in Chinese and English).