High import duties imposed on artwork brought into China have long discouraged foreign galleries, art dealers and collectors from entering the country's prosperous art market. But the Beijing Culture Free Port, which opened on Aug 25, offers new opportunities for art dealers, and could turn the capital city into the third-largest art market in the world after New York and London.
The Beijing Culture Free Port is located next to Beijing Capital Airport and occupies a space larger than 60 football fields. A total of 28 buildings are under construction, and they will serve as warehouses, showrooms and trader centers.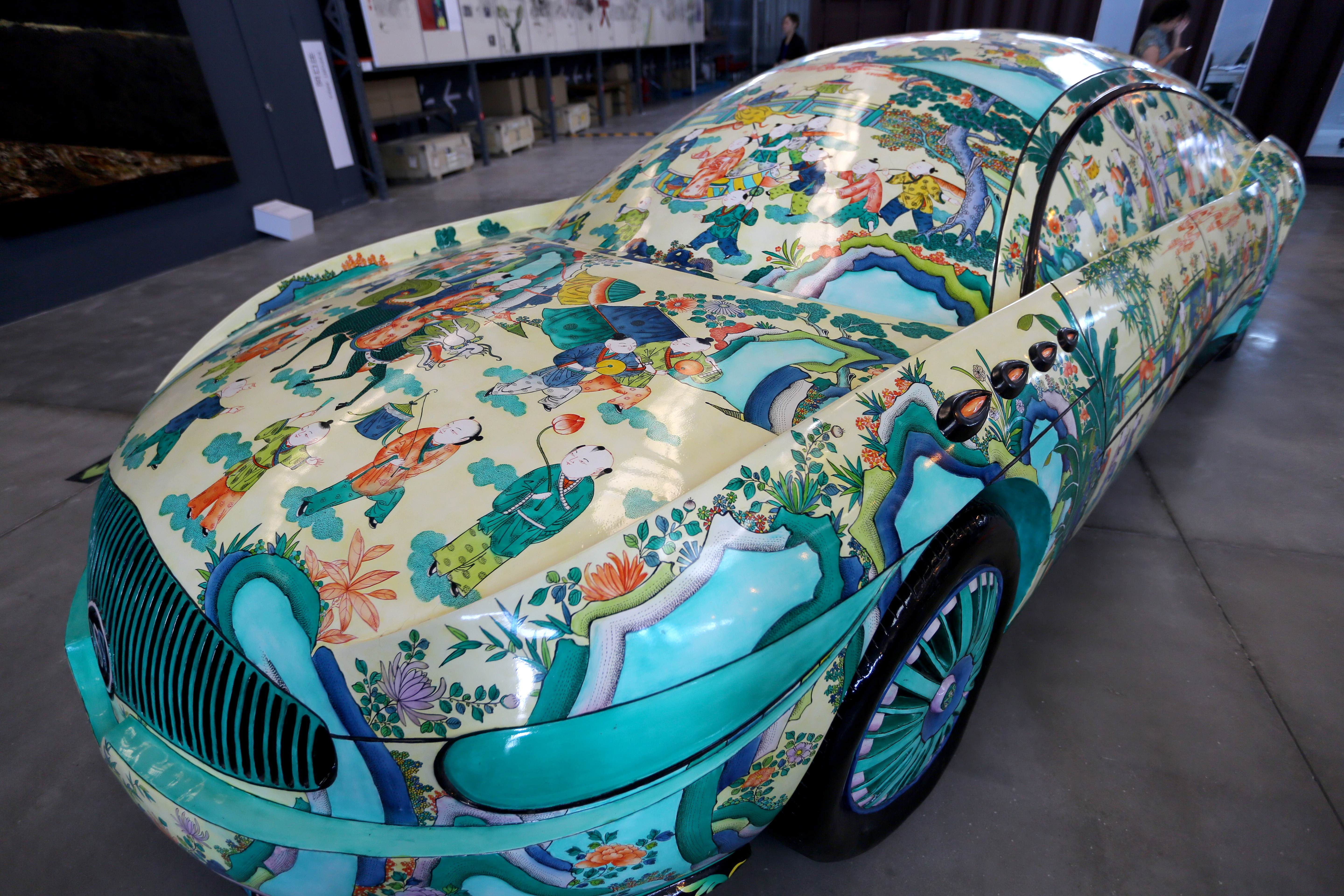 A porcelain car made by a Chinese artist is exhibited[Photo by Jiang Dong/China Daily]
One of the main goals of the free port is to provide a duty-free area for China's art market, particularly for Beijing, which is home to about 80 percent of the country's art market.
Owners do not have to pay any import taxes as long as they store their collections at the free port. If a piece is sold there, the buyer also doesn't have to pay the value-added tax. The two taxes can increase a work's price by 23 percent.
The first Beijing International Fine Art Fair, which will be held in October, will be among the first events to enjoy the services of the Beijing Culture Free Port. The fine art fair will feature more than 10 pieces of French Impressionist master Pierre-Auguste Renoir.
All of the foreign art at the fair will enjoy duty-free status, says Liu Weihai, project manager of the art trade center at the Beijing Culture Free Port. Liu is in charge of the art fair's duty service.
The free port has also provided services for Sotheby's auctions, Liu says. The most recent was an auction in August on which oil paintings, furniture and sculptures from European countries were sold.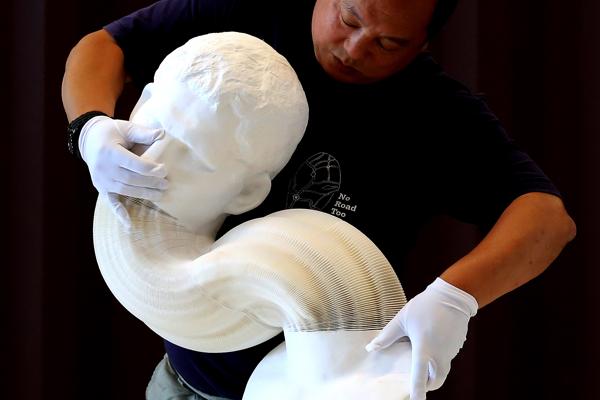 A Gehua Culture Development Group employee displays a paper sculpture of the human head at the art trade center of the Beijing Culture Free Port.[Photo by Jiang Dong/China Daily]
Collectors can store their purchases in warehouses at the free port. More than 1,000 pieces of art are housed here, including Zao Wou-Ki's Abstraction, which sold for 76 million yuan ($12.37 million) at Sotheby's last year, as well as antiques like blue and white porcelain from the Yuan Dynasty (1271-1368).
Individuals and companies bringing art into China do not need to pay taxes as long as it is shipped into Beijing's free port.
The free port has cooperated with similar facilities in Geneva, Luxembourg, Germany, Paris and Singapore, and art dealers and collectors can easily move their treasures from one free port to another.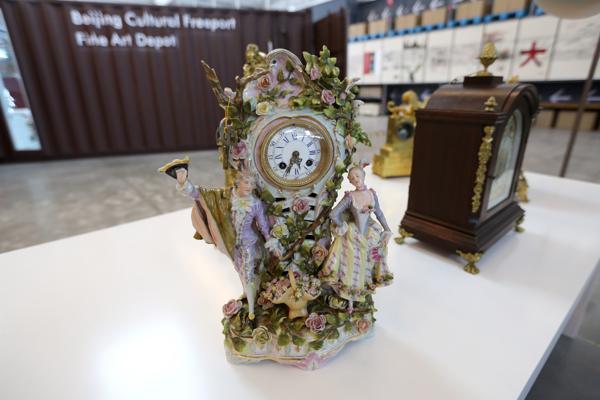 European antique clocks are also on display.[Photo by Jiang Dong/China Daily]
"We have mapped out a global free-port strategy. Our aim is to build an art free-port network in Asia," says Wang Yudong, director of the art trade center at the Beijing Culture Free Port.
Almost one-third of China's auction houses are headquartered in Beijing. As China's culture hub, the capital stages numerous exhibitions, art fairs and auctions every year.
Wang says Beijing is a traditional buyers' center. "Beijing has buyers while Shanghai has more collectors. Beijing is more like a trade market. That's why we positioned the free port to be a trade center for art," Wang explains.
The first duty free area for art was set up in the Shanghai Free Trade Zone in September 2013. Beijing and Shenzhen are the only other cities to receive approval for similar areas from the Ministry of Culture.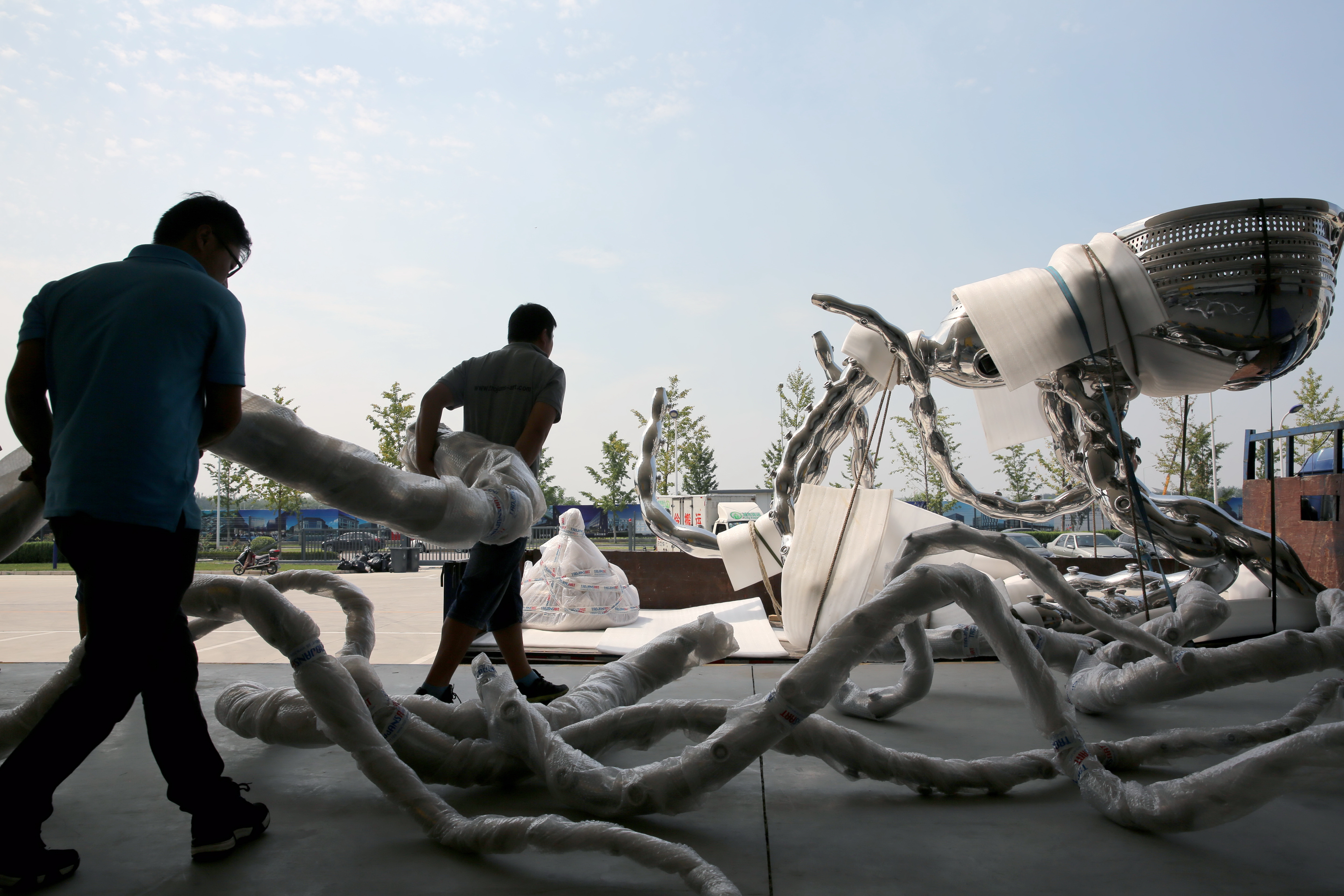 Workers move an installation to a storehouse.[Photo by Jiang Dong/China Daily]
Beijing's free port is the only one in China that allows foreign investors to set up art businesses without any limitations. "Under the new regulation, foreign investment can come in directly. The US and European galleries can hold shows, and sell and buy art in Beijing without any agents," says Li Danyang, general manager of Gehua Culture Development Group.
Gehua operates the free port and, along with the local government, provides funding. Li says the free port's art center will welcome dealers who trade in classical art but must be cautious when dealing with contemporary art dealers because of the content of art.
Gehua also operates a protection and repair center for art, working with the State Administration of Culture Heritage and Beijing Municipal Administration of Culture Heritage.
It aims to repair Chinese art and relics that come from foreign countries. Experts from museums across China will fix such precious treasures without charging import duties.
The Beijing Culture Free Port aims to attract art dealers who have traditionally gone to Hong Kong and Singapore because of their tax-free policies. But experts say it will take time to see if it will work.