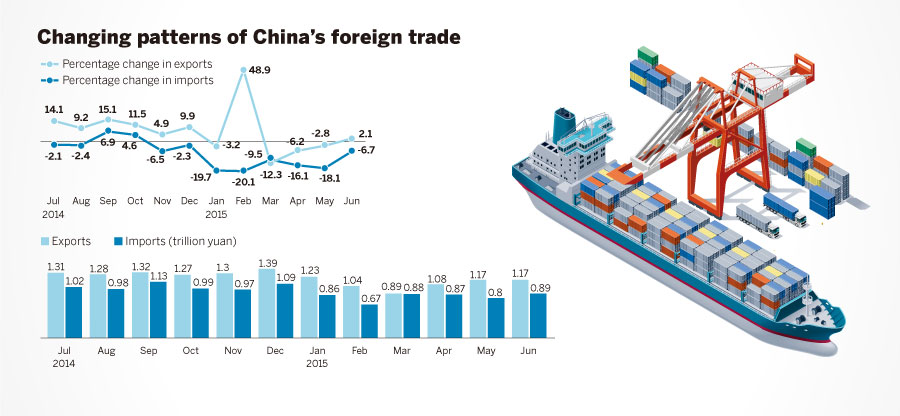 Structural reforms, new free trade zones and cross-border e-commerce to boost growth in second half
Trade prospects are expected to remain stable during the next six months, thanks to the ongoing structural reforms and decisive steps to boost growth from cross-border e-commerce and new free trade zones.
China's exports grew stronger than expected by 2.1 percent on a year-on-year basis to 1.17 trillion yuan ($188.5 billion) in June, after a 6.2 percent decline in April, according to data released by the General Administration of Customs on July 13
However, imports fell by 6.7 percent to 890.67 billion yuan in June, leading to an accelerated growth in the monthly trade surplus.
Huang Songping, spokesman for the administration, said the situation is "grim and complicated" under the sluggish global economy but said the country has managed to diversify its foreign trade to weather out the tough period.
During the first six months, total value of foreign trade stood at 11.53 trillion yuan, down by 6.9 percent from a year earlier. Exports increased by 0.9 percent to 6.57 trillion yuan while imports decreased by 15.5 percent to 4.96 trillion yuan.
Even though there are challenges, Huang said China's exports still enjoy several favorable conditions, including a solid industrial foundation, a good industrial chain, fast expansion of equipment manufacturing and high-tech industries.
"Without any major negative external factors, China's foreign trade volume is projected to stage relatively steady growth in the second half of the year," Huang said during a news conference in Beijing on July 13.
Gu Xuebin, vice-president of the Chinese Academy of International Trade and Economic Cooperation, a Ministry of Commerce think tank, said though the double-digit growth era was over, exports still remain critical to the Chinese economy.
"While China has lost its global advantage in low-or even medium-end products, it continues to have a comparative advantage in economies of scale in production and in the huge domestic market," said Gu.
Although labor costs have risen substantially and are more expensive than those in some Southeast Asian nations and other emerging markets, they still remain much cheaper than in most developed economies. China has gained export strengths in medium and medium-high products with the development of technology and also moved up the value chain.
Official data show that the eastern and coastal provinces have been the mainstay of foreign trade and further expanded their advantages from January to June - with Guangdong province even outperforming the nation.
Although foreign trade in Guangdong, Jiangsu, Shanghai, Zhejiang and Fujian, which are under an industrial upgrading boom, decreased by rates ranging from 0.5 to 3.9 percent, the numbers are still smaller than the 6.9 percent - the nation's average decline.
Over the same period, exports in Henan rose by 19.4 percent, which was notably higher than the overall export growth.
Zhang Yuxin, vice-president of Nantong Huigang Heavy Industry Co, a private shipyard with 3,200 workers in Jiangsu province, said emerging markets such as Brazil, Tunisia and Turkey have all hiked their demand for more industrial materials and products such as chemicals, vehicles and construction machinery from developed markets and China to improve their manufacturing capability.
After building cheap bulk carriers and tugboats for more than a decade, the company has shifted its focus to large chemical tankers and vehicle carriers.
The shipyard gained an order from a Dutch shipowner to build four 22,000 dead weight tons of stainless steel chemical tankers in May, and it also has orders in hand for 14 stainless steel chemical tankers.
"We discovered that individual tourism has become more popular in Europe, North America and Australia, as tourists are keen to take special cruises to visit the South Pole or Arctic areas. It will be an appealing market for us to enter and make a profit," said Zhang.
China's trade with emerging markets appeared robust while demand from developed economies shrank in the first half. Its exports to the Southeast Asian countries, India and Africa grew by 9.5 percent, 10.7 percent and 12.9 percent, respectively.
In the meantime, trade with the European Union declined by 6.8 percent during the January-to-June period to 1.67 trillion yuan, while trade with Japan fell by 10.6 percent to 832.02 billion yuan.
The General Administration of Customs spokesman also said:
The Belt and Road plan

A notable improvement has been made to diversify China's trade partners.

Strong momentum was seen in exports to emerging markets and nations along the Silk Road Economic Belt and the 21st Century Maritime Silk Road.

China's exports to countries along the Belt and Road such as Bangladesh, Pakistan, Israel, Saudi Arabia and Egypt increased by double-digit percentages.

The General Administration of Customs strengthened its coordination with relevant departments earlier this year to deepen trade and economic cooperation with countries along the Belt and Road and will continue the efforts.

China-US trade

The United States remained China's second-largest trading partner after the European Union during the first half of 2015. Bilateral trade totaled 1.64 trillion yuan ($262 billion), up 4 percent year-on-year, accounting for 14.2 percent of China's total foreign trade.

Judging from the current global economic situation, the recovering US economy and enhanced consumer confidence supported China's exports to the US in the first half. The General Administration of Customs predicts China-US trade to improve.

Cross-border e-commerce

As China's cross-border e-commerce market matures, online platforms cannot rely on Chinese consumers spending more each year on the same products.

They also need to expand their customer bases throughout the world, and engaging in cross-border e-commerce is one of the most practical solutions.

The General Administration of Customs is working with other government departments to establish experimental service branches, related data collection platforms, as well as adding new customs supervision methods for both exports and imports.

China began to offer non-stop customs clearance services for global online trading on May 15. All customs procedures must now be completed within 24 hours.
.