China's tourism industry's advance has surpassed the overall economy's, as more Chinese are opting to spend on travel rather than pricier luxury goods.
Chinese took more than 2 billion domestic trips in the first six months of this year, up 9.9 percent over the same period of 2014, China National Tourism Administration data show.
They made 3.6 billion trips in 2014.
"We expect the figure to reach 3.95 billion (in 2015)," says Zhang Youyin, a researcher with the Beijing-based think-tank, the Regional Tourism Planning and Development Institute.
Domestic travelers spent 1.65 trillion yuan ($266 billion) in the first half this year, a 14.5 percent increase over the same period of last year.
Family and graduation trips are promising prospects. So are self-driving excursions, Zhang says.
"Travelers are spending more rationally on travel and are less blindly on luxury travel," he says.
Metropolises like Beijing and Shanghai are siring a younger generation of middle-class consumers, who are breaking away from group tours.
The industry's driving demographic has become independent travelers under 35, says China's biggest online travel agency, Ctrip.
They're propelling an upwelling in online reservations because they use the latest technology to plan and book trips.
Ctrip's 2015 first-quarter operating income surged 46 percent year-on-year to 2.4 billion yuan. Hotel reservations rose 60 percent. And transportation-ticket bookings more than doubled, Ctrip reports.
Traveler's expenditures exceeded 13 billion yuan during the period, the agency says.
Rapidly decreasing travel costs and increasing incomes are fueling the boom.
Most weekend outings cost under 1,000 yuan. And tours to China's East Asian neighbors, such as Japan and South Korea, are possible at around 2,000 yuan, thanks to discounted flights and hotels.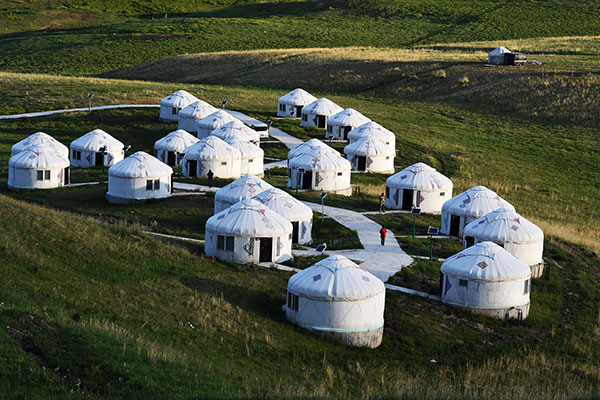 Nomadic tents dot the grasslands of Xinjiang's Ili Kazak autonomous prefecture.[Photos provided to China Daily]
Urban Chinese per-capita disposable income reached 28,844 yuan last year, a 9 percent year-on-year increase, the National Bureau of Statistics reports. The figure broke 40,000 yuan in Shanghai, Beijing, coastal Zhejiang province and Guangdong province's Shenzhen city, a manufacturing hub.
"The online travel business still has a lot of room to grow in the market, considering China's per-capita travel consumption accounts for less than 10 percent of the US'," says Ctrip's CEO, Liang Jianzhang.
Travel income is expected to grow as China goes all out to develop travel.
The national tourism administration has launched a series of measures, including upgrading public toilets, blacklisting uncivil tourist behavior and redressing tour-guide misconduct.
Last year, the State Council proposed targets according to which domestic tourists will spend 5.5 trillion yuan annually by 2020, more than double 2013's total, to account for 5 percent of the country's GDP.
Beijing has been wooing tourists with its 2012 adoption of a 72-hour visa-free transit policy for foreigners from 45 countries. And 14 other Chinese cities have followed suit, the Shenzhen Economic Daily reports.
Visitors can spend up to 72 hours in these cities after flying in, provided they have third-country visas and tickets to their next destinations.
The policy has been replicated in some form by Shanghai; Sichuan province's capital, Chengdu; Guangdong province's capital, Guangzhou; Chongqing; Liaoning province's capital, Shenyang, and Dalian city; Shaanxi province's capital, Xi'an; the Guangxi Zhuang autonomous region's Guilin city; Yunnan's provincial capital, Kunming; Hubei's provincial capital, Wuhan; Fujian province's Xiamen city; Tianjin; and Zhejiang's provincial capital, Hangzhou.
This year, Beijing is offering tax refunds on purchases made by overseas visitors.
Foreign tourists, as well as those from Hong Kong, Macao and Taiwan, who've stayed no more than 183 days on the Chinese mainland, will be eligible for an 11 percent rebate on consumer goods bought at designated stores.
The capital received about 260 million visitors last year, up 3.8 percent. It raked in 428 billion yuan, up 8 percent, says the Annual Report on Beijing's Tourism Development (2015) by the Beijing Tourism Society, a non-governmental academic organization.
Roughly 280 million visitors are expected to spend 460 billion yuan this year, the report says.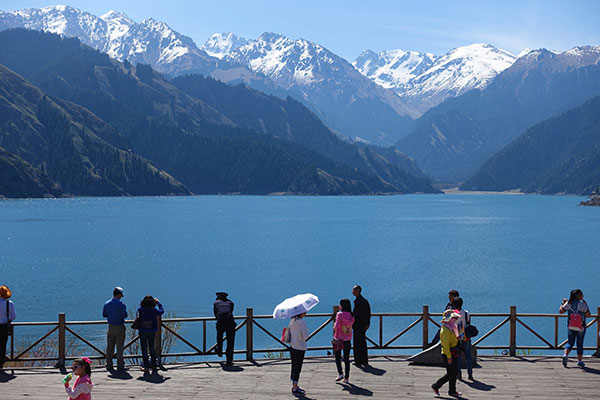 The Heavenly Lake in Xinjiang's Changji Hui autonomous prefecture.[Photo by Zhu Xingxin/ China Daily]
The Belt and Road Initiative is expected to drive tourism further and from new countries, Zhang says.
Roughly 85 million visitors from nations along the Belt and Road are anticipated to visit China in the next five years and contribute $110 billion to the economy, China National Tourism Administration Director Li Jinzao said early this year.
China has named 2015 the Year of Silk Road Travel to boost travel cooperation with Southeast, South and Central Asia.
The ancient Silk Road left many alluring heritage sites, Li says.
The Xinjiang Uygur autonomous region is particularly placed to benefit from the initiative.
It's strategically located at the Silk Road's front and center.
And it will benefit from the government's 350 million yuan tourism-development fund over the next five years. The endpoint is to transform the region into the main Silk Road tourism dispatch center by 2020.
About 200 million yuan from the fund will be used for tourism in southern Xinjiang to transform the area into "an ethnic-themed Silk Road tourism destination", Li says.
The government earlier this year subsidized a Xinjiang travel card that cost each traveler 309 yuan. It enabled entrance to more than 40 attractions that could in total cost more than 2,000 yuan.
Tourism to the region had plunged 40 percent between May 2013 and May 2014.
Over 7.2 million domestic travelers toured Xinjiang in 2015's first three months, up 9 percent year-on-year.
Xinjiang received more than a million domestic tourists during 2015's three-day May Day holiday this year, almost 12 percent over the same period of 2014.
The roughly 50 million visits in 2014 represent a nearly 59 percent increase over 2010.
More than 1.5 million overseas travelers, mostly from Kazakhstan and Russia, visited Xinjiang in 2014 and contributed $500 million in local tourism income.
The region expects more than 55 million visits from home and abroad this year.
China's ability to cater to tourists has improved enormously. The country has leapt from 45th to 17th in the World Economic Forum's rankings in just two years, the Telegraph reports.
The WEF also ranks China as the best nation for natural and cultural resources.
Yet with sights set so high, questions of overshooting are yet to be resolved, when targets are hit-or missed.
Not only time, but also travelers, will tell.