Thousands of paintings and sculptures are now on display for the city's 18th Shanghai Art Fair. The four-day fair features collections from 148 galleries in 12 countries, including China, North America, and Europe.
Perhaps the most eye-catching exhibit is the oil painting "The Washerwoman of Cagnes-sur-Mer," which is valued at about four and a half million yuan. French impressionist Pierre-Auguste Renoir painted it in 1912 when he was 71.
"It is the end of his life," Nicolas Milonas of gallery Europ'Art China said. "This place is in the south of France, very popular and romantic place. And Renoir is one of the big masters in the world. That's why everybody wants to come here and to see it."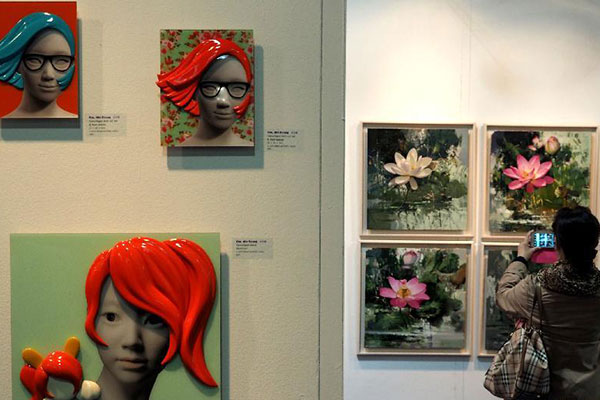 Works by Pablo Picasso, Vincent Van Gogh and Salvador Dali are also on display. But fair organizers say the event is not just about the high-end market. They say its aim is also to encourage more middle class people to collect art. One artist says he's happy to see repeat visitors coming in, and not just for investment purposes.
"Whether the value of artwork will rise in the future is not the priority," painter Yu Zhongbao said. "I think that once you have a passion for art, you can also decorate your home with your favorite pieces. That's also the key to a healthier art trading market."
"I'm here to look for an oil painting with visual impact for my living room," visitor Cai Linyi said. "I don't mind if it's a piece by an artist who's not famous yet, as long as I like it."
Carlo Wolff has been selling foreign art works in Shanghai for three years. He says his customer base has more than doubled since he started using the Shanghai Free Trade Zone a year ago.
"I don't necessarily need to pay my tax first to temporarily import the goods," Carlo Wolff of gallery Bund 22 said. "I may have to do a deposit to China Customs to guarantee that the goods are still there."
"People coming from abroad to China are global, and they don't necessarily want to have their art pieces sent inside of the Chinese mainland territory. They may want to go to Hong Kong, to Singapore, to Australia, and you can put the goods there, and you pay only the local tax at the destination not in China, otherwise you pay double tax."
And officials from the state-owned warehouse company in the Free Trade Zone say it's thriving, and they expect it to do even better next year.