China's stock regulator said on Aug 15 that mergers & acquisitions (M&As) have become a main way to support the country's real economy.
The real economy refers to the part of the economy that is concerned with the actual production of goods and services, as opposed to the part of the economy that is concerned with buying and selling on the financial markets, according to the Financial Times.
The statement from the China Securities Regulatory Commission (CSRC) elaborated ways M&As are supporting the real economy — like the improvement in its marketalization process.
The regulator has streamlined administrative work during the process and 90 percent of M&As do not need authorization by the regulator now.
Another way is the service of supply-side reform from M&A activities, which helped cut industrial capacity, reduce housing inventory, as well as transform and upgrade industries.
Furthermore, M & As help propel the reform of State-owned enterprises (SOEs). China is undergoing a mixed-ownership reform in the centrally administered SOEs, and that is done through diversifying the shareholding structure of SOEs, including bringing in multiple types of investors to central SOEs, exploring flexible and market-based salary systems and selling shares to SOE employees.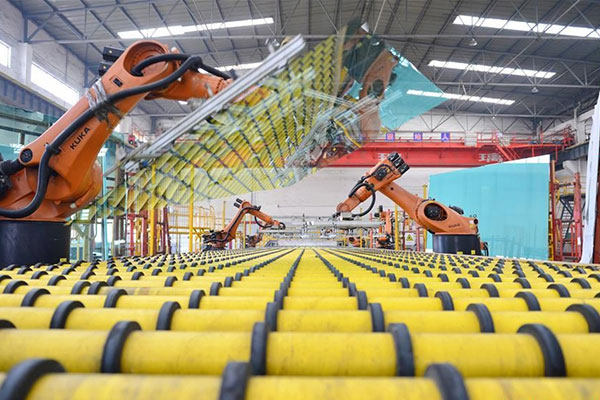 Photo taken on March 26, 2017 shows a glass production line of an enterprise in Shahe city, North China's Hebei province.[Photo/Xinhua]
M&As have also helped with technology upgrades in equipment manufacturing and environment-related industries.
These activities further fall in line with China's strategy to reduce poverty and help with development in poverty-stricken regions.
The volume of M&As reached by listed companies on the Chinese mainland was 2.39 trillion yuan ($358 billion) in 2016, compared to the 889.2 billion yuan ($133.18 billion) in 2013.