Major work of the government is presented during the State Council executive meetings throughout the year. Of the more than 40,000 words in executive meeting press releases in 2019, some key words have emerged: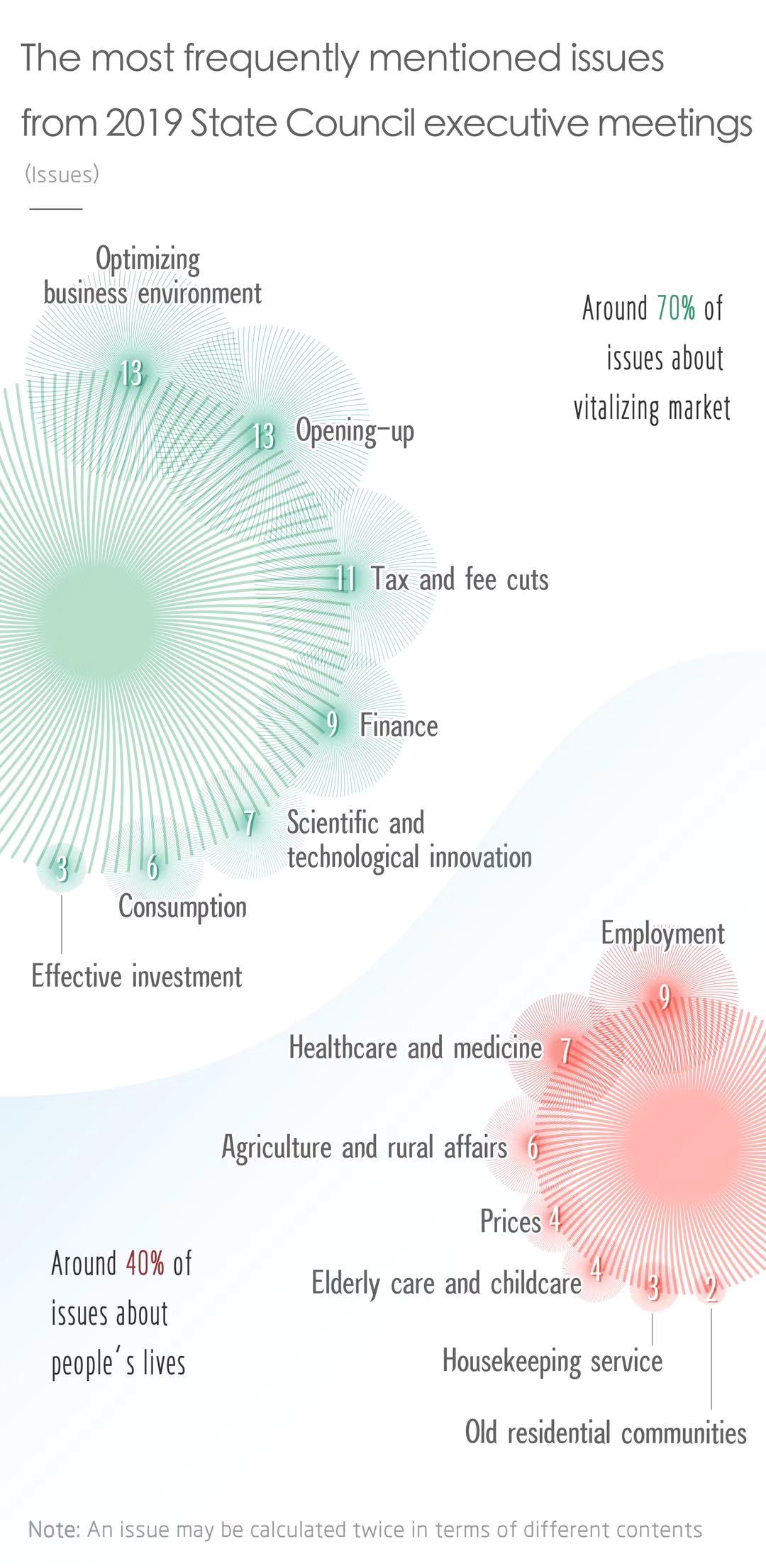 At least 104 issues were discussed at the 41 meetings. At least 2.5 issues concerning national interest and people's lives were discussed at every meeting.
Among all the issues, around 70% are about vitalizing market, while 40% are about people's lives.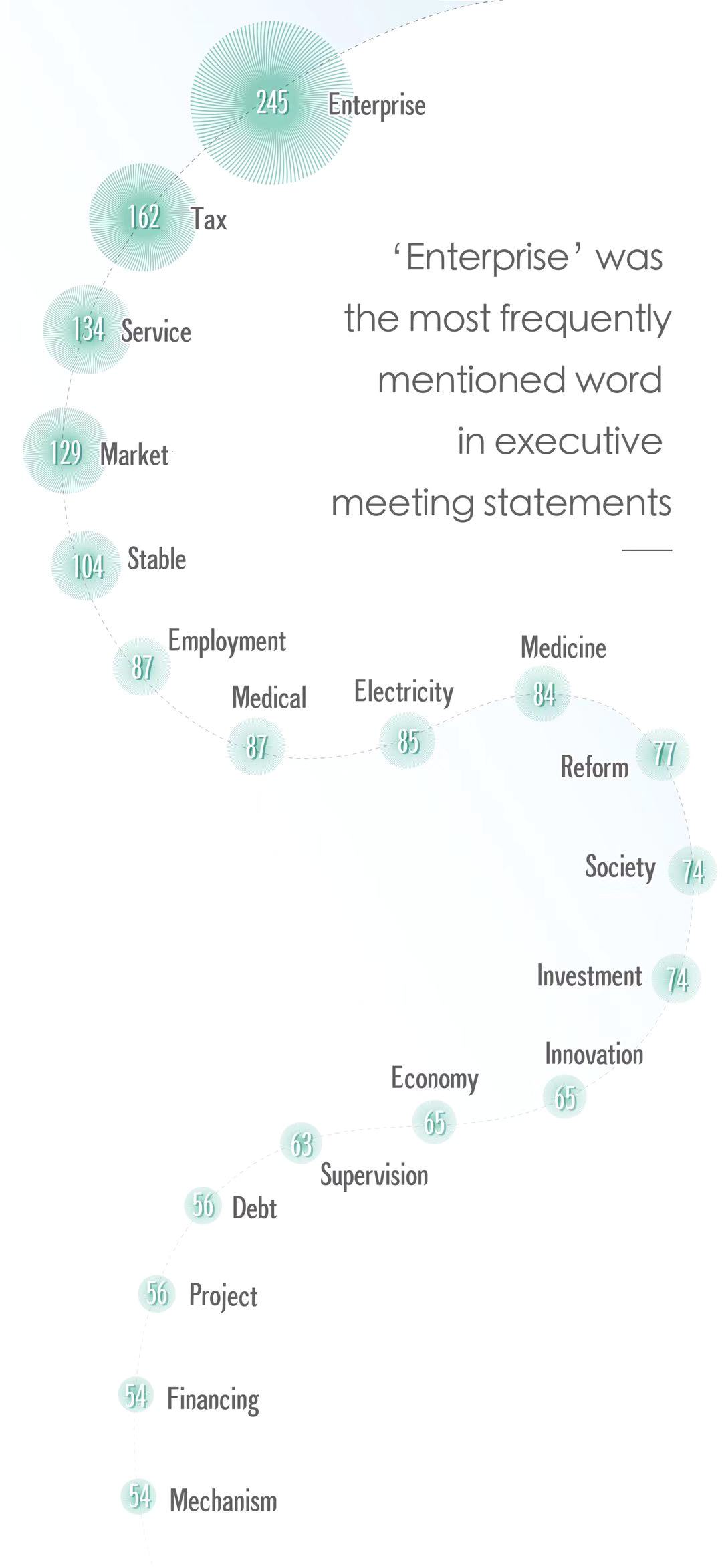 Among the 245 times 'enterprise' was mentioned, 49 were about small and micro enterprises.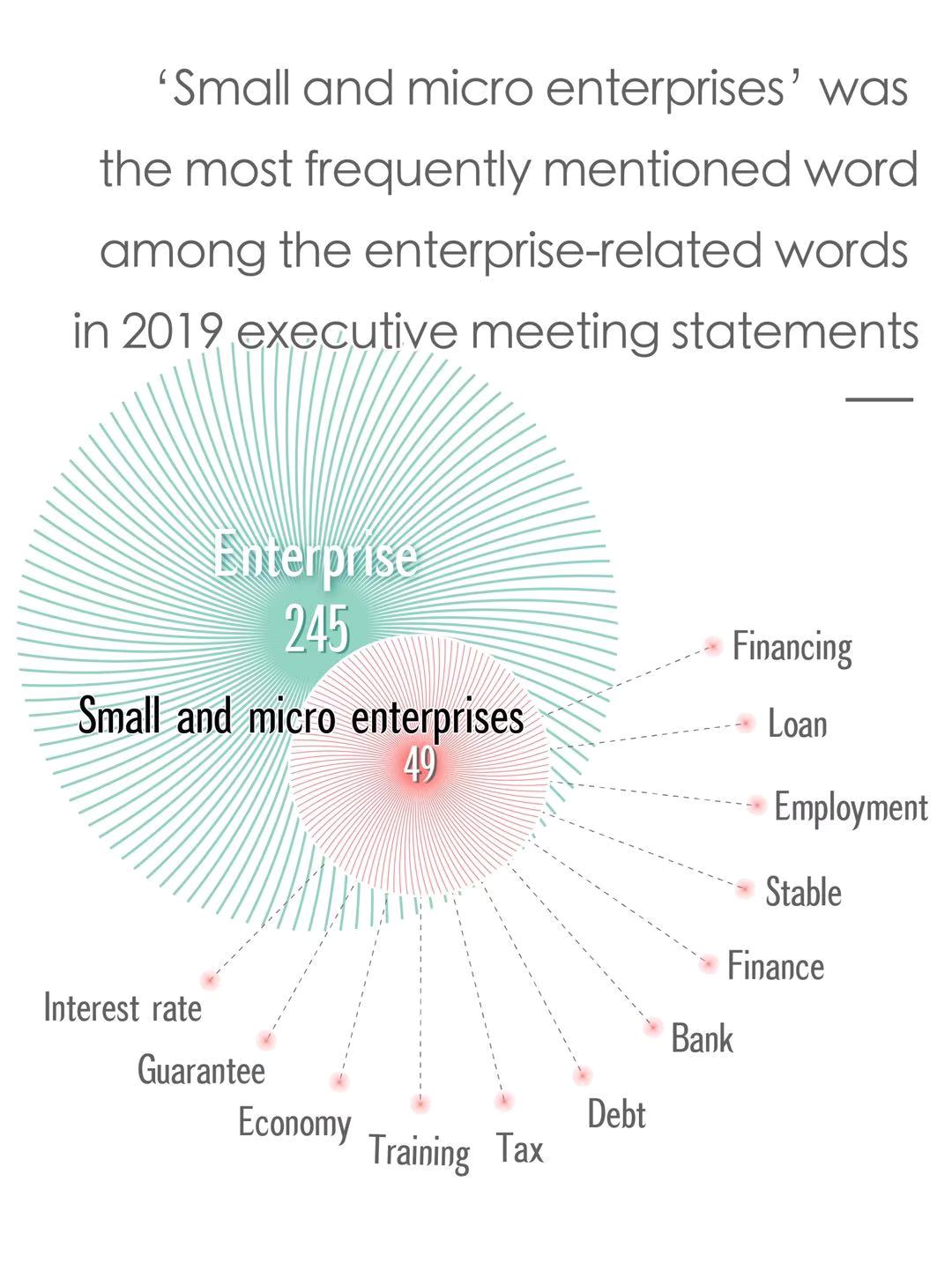 For small and micro enterprises, the policy of reducing taxes by 200 billion yuan per year for three consecutive years was settled at the beginning of the year. It was discussed during at least 3 executive meetings, to reduce comprehensive financing costs for small and micro enterprises. For small and micro enterprises, which are a major force for economic development and employment, major progress must be made in solving their financing problems, Premier Li Keqiang said.
Concerning enterprises, two aspects were mentioned most: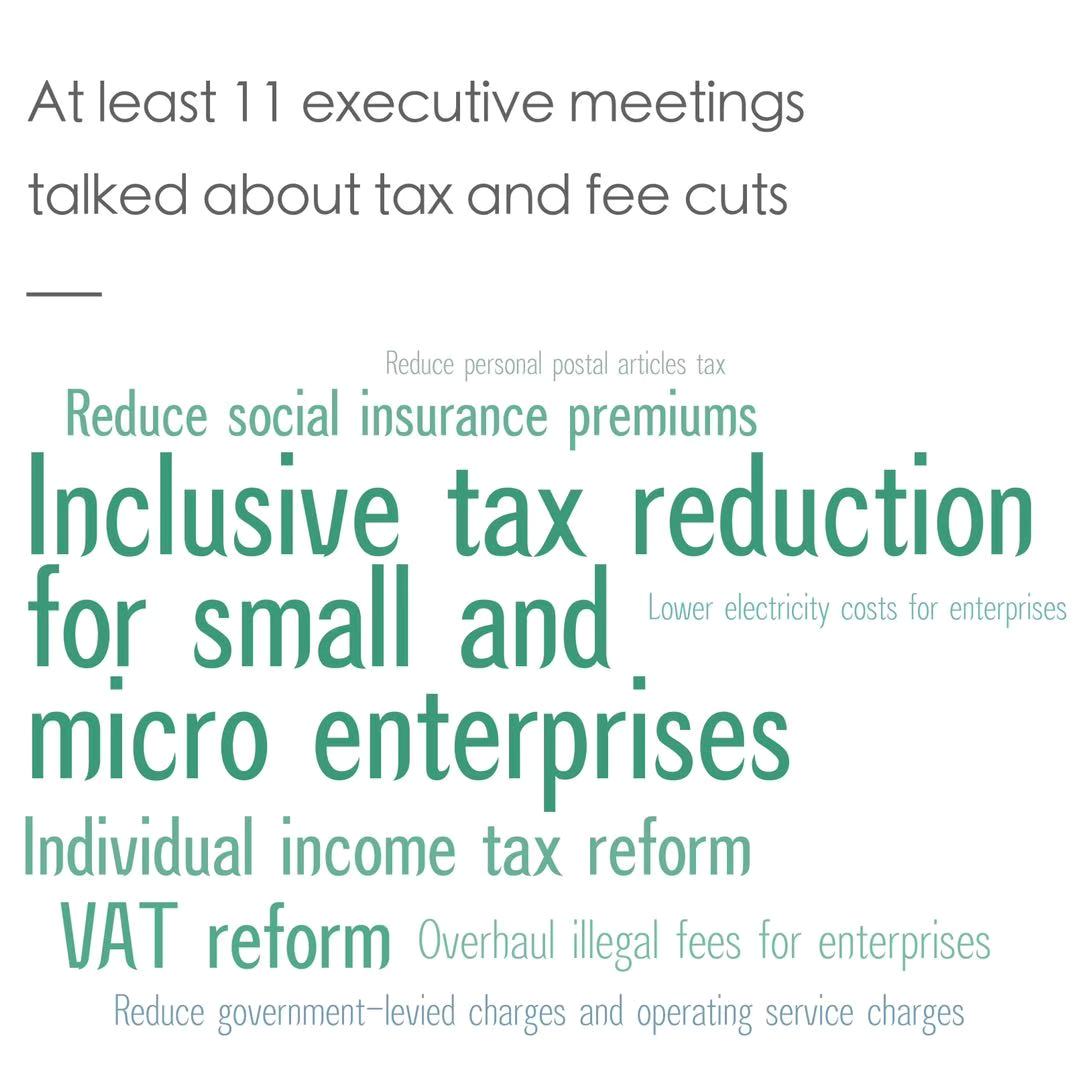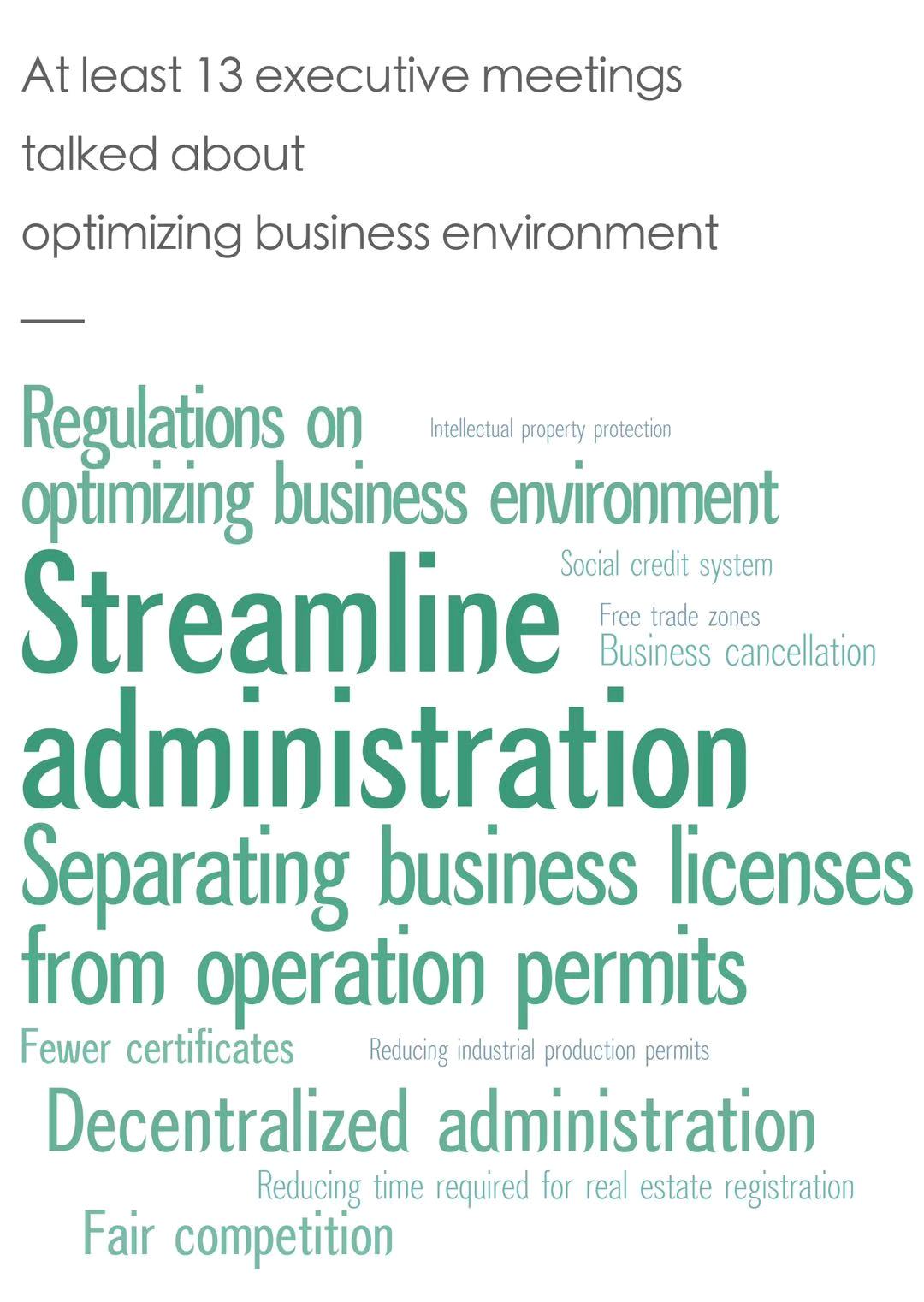 A total of 2 trillion yuan was cut in taxes and fees in 2019. According to Doing Business 2020 from the World Bank, China climbed 15 spots in global business environment ranking, and is among the top 10 world economies with the most improved business environment for two consecutive years.
The executive meeting on Oct 8 approved Regulations on Optimizing Business Environment (draft), upgrading effective experience in the reform of administration streamlining in recent years into law.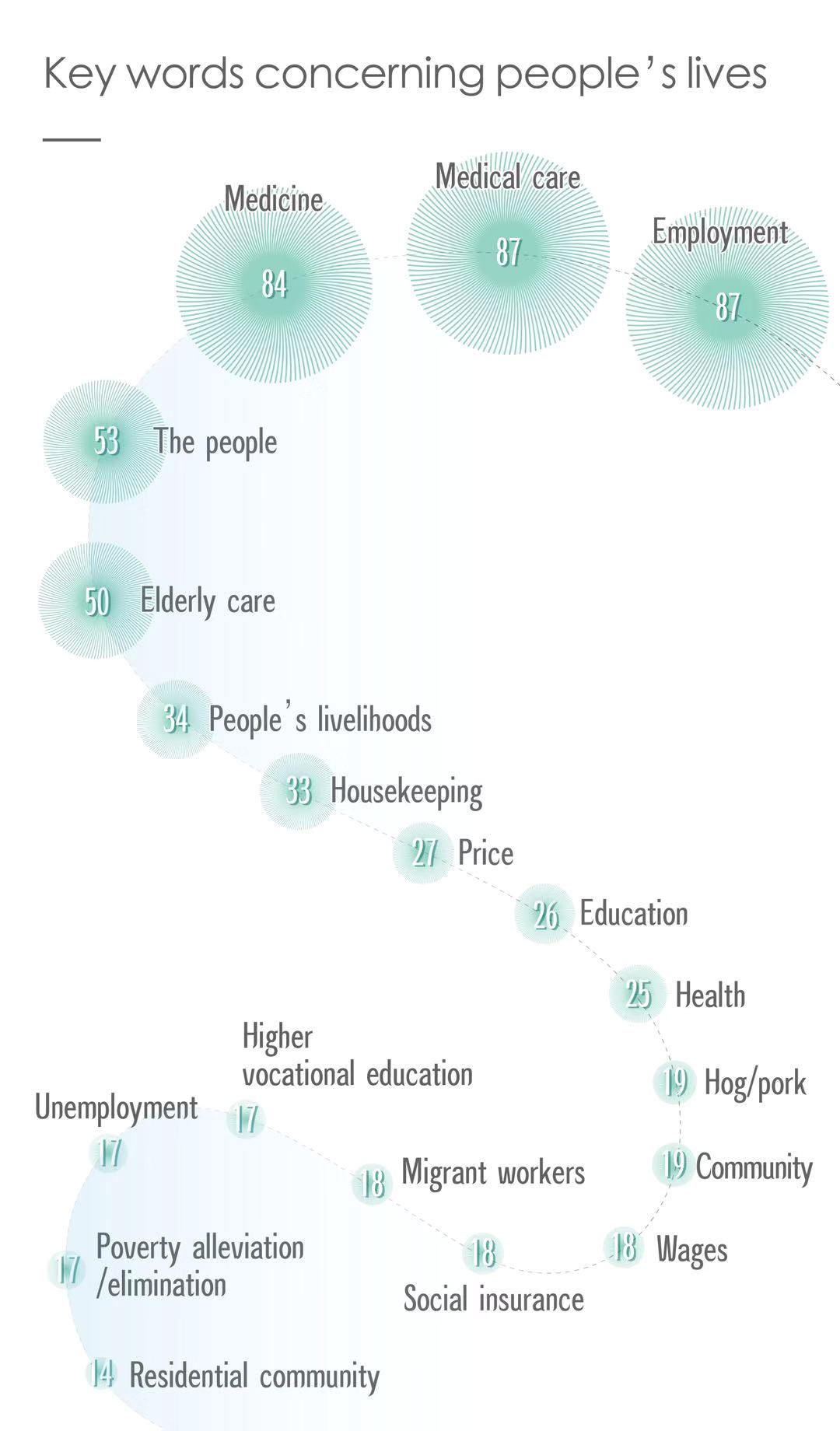 At least 9 meetings deployed policies concerning people's lives, which include using 100 billion yuan from the balance of Unemployment Insurance Fund for vocational training to enhance the Chinese workforce, and expanding vocational college enrollment by 1 million this year.
Medical care and medicine were among the hottest issues in recent years. Four ministers did reports in these fields, including falling prices of anti-cancer drugs and the medicine for rare diseases at the executive meeting on Feb 11. The meeting also approved a higher reimbursement quota for hypertension and diabetes outpatient medication and an expanded scope of centralized drug procurement pilots.

Housekeeping was mentioned 31 times more than in 2018. The Premier stressed at an executive meeting that improving scale and quality of housekeeping service is closely related to people's lives, thus is also an important measure to meet the increasing demands of an aging population and in implementing universal two-child policy.
Old residential community renovation, elderly care and child care were also hot issues in 2019. The executive meetings mentioned many times elevator installation, parking facility, and community elderly care and nursery.
Prices were mentioned 13 times more than in the previous year, and hog/pork 14 times more. It was clarified at an executive meeting that pork supply and price stabilization measures must be stepped up, calling for canceling illegal local bans and limits on pig breeding.
Many new key words did not appear in 2018, such as higher vocational education, university enrollment expansion, and occupational diseases.
The State Council also organized an executive meeting exclusively for sports consumption, which was unseen in previous years. The meeting deployed a series of measures including promoting the effective operation of public sports facilities. Premier Li specially asked the word 'fitness' to be included in the document headline, to encourage integrate sports industry development and people's needs.
"We must integrate the government work with people's eagerness to improve their basic lives," said Premier Li during one executive meeting. "The development foundation can only be solid when the basic livelihood foundation is well laid."