The Government Work Report was handed to National People's Congress delegates on May 22, 2020. The report is shorter than in previous years. In the past, the printed report (Chinese version) would be about 19,500 words, whereas this year it's around 10,400 words. However, the report remains as important as ever. Let's look through some key words in the report.
'Safeguarding employment and livelihoods' appears many times in the report
At the State Council executive meeting before the two sessions, Premier Li Keqiang said to ensure security in six areas is to tackle major contradictions and risks at this special time and to face difficulties and challenges in a positive manner.
Not setting a specific target for economic growth will enable all sides to concentrate on ensuring stability on the six fronts and security in the six areas, according to the Government Work Report.
The six fronts are employment, financial sector, foreign trade, foreign investment, domestic investment and expectations.
The six areas, namely job security, basic living needs, operations of market entities, food and energy security, stable industrial and supply chains, and the normal functioning of primary-level governments, are the main focus of the six fronts.
Among the six areas, employment comes first, and the word shows up more frequently in the report than ever.
The Premier said in this year's report: "To ensure employment and people's wellbeing, we must instill confidence in over 100 million market entities; and we must do our utmost to help businesses, particularly micro, small, and medium enterprises (MSMEs), and self-employed individuals get through this challenging time. "
When it comes to market entities, micro, small and medium enterprises are frequently mentioned, indicating the importance attached to these job providers.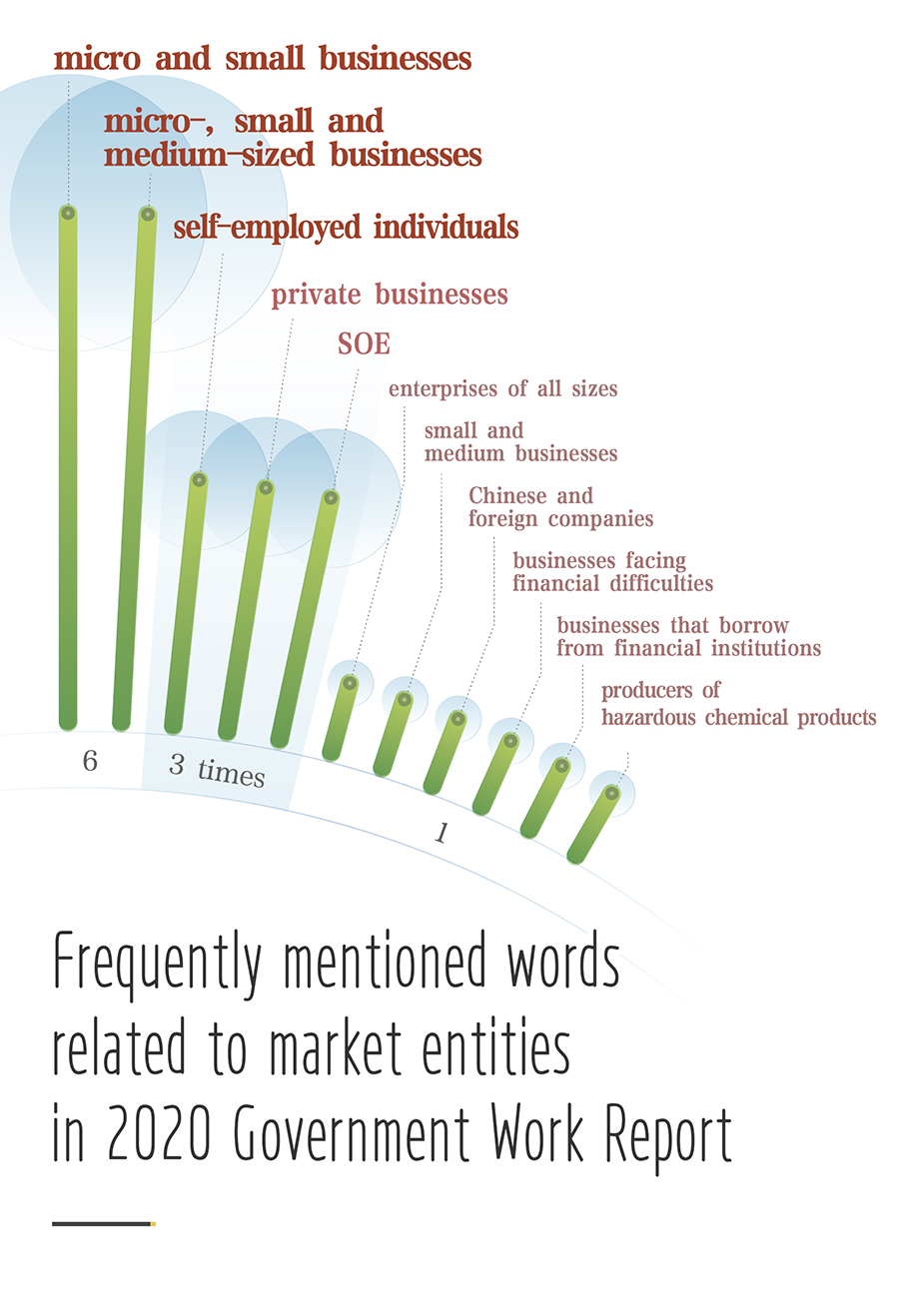 It was announced in the Government Work Report this year that the government will keep the fundamentals of the economy stable by maintaining security in six areas.
The economic development this year will be closely linked with people's livelihood.
A series of measures including new infrastructure and new urbanization initiatives and major projects all highlighted that people's livelihoods are the leading factor.
"We will develop next-generation information networks, expand 5G applications, and develop data centers. We will build more battery charging and swapping facilities and promote wider use of new-energy automobiles." These are all related to people's daily lives.
"We will support the recovery and development of food and beverage, brick and mortar shopping, culture, tourism, domestic services, and other consumer services."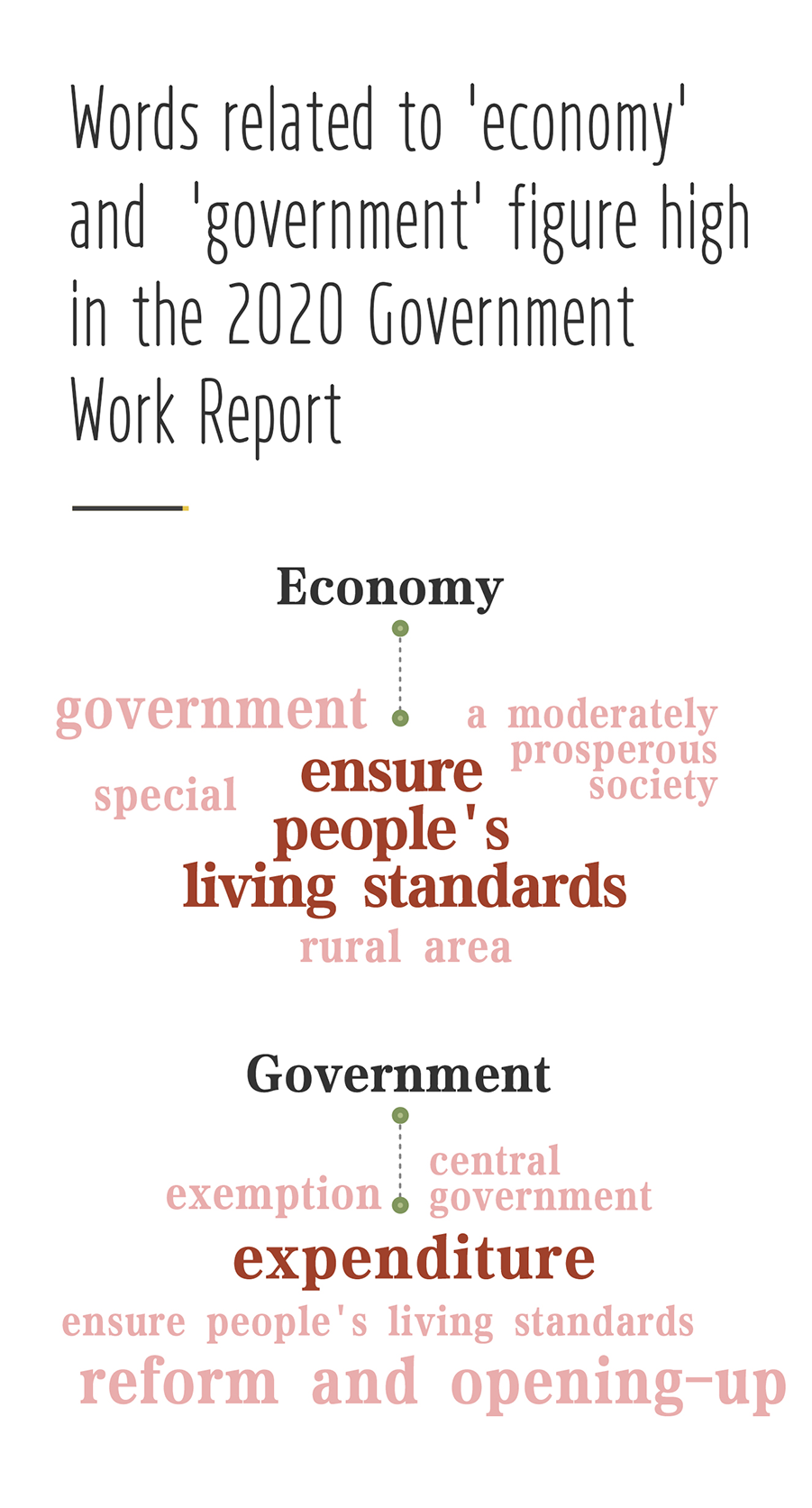 "We will do more to improve public facilities and services in county seats. We will begin the renovation of 39,000 old urban residential communities and support the upgrading of plumbing and wiring and the installation of elevators in old residential buildings; we will encourage the development of community services."
"...and increase national railway development capital by 100 billion yuan."
These measures are all aimed at expanding domestic demand from basic necessities, thus transforming the economic development mode at a faster speed.
The money will come from special measures during the special time and from sharp reduction of government expenditure.
The deficit ratio for 2020 may be above 3.6 percent, with 1 trillion yuan more of financial deficit than 2019. Meanwhile, 1 trillion yuan of government bonds for COVID-19 control will also be issued. The money will be transferred to local regions with a special paying mechanism to directly benefit businesses and people.
A total of 3.75 trillion yuan of local government bonds will be released. Central government spending will see negative growth, with over 50 percent reduction of non-essential and non-obligatory expenditures. Every cent will be used where it is needed most.
New key words related to the epidemic
The COVID-19 epidemic is the biggest uncertainty this year.
"Yan", which means extend or postpone in Chinese, is a new word in the Government Work Report.
It represented a series of policies aimed at the epidemic: Extending the Spring Festival holiday; tax and fee reduction policies due to expire by June will be extended until the end of 2020; the payment of corporate income taxes by micro and small businesses and self-employed individuals will be postponed to 2021; payments on all inclusive loans of micro and small businesses eligible for this policy should be deferred.
Words related to guaranteeing people's basic lives and the operation of society: supply; goods and materials; stable employment; resumption - covering industrial chain and supply chain; M2 money supply; supplies of coal, electricity, oil and gas; emergency supplies; medical supplies.