Service platforms to be integrated
China will speed up the establishment of an integrated administrative service platform nationwide to provide more standardized and convenient administrative services to the public, according to a guideline released by the State Council on July 31.
The move aims to further promote Internet Plus administrative services, better integrate resources, and fully optimize procedures as part of efforts to better the business environment and revitalize the market and social creativity.
According to the guideline, a nationwide network of administrative services will be established, and the data and resources for administrative services will be converged and shared.
The efficiency of administrative services will be effectively improved so that the public can access services both through online and offline channels.
A national administrative service platform will be established by the end of this year, and a pilot program will be conducted to connect the platform to platforms of provincial governments and those of central government departments, the guideline said. The national platform will be put into operation by the end of next year.
The government service platform will act as a portal for all service platforms, provide unified service management, identity authentication, e-seals, e-licenses and certifications, and be installed with systems of e-supervision, service assessment, consultation and reporting, and user experience monitoring.
The government will comb through public service items that are closely related to the daily life of the people, such as education, medical care, housing, social security and public legal services before compiling a list of public services to enable standardization of public services.
A work group will be set up by the State Council General Office to conduct the overall design and construction of the platform, according to the guideline.
Measures will streamline approvals
The State Council has decided to cancel 11 administrative approval items to further streamline administration, according to a notice released on Aug 3.
Among the items that are canceled are resident permits for people from the Hong Kong and Macao special administrative regions and Taiwan to find jobs on the mainland, as well as the approval item for businesses to conduct repair and maintenance service of vehicles.
The approval for foreign businesses to invest in road transport has also been canceled, as well as the record-filing requirement for foreign-invested partnership businesses to set up, change or cancel their branches.
Other approval items canceled include visas for ships going to fishing ports, record filings for establishing company branches, and announcements of withdrawing business licenses.
Education spending to help poorer kids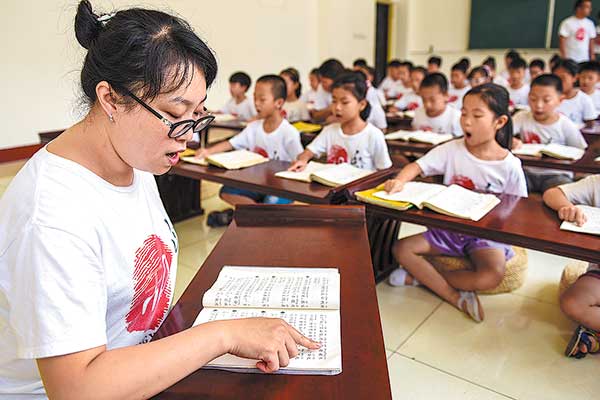 China will make efforts to refine spending on education and ensure the payment of teachers in compulsory education can be delivered in full, the State Council decided at an executive meeting on July 30.
According to a statement released after the meeting, local authorities must come up with basic standards for average expenditure and financial appropriation per student in their regions and establish dynamic adjustment mechanisms.
Social entities will be encouraged to step up investments in education and financial expenditure for education will prioritize supporting children from poor areas and families.
The government will also work to ensure that the performance management system can cover all spending for education.
The meeting also highlighted the importance of ensuring that the salary level of teachers in the compulsory education sector should not be lower than the average salary level of civil service workers.