Premier voices full support for HK, Macao govts
Updated:
Mar 18,2013 4:02 PM
Xinhua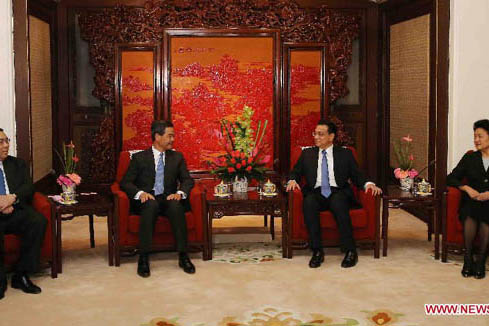 Premier Li Keqiang (2nd R) meets with CY Leung (2nd L), chief executive of Hong Kong Special Administrative Region, and Chui Sai On (L), chief executive of Macao Special Administrative Region, in Beijing, capital of China, March 18, 2013.[Photo by Liu Weibing/Xinhua]
BEIJING -- Premier Li Keqiang met with CY Leung and Chui Sai On, chief executives of the Hong Kong and Macao special administrative regions on March 18, praising the regions' roles in boosting the country's overall development.
Li vowed that the country's new leadership will uphold the "one country, two systems" policy and fully support the lawful ruling of the two chief executives and their governments, with strengthened exchanges between the two regions and the mainland.
Noting that the two regions are in a crucial development period, Li urged local people and the governments to safeguard the central government's authority while boosting their competitive power in the region.
According to Li, joint efforts should be made to develop the economy, improve people's livelihoods and properly handle all manner of issues.
The two executives came to Beijing to attend the closing ceremony of the 1st session of the 12th National People's Congress (NPC) on March 17.