China is capable of "maintaining mid-to-high-speed growth" despite challenges, Premier Li Keqiang said on June 26.
He made the remarks during a seminar at the Great Hall of the People with scholars, politicians and business leaders attending a global think tank summit.
"At present China's economic fundamentals are performing well," the Premier said, adding the economy is running "within a reasonable range".
He said major economic indices including industrial production, investment, consumption, exports and imports have "been stable and rising", while employment figures have also improved.
He said the government will continue range-based macro controls and strengthen targeted adjustment, along with governance reform and efforts to encourage mass entrepreneurship and innovation.
"We have the capability and conditions to keep the Chinese economy growing at mid-to-high speed."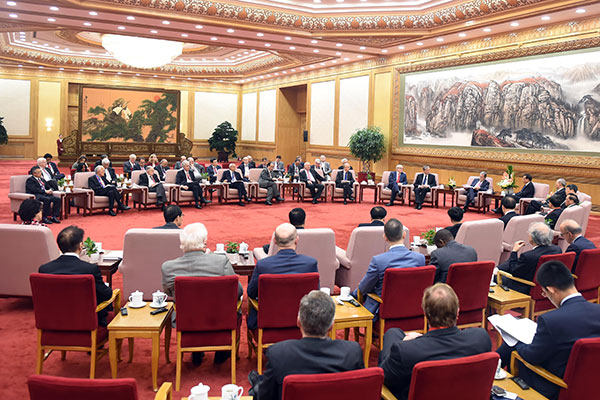 He proposed to make full use of China's strong production capacity in bilateral and trilateral cooperation with developing developed nations to help realize continued revitalization of the global economy.
Fifteen years after the UN released its millennium development goals, China has taken the lead to realize the goal of poverty alleviation, the Premier said. In fields such as education, employment, gender equality, health and environmental protection, China has also made much progress, he said.
Within the framework of South-South cooperation, China - being the biggest developing country - provides much support to other developing countries, the Premier said, adding that that China is willing to make equal, comprehensive and sustainable post-2015 plans with other sides.
More than 600 attendees gathered for the June 26-27 4th Global Think Tank Summit in Beijing.
The summit, under the theme "Global Sustainable Development: New Path After 2015", provides a platform for exchanges among think tanks from around the world.