Premier Li Keqiang met with Irina Bokova, director-general of the United Nations Educational, Scientific and Cultural Organization (UNESCO), on June 30 in Paris and he endorsed efforts by UNESCO to boost world cultural diversity and education in developing countries.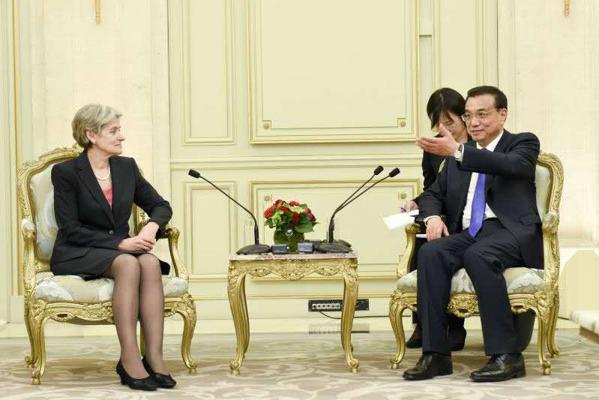 During their meeting, Li also spoke highly of the contribution by UNESCO to international cultural exchanges and the protection of human cultural heritage.
China is ready to strengthen cooperation with UNESCO in various fields, including education and culture. It will also help the world body to promote mutual respect and coexistence and equality among different civilizations and cultures, and achieve consolidated and harmonized development through inclusiveness and mutual learning.
Bokova said UNESCO has spared no effort in championing world peace and human dignity in the past 70 years since its establishment.
UNESCO, Bokova said, prioritizes its relationship with China and is ready to work with the country to deepen cooperation, and serve as a bridging role to promote cultural exchanges among all the countries and boost their mutual learning.