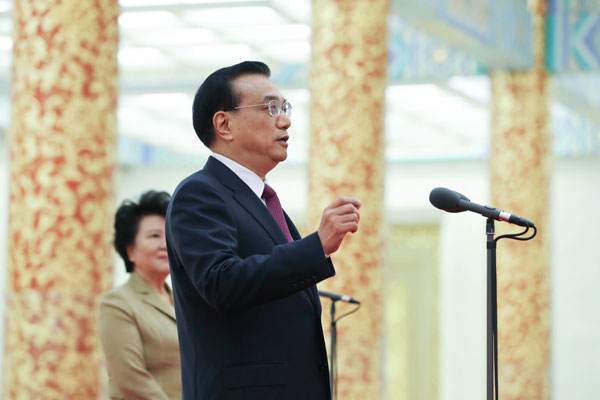 Premier Li met with representatives of the First Global Overseas Chinese Industry and Commerce Convention on July 6 in Beijing. [Photo/Xinhua]
Premier outlines how all are needed to drive national rejuvenation and to open the way for new development.
Premier Li Keqiang reached out to Chinese people around the globe on July 6, saying they represent the key to the nation's future.
"To realize the Chinese dream of national rejuvenation, we have to win the strong support and active participation of Chinese people overseas," Li told the first global overseas Chinese industry and commerce convention in Beijing.
"And that will definitely bring you more opportunities for development."
Overseas Chinese and ethnic Chinese living abroad-about 60 million people-have been a major force in China's revolutionary development. Their investment in China accounts for more than 60 percent of foreign investment since 1978.
Briefing delegates on the domestic situation, Li said, "We have the confidence and capability to handle various risks and challenges and to push forward sustainable and healthy development."
He encouraged overseas Chinese to use their advantages fully in capital, technology, management and business networks to raise the quality of the Chinese economy and help Chinese enterprises go abroad. He added that they should play an active role in the Belt and Road Initiative.
Li also asked them to contribute to local communities and build a good image of Chinese businesspeople.
The Belt and Road Initiative, first proposed by President Xi Jinping, aims to revive the ancient trade routes that spanned Asia, Africa and Europe.
Zhuang Rongwen, vice-chairman of the Overseas Chinese Affairs Office of the State Council, said a great number of ethnic Chinese live in more than 60 countries in the target region of the initiative.
"They have strong capabilities, especially in terms of economic and technology strength, mature production and sales networks, broad political and economic connections and the ability to link China with other nations," Zhuang said.
Chief Executive of Hop Hing Food Group Marvin Hung said, "My business will be closely related to the Belt and Road Initiative and establishment of the Asian Infrastructure Investment Bank."
He said that although the projects will first benefit infrastructure construction, the initiative will later become an engine for development of sales and consumer industries.
"We have paid great attention to the blueprint, and the conference has provided a precious opportunity for us to learn the details," he said.
Xu Junfeng of Fujian MagicRide Aeronautical Technology said he was encouraged by the government's support for innovation. His team is focused on designing unmanned aerial vehicles to help Chinese farmers in such areas as crop spraying.
Xu was born in Fujian and earned his doctorate at Stanford University in the US. He said his motherland has provided a "huge market" for him, and he has employed Chinese talent to develop products fitting domestic demands.
The two-day conference attracted more than 450 Chinese businesspeople as well as leaders of overseas chambers of commerce from 80 countries and regions.
The attendees will separate into six groups to visit parts of the country in search of business opportunities.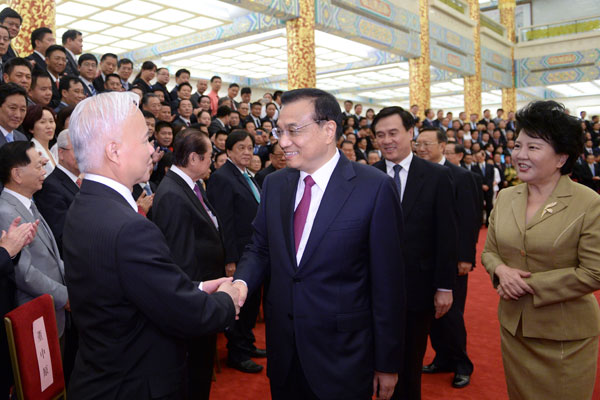 Premier Li met with representatives of the First Global Overseas Chinese Industry and Commerce Convention on July 6 in Beijing. [Photo/China News Service]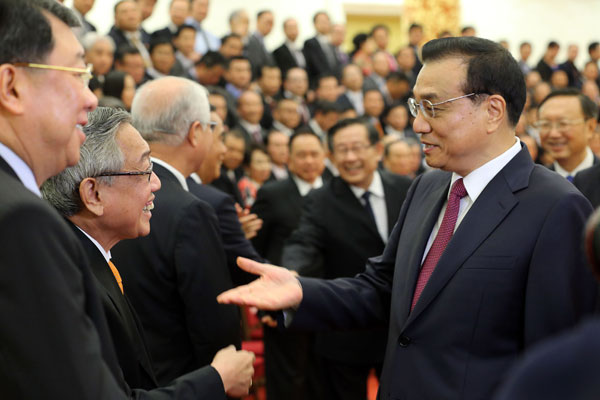 Premier Li met with representatives of the First Global Overseas Chinese Industry and Commerce Convention on July 6 in Beijing. [Photo/China Daily]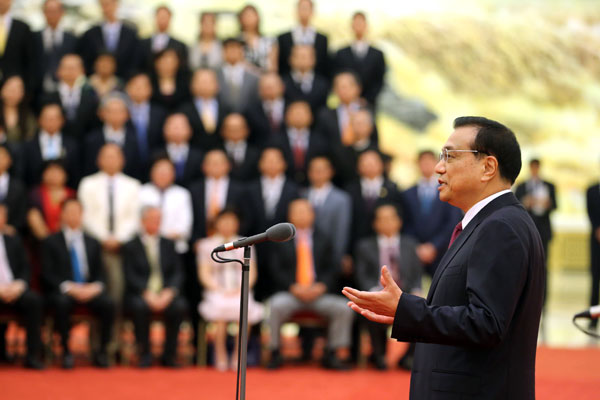 Premier Li met with representatives of the First Global Overseas Chinese Industry and Commerce Convention on July 6 in Beijing. [Photo/China Daily]