Premier says creativity, new business models boost economic vitality.
Premier Li Keqiang said on July 23 that China has the confidence and ability to handle the risks and challenges ahead as it maintains mid-to-high-speed growth.
The Chinese economy grew a better-than-expected 7 percent in the first six months of this year, in addition to creating an adequate number of new jobs. People's incomes also grew in line with the national economy, Premier Li said.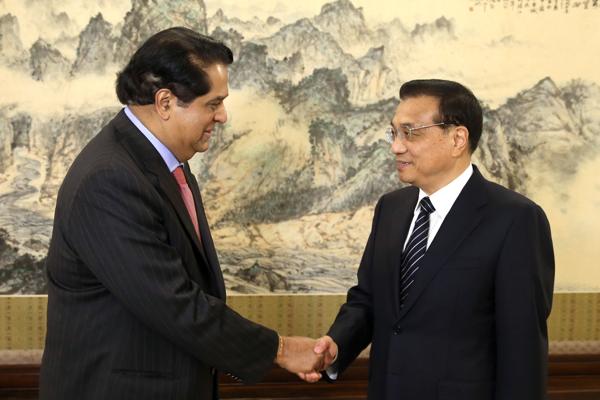 [Photo by Wu Zhiyi/ China Daily]
He made the remarks during a meeting in Beijing with K.V. Kamath, president of the newly formed BRICS New Development Bank.
The Premier said all this was only possible with the support of three measures.
First, reforms and incentives for innovation have inspired people to start new businesses, and this has led to greater market vitality and social creativity.
Second, new business models that emerged during China's economic restructuring have become the economic driving force alongside traditional industries.
Third, China has continued its opening-up policy to attract overseas investment.
With such measures, Premier Li said, it was possible for the Chinese economy to survive the challenges facing domestic and overseas markets.
Premier Li said he hoped the NDB would become a great support to international capacity cooperation and interconnectivity as a professional, efficient, transparent and green multinational development institution.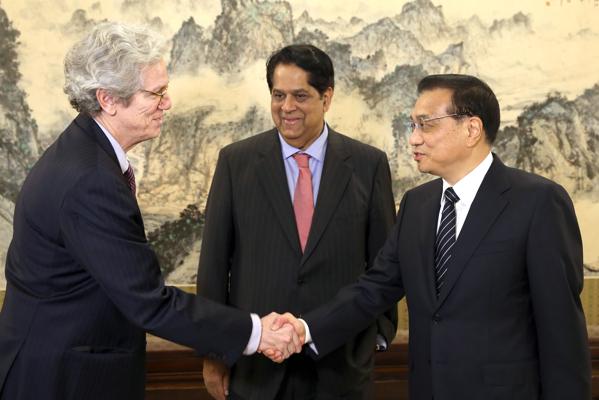 [Photo by Wu Zhiyi/ China Daily]
"The birth of the NDB is a major step forward for BRICS cooperation, and also an important outcome of financial cooperation among developing countries and emerging market economies," Premier Li said at the meeting with Kamath, who is from India, and other vice-presidents from China, Brazil, South Africa and Russia.
"We also believe that the bank represents an important improvement of, and a supplement to, the existing international financial system," the Premier said.
"The BRICS countries are all in a process of industrialization," Premier Li added. "We hope there will be robust financial service support to boost our industrial process and achieve economic upgrading.
"We also want to use this opportunity to enhance our international capacity cooperation among ourselves and among a large group of emerging countries."
The BRICS New Development Bank opened in Shanghai on July 21.
The bank, launched jointly by Brazil, Russia, India, China and South Africa, will provide financial support for infrastructure construction, mainly in emerging countries.
Kamath said the NDB was expected to give its first loans by April next year.
In an earlier interview with Chinese financial website yicai.com, Kamath said he expected the first loan to be issued under a public-private partnership and very likely to be renminbi-denominated.
Wang Lei, a researcher at the Center for BRICS Studies at Fudan University, said: "The NDB and the Asian Infrastructure Investment Bank, both committed to improving infrastructure conditions in emerging market economies, are a step forward to explore a new model of global governance."