Premier Li Keqiang called for solid and stable measures to support upward growth in a bid to achieve the target for economic and social development, while attending a symposium with economists and entrepreneurs, on July 6.
Economists and entrepreneurs shared their views on mass entrepreneurship and innovation, new growth momentums, and business environment at the event.
Facing increasing uncertainties and a competitive international environment, China's economy continues its upward curve with improving enterprise profits and market confidence, attendees said.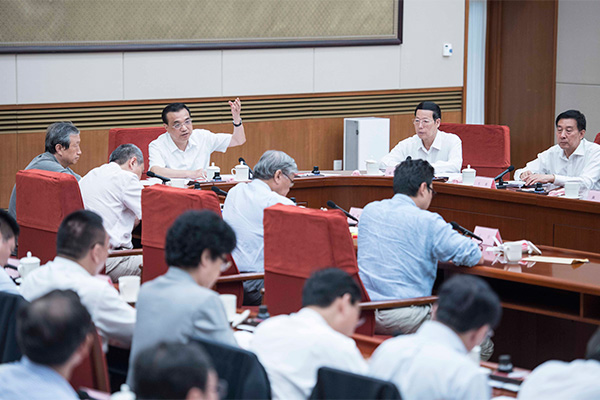 Meanwhile, new growth momentums have provided strong support to the economy and employment, paving the way for a more stable and progressive development.
Premier Li said the good economic trend in the first half of 2017 should be cherished, and added the nation should prepare for difficulties ahead as the world is undergoing a deep adjustment.
With stable growth in mind, the Premier called on new development concepts as the structural reform continues to press ahead, attaching more attention to innovation, as well as a better environment and improving quality.
The Premier asked the government to keep macro policy at the event, along with market expectations, financial running stable, and to continue proactive fiscal policies and moderate monetary policy.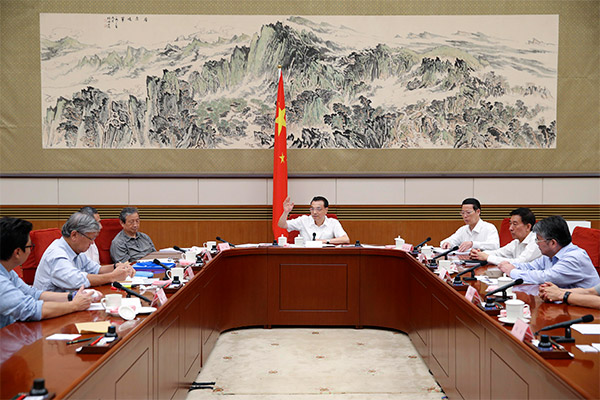 He said the government should implement prospective, targeted and effective measures to hedge against the external uncertainties and risks.
The Premier added the government should also continue to focus on employment, and help college graduates, laid-off workers from production capacity retirement and those have difficulty in finding employment.
"Enhancing the real economy is still a priority, and the government should continue to cut taxes and fees, and solve fundraising problems for enterprises, especially the medium and small ones," he said.
The Premier also called for eliminating obstacles of private investment and allowing consumption to play a bigger role in economic growth.
Premier Li further urged China should shift its growth model through replacing old growth drivers with new ones at a faster pace.
"Related departments should deepen the reform of cutting overcapacity, reducing excess inventory, deleveraging, lowering costs, and strengthening areas of weakness," he said.
"They should reinforce their efforts on streamlining administration, delegating power and strengthening regulation, while optimizing service and lowering institutional transaction costs."
Premier Li added such efforts are intended to create a favorable business environment with enhanced international competitiveness and equal treatment for both domestic and foreign enterprises, with the aim to further stimulate market's vitality and social creativity.
He added China should vigorously carry out the innovation-driven development strategy, and enhance the ecosystem for promoting entrepreneurship and innovation.
"Efforts should be made to push forward mass entrepreneurship and innovation, as well as deepen the implementation of Internet plus and Made in China 2025, to help enterprises upgrade products, advance technologies and improve qualities, especially for those in the traditional industries," he said.
Premier Li said the development should focus on people's benefits.
"Policies that closely related to people's well-being — such as poverty relief, shantytown reconstruction and pollution prevention — should be effectively implemented to enhance their sense of gain and happiness," he said.
In addition, Premier Li required related departments to exert full efforts to stabilize growth, advance reform, and adjust economic structure while improving people's well-being.
He then asked experts and entrepreneurs, who attended the meeting, to contribute their insights and opinions that will be beneficial to China's future economic growth.
Vice-Premiers Zhang Gaoli and Ma Kai, and State Councilor Wang Yong also attended the symposium.