Premier Li Keqiang met with Mauritian Prime Minister Pravind Jugnauth in Beijing on Sept 2 ahead of the 2018 Beijing Summit of the Forum on China-Africa Cooperation.
Bilateral ties between China and Mauritius are developing smoothly, said the Premier, adding the visit by President Xi Jinping about a month ago has boosted relations to a new stage.
China appreciates Mauritius's stand on the one-China consensus, Premier Li said.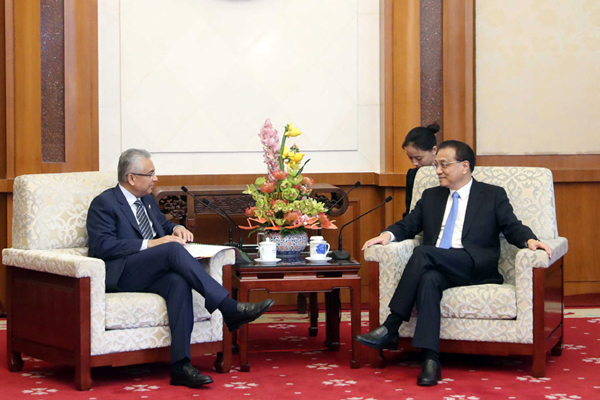 China and Mauritius have achieved an agreement on bilateral free trade. And China is willing to work with Mauritius to maintain multilateralism and free trade.
China is ready to enhance cooperation with Mauritius in fighting climate change, with special care to small island nations' situation.
For his part, Jugnauth said Mauritius also is making efforts to enhance its relations with China. He appreciates the help from China with his country's infrastructure construction and financing, which have facilitated the transformation of Mauritian economic society.
He said he welcomes Chinese enterprises to invest in Mauritius, which will provide a platform for business exchanges between China and Africa.
After the meeting, Premier Li and Jugnauth witnessed the signing of various bilateral cooperation agreements.