A meeting was held between Premier Li Keqiang and Nigerian President Muhammadu Buhari on strengthening the partnership between the two countries, on Sept 5 at the Diaoyutai State Guesthouse in Beijing.
The strategic China-Nigeria relationship over the years has brought abundant achievements, the Premier said. Complementary in economic situation, the two countries share a vast potential for cooperation.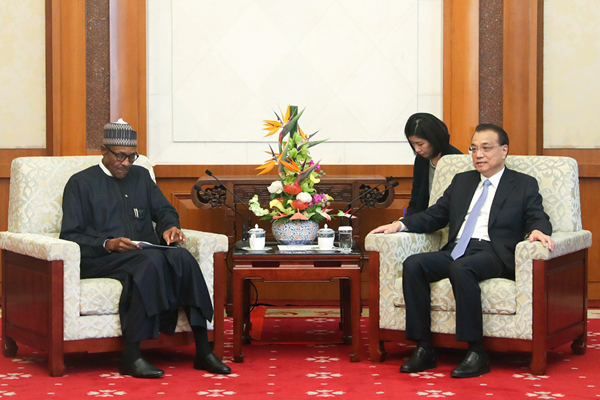 China is willing to provide aid to Nigeria, the Premier added, saying that China will enhance strategic cooperation with Nigeria, encouraging enterprises to invest, and build production capacity and infrastructure in Nigeria.
China wants to see win-win results, Premier Li said.
Buhari congratulated China on its successful organization of the 2018 Beijing Summit of the Forum on China-Africa Cooperation (FOCAC), creating better prospects for China-Africa relations. He expressed his gratitude for China's humanitarian aid and training for youths, saying that China has helped in agricultural modernization and infrastructure construction, and improved Nigerian people's well-being.
Nigeria is committed to expanding mutual beneficial cooperation with China, according to Buhari.