China will remain the hot market for foreign investment with higher-level opening-up, Premier Li Keqiang said on Oct 10 while meeting with Harald Kruger, chairman of the board of management of BMW Group, the German automobile company, in Beijing.
Deepening China-Germany pragmatic cooperation conforms to bilateral common interests, he said.
According to Premier Li, BMW's latest project with China will be in Shenyang, Northeast China's Liaoning province, making it the first beneficiary since the country lifted shareholding restrictions for foreign investment in its automobile industry.
"It shows China's new measures on reform and opening-up are not talking the talk, but walking the walk," he said.
Premier Li pointed out that China's opening-up will be wider and reach a higher level in the future, and China will remain a hot market for foreign investment for a long time.
China welcomes companies from all over the world, including Germany, to seize opportunities and expand investment in China, sharing common development and achieving mutual benefit and win-win results, the Premier said.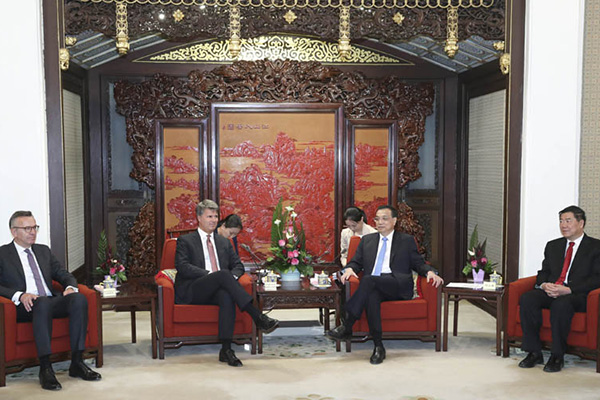 Krueger said prime ministers on the two sides witnessed the signing of a framework agreement on strategic cooperation between the BMW Group and its Chinese partners during the fifth round of Germany-China intergovernmental consultations.
China is the largest market for BMW, which cherishes investment opportunities in China, and is willing to take advantage of its new factory in Shenyang as an opportunity to further expand cooperation with China, Krueger said. Some models will be sold to the global market, including China, achieving mutual benefit and win-win results, he added.