Premier Li Keqiang said China will maintain its opening-up policy and open wider to the outside world during a meeting with Harald Kruger, chairman of the BMW AG board of management, in Beijing on Oct 10.
Premier Li said China is not only a huge market for BMW, but a strategic anchor point for BMW to develop the world market.
Kruger is in China to expand investment and establish the third plant for BMW Brilliance Automotive in the China-Germany Equipment Manufacturing Industrial Park in Shenyang, Northeast China's Liaoning province.
"We are very proud that in the future, one might find that an all-electric variant of the X3 at any place in the world would be made in China," Kruger said.
"The success of BMW in China is a result of the stable environment provided by the Chinese government," he added.
Premier Li said BMW was the first beneficiary from China's lifting restrictions over the proportion of foreign equity in the automobile industry, which showed China has been promoting opening-up in deeds, not just words.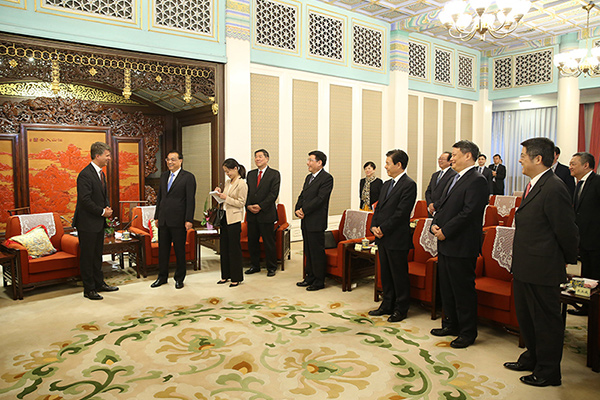 Kruger expressed appreciation for Premier Li's support to the cooperative project between BMW and its Chinese partner during his state visit to Germany this July.
Premier Li said in July, he and German Chancellor Angela Merkel witnessed the signing of agreements between the two sides, and one was about BMW's project to increase investment in China, which was of great significance to China-Germany cooperation in the automobile industry, as well as cooperation between the Chinese side and foreign capital.
Premier Li said he hopes BMW will have good cooperation with its Chinese partner and achieve new results at an earlier time.
BMW takes China, a huge market, as its top priority. There is no parallel even adding up the markets of the United States and Germany, Kruger said.
But in BMW's strategy, China also will become a world-class manufacturing base, exporting cars to the rest of the markets, he added.
China will continue to become a favorable investment destination for foreign businessmen, Premier Li said.
China is a manufacturing base with a huge market and comparative advantages, the Premier said, hoping China and Germany will achieve greater success and win-win outcomes.