The National Museum of China launched Silk Road, the country's highest-level exhibition so far on cultural relics discovered along the historical overland route, which continues through Jan 4.
The two-month long display, co-organized by the Ministry of Culture, the State Administration of Cultural Heritage and several provincial governments, presents more than 400 exhibit items from 44 museums in 14 province-level administrative regions. It is developed from a previous nationwide touring exhibition that includes some 200 pieces from 21 museums in northwestern China.
"The Silk Road was a complex road network connecting the East and West and an artery for the different civilizations on the route to absorb one another's goods and cultures," says Song Xinchao, deputy director of the State Administration of Cultural Heritage. "It was a non-bellicose path for peaceful development, which created a fundamental tone for our exhibition today."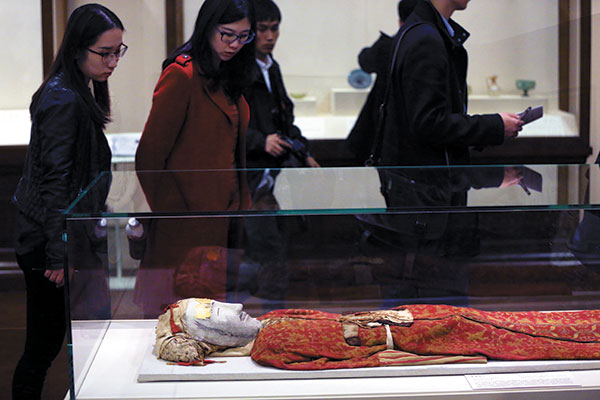 National Museum of China displays cultural relics discovered along the ancient Silk Road. [Photo by Jiang Dong/China Daily]
The exhibits cover a wide range of artifacts, including porcelains, textiles and stone carvings, that are ranked as top-grade national treasures. Song adds that the display also reflects the country's recent archaeological research achievements. Some items have never been shown to the public although they had been unearthed for decades.
"Top-tier experts will offer explanation of the cultural relics. A catalog of the cultural relics will also be published soon (in Chinese)," Song reveals.
"We'd love to extend the duration of the show and organize a tour nationwide. But as many exhibits are the most precious collections in the museums, I'm afraid we'll have to give them back as scheduled."
The main line of the Silk Road was in use from the 2nd century BC to the 16th century AD and covered over 8,700 kilometers. Trade reached its peak during the Tang Dynasty (618-907). A portion of the route was listed as UNESCO Cultural Heritage in June, including 22 sites in China, and others in Kazakhstan and Kyrgyzstan.
Six sections are included in the display, focusing on different themes, including a mixture of lifestyles, religious art, and businesses. It also has one section that covers the Maritime Silk Road, China's other ancient major cultural passage to foreign countries. Beijing's Capital Museum held Sailing Far and Wide on the Sea, an exhibition on the Maritime Silk Road, in May, and extended it for a month due to its huge popularity.
"It will be boring if we simply arrange the different sections according to a timeline," says Shan Yueying, curator of the exhibition. "We put each exhibit into a larger context of history and relate its interesting stories."
Multimedia methods are also applied to fill some blanks in history that cannot be presented via cultural relics, to better attract younger visitors.
"Some historical figures on the Silk Road are famous, but we haven't got cultural relics directly connected with them," Shan says. "So we've designed small interactive games to fit them into the big picture."