JAKARTA — Indonesian President Joko Widodo met with Foreign Minister Wang Yi on Nov 3 at the Presidential Palace in Jakarta.
Joko said he looked forward to attending the APEC Economic Leaders' meeting and meeting with President Xi Jinping.
It is of great importance to develop China-Indonesia relation, as the two countries are strategic partners, Joko said.
"Indonesia is on the way of developing into a maritime power, while China proposes to build the 21st century Maritime Silk Road, the two initiative highly fit with each other," said Joko, adding that Indonesia expects strong support from China on developing the Southeast Asia's infrastructure including port, railway, toll road and power stations.
Joko also pledged his support for the establishment of Asia Infrastructure Investment Bank.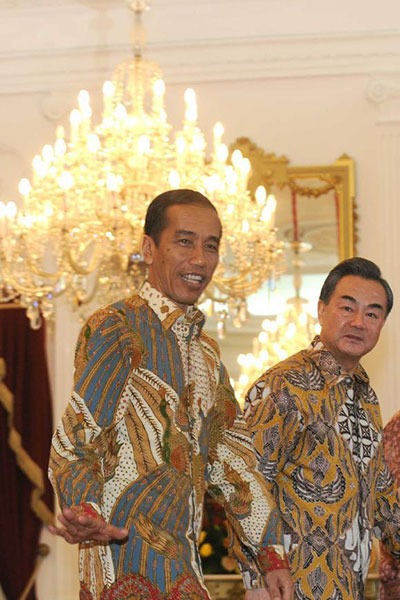 Indonesian President Joko Widodo (L) meets with visiting Foreign Minister Wang Yi at the Presidential Palace in Jakarta, Indonesia, Nov 3, 2014. Wang Yi was on a two-day visit to Indonesia from Nov 2 to 3.[Photo/Xinhua]
Wang Yi welcomed Joko's attendance at the APEC summit.
He said as an important developing country with huge potential, Indonesia has always been considered as a diplomatic priority for China, especially in China's neighboring diplomacy.
China and Indonesia present each other with development opportunities, both sides need to tap the potentials, achieve common prosperity, bring benefit to the two peoples as well as make new contribution to the peace and stability of the region," said Wang.
The foreign minister said China is willing to implement the comprehensive strategic partnership between the two countries, through measures including accepting Indonesia as a major partner in building 21st century Maritime Silk Road, participating actively in Indonesia's construction of maritime power, as well as vigorously carry out cooperation on maritime economy and infrastructure.
Wang also expressed his hope for both sides to jointly advance the relationship between China and ASEAN.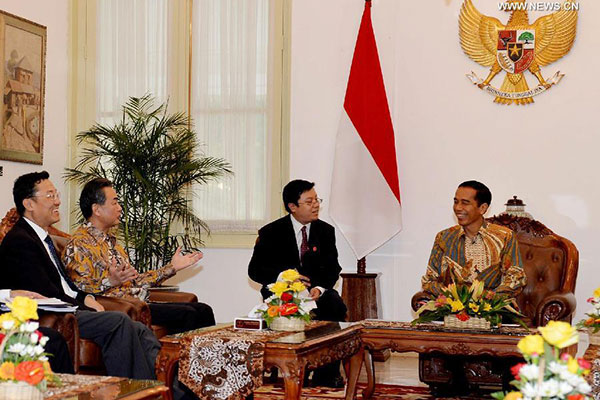 Indonesian President Joko Widodo (1st R) meets with visiting Foreign Minister Wang Yi (2nd L) at the Presidential Palace in Jakarta, Indonesia, Nov 3, 2014. Wang Yi was on a two-day visit to Indonesia from Nov 2 to 3.[Photo/Xinhua]