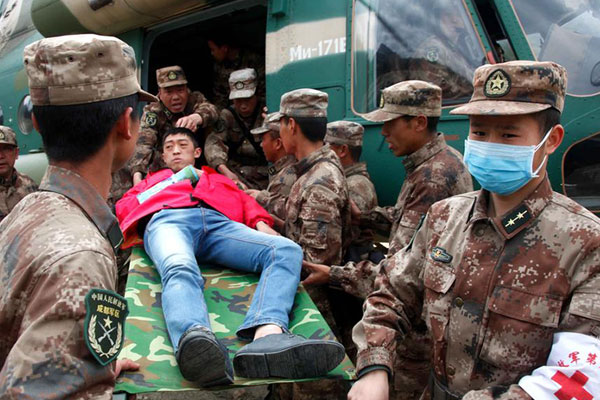 An injured Chinese worker who was trapped at a hydropower station in Nepal is carried on to a helicopter on April 28. [Photo/Xinhua]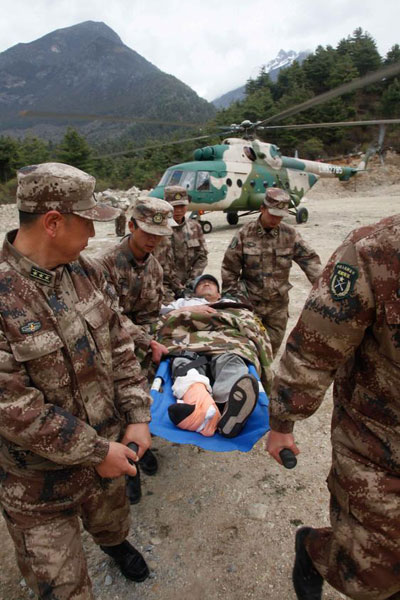 An injured Chinese worker who was trapped at a hydropower station in Nepal is airlifted to safety on April 28.[Photo/Xinhua]
China is pushing hard to rescue more than 250 Chinese workers trapped at a hydropower station near a quake-hit area of Nepal, the Ministry of Commerce said on April 28.
The magnitude-8.1 earthquake caused serious damage to the Rasuwagadhi Hydropower station owned by China Three Gorges Co, the country's largest hydroelectric company, according to a statement posted on the company's website.
Two workers were killed in the quake that happened on April 25 and several others were injured, the website reported, adding there is only two more days of food available to the trapped workers.
Twenty five of the stranded Chinese were airlifted to safety on the afternoon of April 28 by a Chinese helicopter.
The 25, including a child, have been taken to nearby Jilung county in Southwest China's Tibet autonomous region, according to the quake relief headquarters in Jilung.
Rasuwagadhi, located about 67 km from the quake epicenter, is one of three dams in Nepal being built and operated by Three Gorges, which has 417 Chinese employees in the country, according to the statement.
Construction of the dam started in February 2014 and will have a total installed capacity of 111 megawatts when complete, it added.
The company said rescuers include those from Southwest China's Tibet autonomous region and Chengdu Military Command of the Chinese People's Liberation Army.
Shen Danyang, a spokesman for the Ministry of Commerce, said the Chinese government has spent 20 million yuan ($3.2 million) on humanitarian aid to Nepal following the massive earthquake.
A total of 180 tons of tents, woolen blankets and electric generators were sent to Kathmandu, the capital city of Nepal, on April 28, he said.
There are about 35 enterprises or joint ventures by Chinese companies in Nepal, including three large enterprises, and more than 2,100 Chinese are living in the country, according to the ministry. Two other hydropower projects reported no injuries.
Nepal, one of the world's poorest countries, is opening up its vast hydropower potential to help ease chronic power shortages.
Three Gorges is one of the world's biggest hydropower developers and its facility on the Yangtze River is the largest hydropower plant in the world.