China's consumer prices grew 2.3 percent in March from one year earlier, the same as in February, official data showed on April 11.
The consumer price index (CPI), a main gauge of inflation, shrank 0.4 percent in March from February, the National Bureau of Statistics said in a statement.
NBS statistician Yu Qiumei attributed the inflation growth mostly to high vegetable and pork prices.
Pork prices jumped sharply by 28.4 percent year on year, contributing 0.64 percentage points of CPI growth, while vegetable prices skyrocketed by 35.8 percent, accounting for 0.92 percentage points of CPI growth.
Food prices soared 7.6 percent year-on-year while non-food inflation edged up 1 percent in March.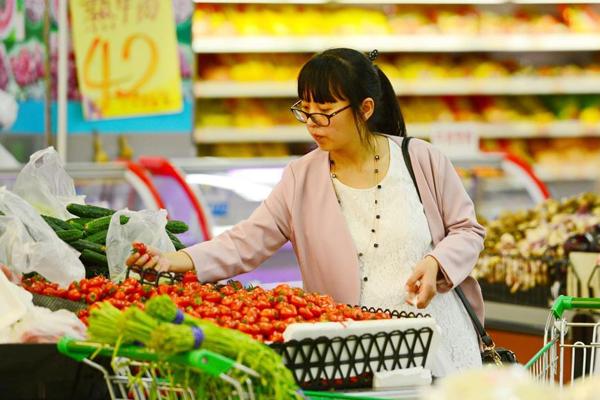 A woman chooses vegetables inside a supermarket in Baoding city, North China's Hebei province, April 10, 2016.[Photo/Xinhua]
Since January, CPI data have been calculated using a new comparison base that takes into account new products and services, reflecting a change in consumption patterns. The adjustment slightly reduced the weight of food, which previously accounted for nearly one-third of the CPI calculation.
The producer price index (PPI), which measures wholesale inflation, dropped 4.3 percent year on year in March, narrowing from a 4.9-percent drop in February and 5.3-percent drop in January.
But the PPI rose 0.5 percent in March from February, the first month-on-month rise since January 2014.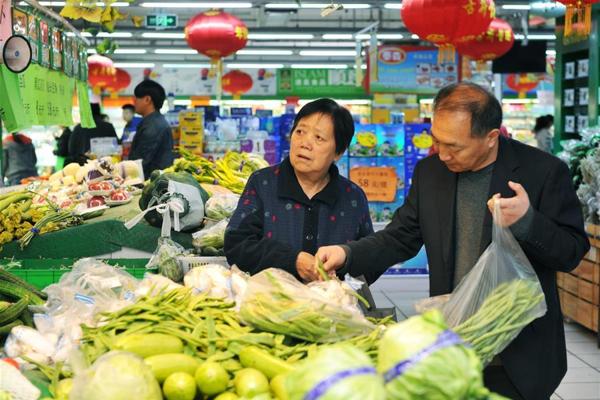 Local residents choose vegetables inside a supermarket in Cangzhou city, North China's Hebei province, April 10, 2016. [Photo/Xinhua]