Salted egg yolk with lotus paste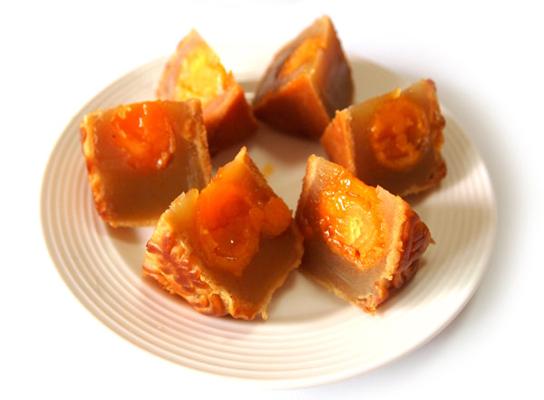 This is the classic mooncake, with either a single or double brilliantly bright egg yolk in the center, softly cushioned by either white or red lotus paste. This is the truest form for the season, with its gently scalloped edges guiding you to the perfect six or eight wedges - meant to be delicately nibbled at and eaten between sips of the best tea, while gazing at the autumn moon amidst the cooling breezes.
Pastry: Traditional sweet glazed pastry
Filling: Lotus paste, melon seeds, salted egg yolk
Tea match: A nice heavy bodied tea like an aged Yunnan pu'er will cut the grease and ease those cholesterol concerns. When you brew pu'er, always pour away the first addition of hot water. The second brew is light, and the best brew is the third time you add water. Place in little purple clay teacups.
Yunnan ham with/without egg yolk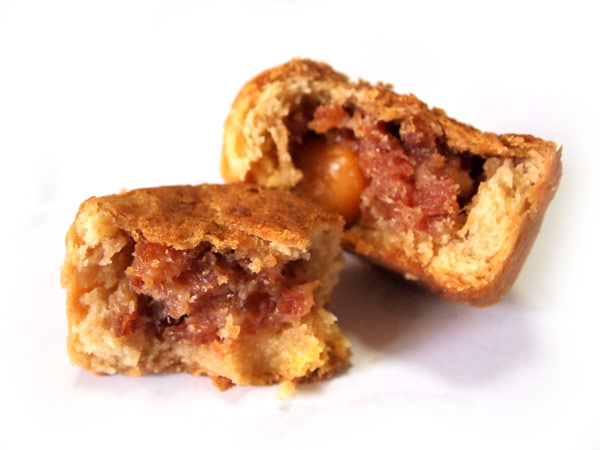 These are unique to Yunnan province, where its famous ham has won international awards. It's a salty-sweet filling that leaves a lingering fragrance in the mouth. Ignore what looks like bits of fat in the filling, it's candied winter melon, added for a tactile contrast to the very lean ham. These days, they also add nuts, seeds and rose-petal jam to the filling to accentuate the aroma.
Pastry: Flaky pastry
Filling: Chopped Yunnan ham, candied fruit and nuts, rose petal jam
Tea match: Yunnan highland green tea with its light, grassy scent will be the perfect match for the salty sweetness of this pastry. Or, you may want the province's famous fruit-infused tea, such as a rosella (hibiscus) and rose-hip tea.
Mung bean, red bean paste with sticky center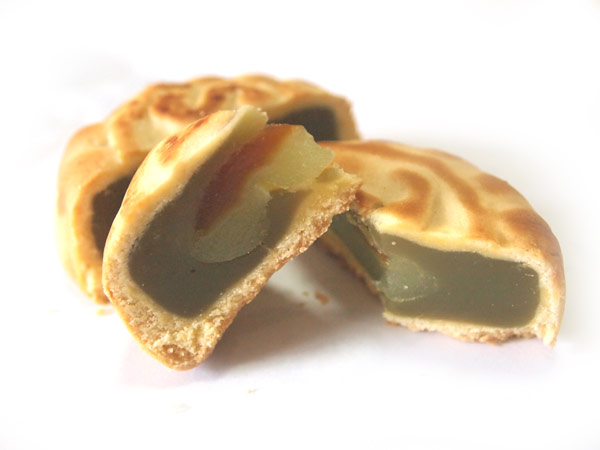 This is a new innovation that has not departed too far from traditional flavors. What the manufacturer has done is to add a sticky rice roll in the center, very much like the Japanese mochi.
Pastry: Biscuit crust
Filling: Red or mung bean paste with sticky rice ball.
Tea match: It has to be green tea for such texture and sweetness. A pot of lightly brewed green tea such as a Hangzhou Dragon Well, or even a Japanese green tea, will be the perfect match.
Red bean / jujube paste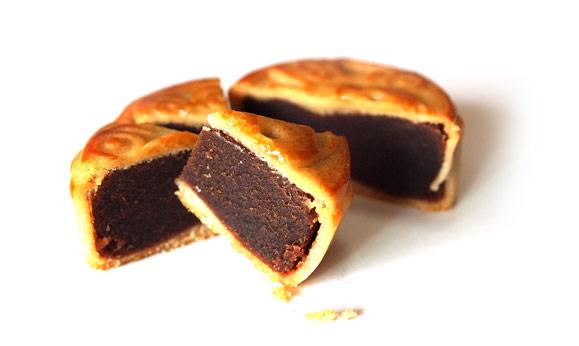 Red bean is an affordable luxury in the north often used in classic Beijing snacks like ludagun (donkey rolling in the dust), made from a sticky cooked dough and rolled up. That is probably why this is the favorite filling in Beijing and its neighborhood. Sometimes, the red paste is made from jujubes, or the Chinese tree dates.
Pastry: Shortcrust pastry
Filling: Red beans or jujube paste. No yolks, no melon seeds.
Tea match: Go with the flow, and pair this typically northern flavor with a favorite Beijing tea, jasmine scented oolong, or hua cha. The scented tea will lift the subtle aroma of red bean paste, and the lightly bitter aftertaste of the jasmine tea will help ease the sweetness of the filling.
Five-seeds and ham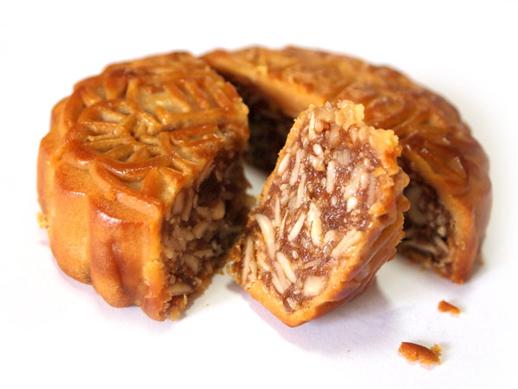 Melon seeds, pumpkin seeds, pine nuts, walnuts and sunflower seeds are the most commonly used. Seeds and ham sounds like a rather odd combination, but it is time-tested, especially in the south from the island of Hainan to Guangzhou to Shanghai. Candied winter melon forms a base filling, to which toasted nuts and melon seeds are mixed with finely minced ham. These should be sliced into thin wedges and enjoyed with a steaming pot of tea.
Pastry: Traditional sweet glazed pastry
Filling: Mixed nuts, melon seeds, chopped ham, five-spice powder
Tea match: With such nuttiness in the mouth, you need to have a tea that will enhance, rather than dissipate the spicy fragrance. Try an oolong tea, either from Fujian province Wuyi Mountain, or Taiwan's Ali Mountain.