The Baima are believed to be East Asia's oldest tribe.
Their community has remained largely intact because the group has remained reclusive and avoided marrying outsiders throughout the millennia.
Genetic tests suggest their ancestors were the first to come to Asia from Africa, predating the Negrito of India's Andaman Islands and the Ainu of Japan's Hokkaido.
The Baima today inhabit Paxijia village in lush forests five hours' drive from Sichuan province's Mianyang city.
I was sent to the village on assignment last Lunar New Year's Eve and decided to stay for Spring Festival.
It was my second visit.
It was love at first sight. Paxijia's autumn scenery during my maiden journey seemed straight out of a landscape painting.
The mountainside flora burned burgundy and golden-yellow, and white clouds wreathed the slopes.
The Baima enjoy a slow-paced lifestyle. Many don't get up until 10 am, especially in winter.
Xu Sexiu was to be my host during my second visit. His door was shut when I arrived.
So I went to his neighbor, Ao Lidao, who immediately invited me to join his family when he learned I planned to spend the Spring Festival holiday in the village.
His eyes shone with goodness, innocence and honesty. I couldn't refuse his sincere invitation.
Ao's family was busy on the morning of New Year's Eve.
His wife and daughter-in-law were cleaning the fireplace, which can't be done too early for fear of chasing away good luck.
Then they began to cook meat.
More than 20 cases of beer and other booze were prepared.
Streaky pork, sausage, chicken and braised fish were served that evening.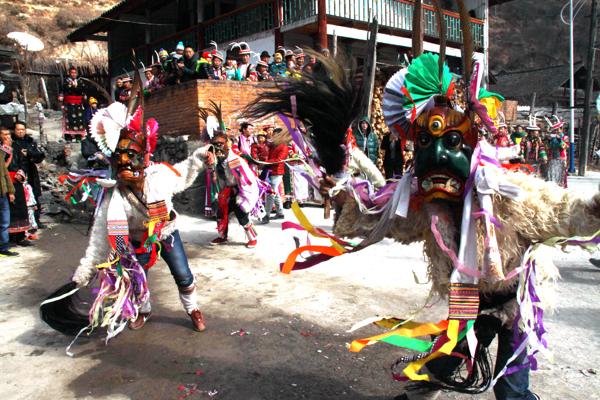 Young men wear masks in the caogai dance.[Photo by Chen Ji/China Daily]
Baima speak their own ancient language, but my host family switched to Sichuan dialect for my sake. They feted me generously.
The Lunar New Year's Eve dinner lasted until midnight. After eating, Ao Lidao lit a joss stick to worship his ancestors and local gods. Everyone stayed up until the first cockcrow, when the entire village rushed to the alpine rivers.
Locals start the Spring Festival by fetching water they use to make tea and wash. The washing symbolizes a cleansing of all the previous year's bad luck.
They ritualistically worship deities, dance and visit one another on the fifth and sixth days.
Some living in the village's Eli neighborhood sculpt spiritual figurines and the 12 Chinese zodiac creatures from highland barley flour and oil.
Villagers are summoned with gongs and drums. Families exchange cypress twigs, paper money and old tree branches wrapped in ribbons to express New Year wishes.
Worshippers ceremoniously slaughter and stew a sheep-again, symbolizing good fortune.
People sing and dance for the whole day.
I was particularly fascinated by caogai ("mask" in the local language) dances in which young men don the faces of black bears, pandas or tigers, or green visages with ferocious fangs.
The sacrificial ceremony has been linked since ancient times to hunting, totem worship, geomancy and war. Mostly, the ritual is meant to shoo away ghosts and evil spirits.
Since caogai weigh more than 10 kg, usually young men perform the dances, typically for about half an hour.
The rest of the year, caogai hang above every household's entrance.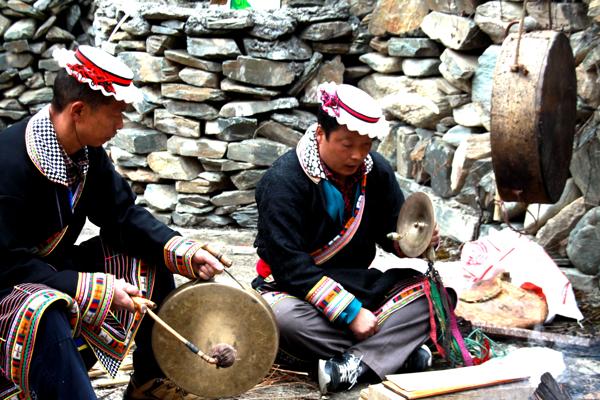 Two shaman of the village play gongs while chanting sutras.[Photo by Chen Ji/China Daily]
I was riveted as the dancers imitated wild creatures' movements by firelight, moving swiftly and constantly changing their lineup.
One masked performer caught me off guard when he leapt at me.
The troupe then traveled from house to house. Every family greeted them by setting off firecrackers on their doorsteps.
I was snapping photos when several burly women grabbed me and began tossing me in the air. The world appeared upside down, and all I could make out was the swirl of colorful skirts.
The festival's 15th day marked a sacrifice to the local mountain god, Yexinama.
A sheep was cut open, and its entrails and some wool were placed in a small bowl. Blood was collected in another bowl.
The two vessels-representing the whole sheep-were placed on a short parapet facing the mountain.
Then, people began praying.
Elders hoisted a paper effigy and ascended and descended the mountain to drumbeats.
The day and the festival ended with lively songs and dances.
The author is a China Writers Association member. This story first appeared in Chinese Art newspaper and was translated by Yang Feiyue.
If you go
It takes more than two hours to fly from Beijing to Mian-yang, and another five hours to reach Paxijia via bus.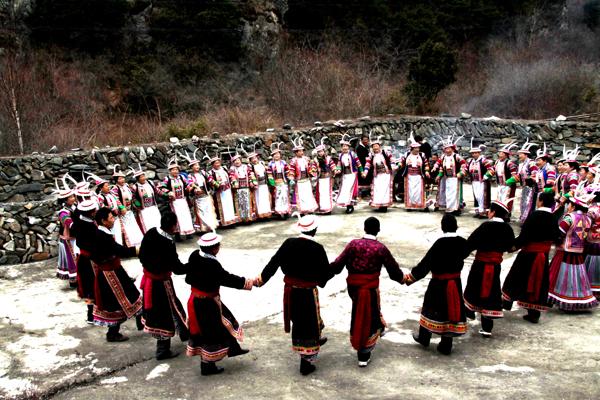 Villagers dance to worship the gods during lunar New Year.[Photo by Chen Ji/China Daily]