The ancient Maritime Silk Road's starting seaport imported a pantheon of faiths. The legacy survives not only in concrete but also in customs.
Faiths encompass every corner of the globe. They congregate in Fujian province's Quanzhou.
Neighboring Xiamen often eclipses the city's tourism.
The silver lining to this is that visitors who make the ancient Maritime Silk Road's reported starting point a port of call, discover a big trove of little-known treasures.
And with the ancient trade route's revival under President Xi Jinping's One Belt, One Road Initiative, the once-internationalized haven is set to receive a growing number of visitors from around the globe. It was among the world's busiest seaports from the 12th to 14th centuries, when it was known as Zayton.
It's this historical legacy that imbues its contemporary charm.
I abandoned the hotel's buffet breakfast for back street local fare — an oyster omelet and some zongzi (pyramidal glutinous-rice dumplings).
Chinese everywhere eat zongzi to celebrate the Dragon Boat Festival. But Quanzhou is rare in that it mixes in chilly sauce and pork.
Downtown is small and packed with attractions easily reached by foot.
Tumen street is lined with traditional two-story buildings, many of which display relics in admission-free spaces.
Locals proclaim the city a "museum of religions". Early international trade brought foreigners of myriad beliefs to Quanzhou.
Locals stop by Guanyue Temple to burn incense sticks on their way to work. The Taoist temple venerates Yue Fei and Guan Yu, celebrated ancient war heroes.
Southern Fujian natives are known for their respect for clans and ancestor worship, as well as traditional Chinese ethics.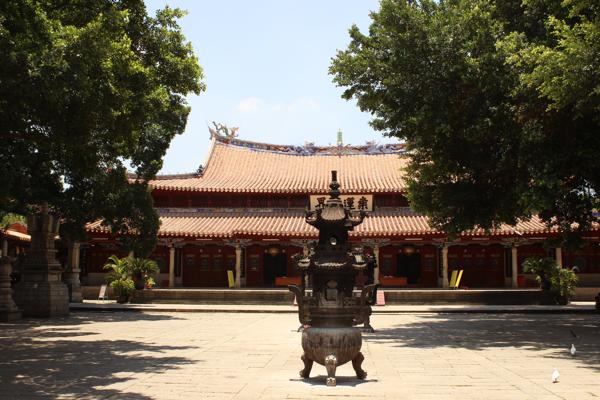 [Photo by Wang Kaihao/China Daily]
Hence, while infrequent elsewhere, such mass pilgrimages remain part of daily life here.
It's a different scene at the Qingjing Mosque next door.
The holy site was first built according to Syrian construction style in 1009 and ranks among China's oldest Islamic structures. Some minarets are gone. Columns lay toppled in the yard.
While the structure is too eroded by the sands of time to still serve as a place of worship, you can imagine Zayton-era Middle Eastern fleets' crews worshipping within its walls during the port's peak.
They not only prayed to heaven but also departed from Earth in Quanzhou. The Islamic cemetery in the city's east is among China's largest.
I pass a church and a Confucian temple on my way back to downtown, where I visit the Buddhist Kaiyuan Temple. The temple, built in 686, is among the most important Buddhist sites in southern China.
Yet, while many Chinese Buddhist temples are criticized for being commercialized tourist traps, this Tang Dynasty (AD 618-907) holy site remains authentic and accessible.
Two ancient pagodas hide behind trees in the yard.
Exhibitions reveal how Buddhism prospered in the area and was exported to other countries.
As dusk approaches, I watch a Quanzhou Marionette Troupe show. As I wander the old quarter, I stumble upon a street-side teahouse performance of the local nanyin music.
I can't understand a word.
I don't need to.
The music sounds like the breeze that caresses my skin.
And I feel how tradition is not only alive today — it sings.