An area of subsidence-hit waste ground that was formerly a coal mine has been transformed into a venue for the recently opened Tangshan International Horticultural Exposition.
More than a century of coal extraction had left the site, now known as South Lake Park, strewed with countless pits, according to Yao Shan-yong, deputy director of the coal-mining technology department at Kailuan Group Limited Liability Corporation, which operated the mine.
These pits were used to dump rubble and construction waste in the aftermath of a disastrous magnitude-7.8 earthquake in 1976 that leveled 97 percent of Tangshan's buildings and killed more than 200,000 people.
Zhang Wenming, head of South Lake Park's Administrative Committee, said the area became an eyesore known as "waste mountain".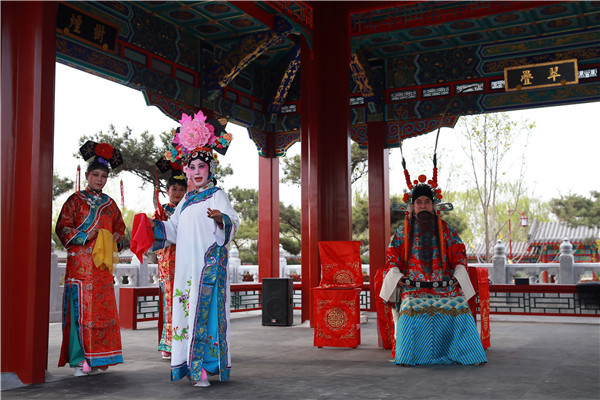 Artists perform Peking opera in a garden that resembles an ancient Chinese emperors' palace at the expo park.[Photo/China Daily]
This started to change in the 1990s, when subsidence had eased enough for low-rise buildings to be built and some small-scale voluntary tree planting to take place.
"A lot of waste was dumped in the pits and surrounding areas," said Zhang.
"Tangshan is a city born of coal-mining that lived on steelmaking, but this gave people the impression of a polluted city.
"The successful bid to host the exposition brought Tangshan new drive."
Hong Jinxiang, the committee official in charge of the park's greening work, said more than 1.4 million square meters of land had been planted with trees and grasses in the past few years, while 4.5 million metric tons of accumulated waste had also been removed.
"We made use of the former sewage pits and spoil tips to make the clear lakes and green mountains that a park needs," Hong said.
The park's Longshan and Fenghuangtai mountains were both former spoil tips that have been treated and greened, Hong said.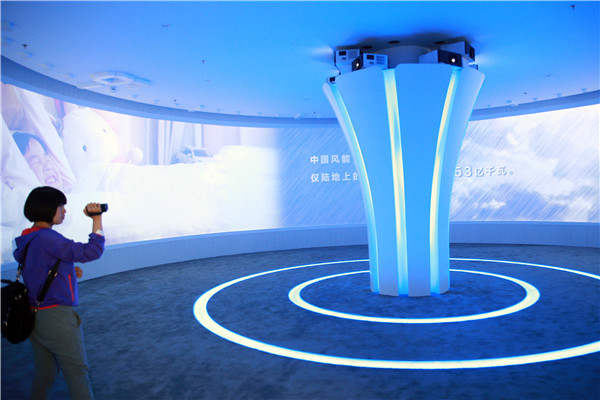 A curved screen displays a video promoting a low-carbon lifestyle at the expo.[Photo/China Daily]
International Park
The International Park covers 9.1 hectares, with 10 pavilions dedicated to the horticulture and flowers of the US, the UK, Germany, France, Italy, Sweden, the Netherlands, Hungary, South Korea, and Japan.
Flowers on display include roses from the US and the UK, daisies from Italy, geraniums from Hungary, irises from France, lily of the valley from Sweden, cornflowers from Germany, tulips from the Netherlands, hibiscuses from South Korea and chrysanthemums from Japan.
Domestic Park
The Domestic Park covers 14.6 hectares and is divided into eight themed gardens, each representing a different area of China.
In addition to a Royal Garden, styled after those enjoyed by Chinese emperors' of yesteryear, there is a Hebei Garden, a Southern Chinese Garden with water features, a Western Chinese Garden with the traditional stilted buildings of Chongqing, a Lingnan Garden to represent the gardening styles of Guangdong and Guangxi provinces, a Modern Garden, Taiwan Garden and Bonsai Garden.
Tropical Plants Pavilion
Styled to look like it is built from coal, the pavilion symbolizes host city Tangshan's mining heritage.
Inside, there are more than 1,000 different kinds of tropical plants including the African baobab tree, with its thick trunk and large fruit, the parasitic flowering rafflesia that can reach an enormous size, and the tropical upas tree that is known in Hainan as the "Poison Arrow Tree".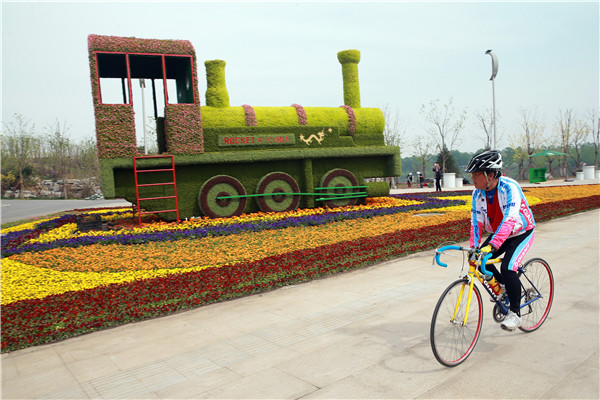 A cyclist passes a flower bed featuring a replica steam engine in the South Lake Park.[Photo/China Daily]
Info on the Expo
The 2016 Tangshan International Horticultural Exposition is a World Horticultural Exposition approved by the International Association of Horticultural Producers.
It began on April 29 and ends on Oct 16, featuring representatives from more than 50 countries and regions.
Low carbon horticulture is a major focus of the exhibition, with displays covering fruit and vegetable gardening, ornamental horticulture, garden architecture, and nurseries.
The exposition will take place at South Lake (Nanhu) Park, south of Tangshan in Hebei province.
The park covers 19.7 square kilometers and features plants, trees, grasses, flowers, and pavilions that people can visit and walk around.
Tangshan is the fifth Chinese city to host the exposition after Kunming, Shenyang, Xi'an, and Qingdao.
If you go
The expo is open every day, 9 am-5 pm until Oct 16 at South Lake Park, near the intersection of Xueyuan South Street and Nan-xin West Street, Lu'nan district, Tangshan, Hebei.