Beijing officially launched an Olympic tower on the former site of the 2008 Summer Games on June 12, made it the second city to hang the five-ring Olympic icon on top permanently succeeded to Montreal, Canada.
As an exclusive symbol of the International Olympic Committee (IOC), the five-ring icon is only authorized to host cities during the Olympics. Thomas Bach, president of the IOC climbed to the tower during the World Championship in Beijing last year and confirmed a permanently installation of the five-ring icon. The IOC endorsed the new tower and named it the "Beijing Olympic Tower" in January.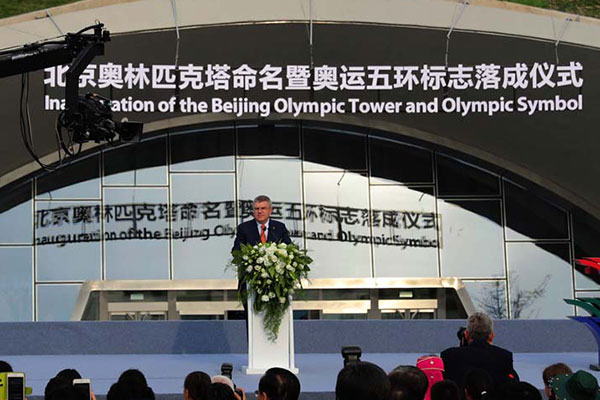 International Olympic Committee President Thomas Bach delivers a speech at the inauguration ceremony of the Beijing Olympic Tower and the Beijing Olympic Symbol in Beijing, June 12, 2016.[Photo/Xinhua]
The five-ring icon on top of the tower is consisted of mechanical structure, motor driven and electric control systems and is capable of resisting a force twelve wind, eight degrees of tilt angle and a magnitude nine earthquake. The lightening protection measures will effectively reduce the destructive impact brought by thunderstorm.
Consisted of five independent towers with heights from 186 to 246.8 meters, the tower encompasses a total of 18,687 square meters.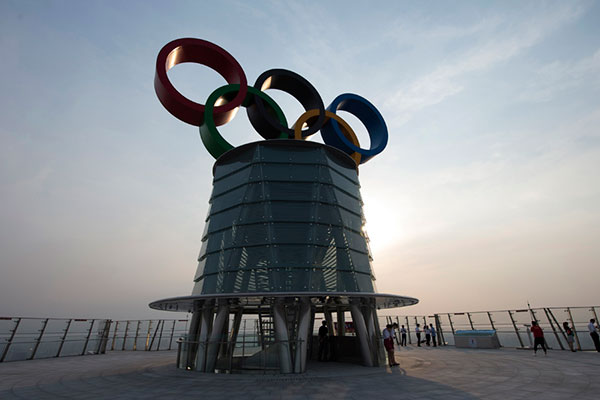 The top of the Beijing Olympic Tower, which is newly installed with the symbol of Olympic Rings, located on the city's central axis and in the Beijing Olympic Park (the Olympic Green) on its inauguration day, June 12, 2016. [Photo/Xinhua]
The tower will open to the public with functions such as city landmark, sight spot, culture display, environment and major event monitor.
Besides displaying collections of the Palace Museum, the tower will also show cultural films of the Palace Museum through its digital theater.
The tower's LED lightening, with 144,000 indicators, will present different night scenes and shine the night of Beijing.
Beijing and co-host city Zhangjiakou in Hebei province won the right last July to host the Winter Games and Paralympic Games in three venue clusters in downtown Beijing, northwestern Yanqing district and Zhangjiakou, and Beijing has made good on its commitment to embrace the Olympic spirit and host future Games in a sustainable way by erecting an Olympic tower.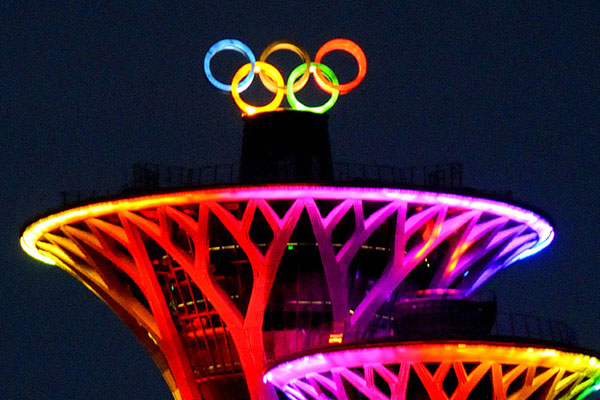 The top of the Beijing Olympic Tower, which is newly installed with the symbol of Olympic Rings, located on the city's central axis and in the Beijing Olympic Park (the Olympic Green) is seen in the night June 12, 2016.[Photo/CFP]