Jiangsu province's capital Nanjing encases history in modernity.
The city was the Middle Kingdom's seat of power over 10 dynasties-hence, its name translates as Southern Capital.
Thousands of years of history endure as ancient buildings and customs that outsiders experience in old alleys, memorials and museums.
The past persists despite Nanjing's transformation into one of the country's most developed metropolises.
Ancient buildings stand in skyscrapers' shadows in a cityscape dotted with lakes, dissected by rivers and diffused by parks.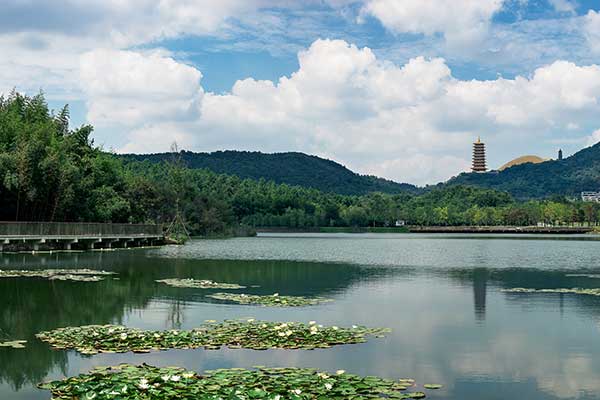 A panoramic view of Niushou Mountain[Photo provided to China Daily]
It hosts a distinguished cuisine, venerated universities and a laidback lifestyle.
Overseas visitors from 51 countries can enjoy up to 144 hours of visa-free transit in the Yangtze River Delta, and Nanjing is indeed worth a three-day exploration on its own.
China Daily spends 72 hours exploring the magic Jiangsu province's capital conjures.
DAY 1
Zijin Mountain
Zijin's peak rises about 450 meters above sea level-downtown. Locals believe it purges pollution and endows the settlement with a "masculine" character. Its summit is a highpoint of Buddhist pilgrimage, ancient culture and serene scenery.
Xiaoling Tomb
The mausoleum of Ming Dynasty (1368-1644) emperor Zhu Yuanzhang sits at Zijin Mountain's base.
It's one of the country's largest imperial burial sites and marks a zenith of Ming architecture and stone-carving. The symmetrical sprawl of pavilions, archways and rock inscriptions was inscribed as a UNESCO World Heritage Site in 2003.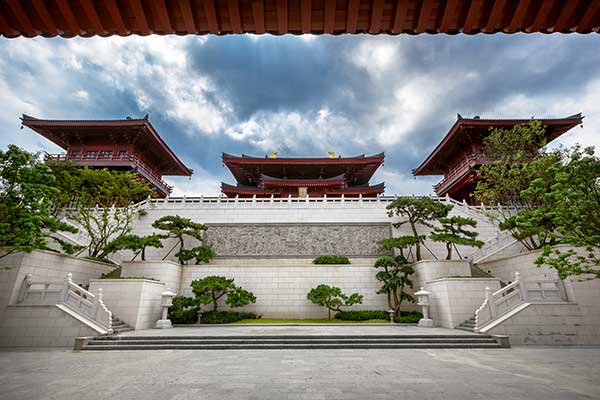 A panoramic view of Niushou Mountain[Photo provided to China Daily]
Nanjing Museum
The 70,000-square-meter institution just south of Zijin Mountain claims to be the third largest of its kind in the country. It presents over 400,000 displays from Paleolithic artifacts to contemporary items. Exhibits include items crafted from stone, earth, jade and bronze, plus paintings, calligraphy, embroidery and bamboo carvings.
Presidential Palace
The government compound was for six centuries a place where prominent policies were decided and major military events unfolded, such as those relating to the 1840 Opium War and the 1949 liberation of Nanjing. Such heritage is now housed on gorgeous grounds, making this seat of historic drama a destination for leisurely strolls.
Nanjing 1912
The city's main bar street is lined by 17 buildings bearing architectural elements from the Republic of China period (1912-49) nestled among four modern plazas.
DAY 2
Xuanwu Lake Park
This picturesque park was a royal garden for several dynasties from the third to sixth centuries. Today, it's a favorite for joggers. It claims to be the only park of its kind south of the Yangtze River.
Taicheng
The 20-meter-high walls that wrap roughly 250 meters around a Ming Dynasty (1368-1644) city built upon the ruins of an Eastern Jin Dynasty (317-420) palace continue to offer stunning views. Visitors pray for blessings while facing the Jinming Temple.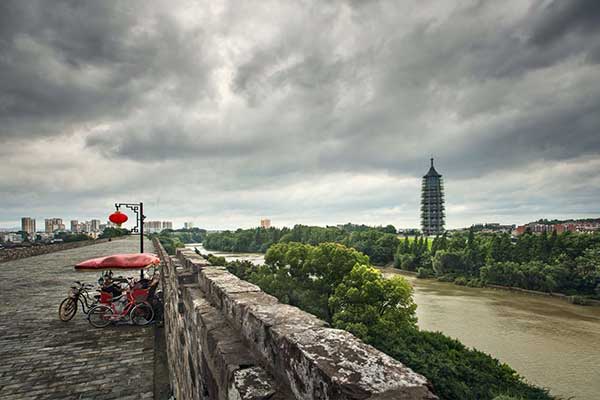 Taicheng, the 20-meter-high walls built in the Ming Dynasty[Photo provided to China Daily]
Lion Mountain
The Yangtze River massages three sides of Lion (Shizi) Mountain's foot, while a Ming-era city wall snuggles into the other side.
Pavilions, canon and temples are perched atop the 14-hectare peak, which also hosts a forest of stone steles.
DAY 3
Niushou Mountain
The Niushou Mountain Resort lures Buddhist pilgrims and scenery seekers. Massive religious statues stand in a setting that looks like a landscape painting.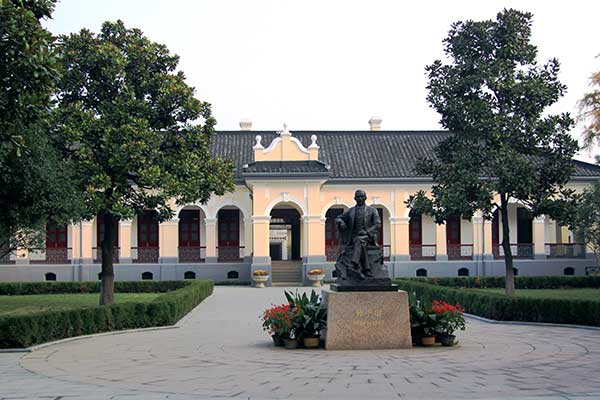 Presidential Palace with a statue of Sun Yat-sen.[Photo provided to China Daily]
Yuhuatai
Patriotism takes a prominent place in Yuhuatai, where 1.5 square kilometers are covered with structures commemorating martyrs.
The terrain also produces yuhuashi, or "rain-flower stone", gemstones, which are reportedly only found in Nanjing, and yuhua tea-a different kind of treasure.
Legend says the gods showered the beautiful pebbles upon the area because they were moved by the devotion of an ancient monk, who preached there for three days without eating or drinking. Gastronomy says the tealeaves are among the world's best.
Dabaoen Temple
Dabaoen's 80-meter-high Porcelain Tower was inscribed on many versions of the Seven Wonders of the Middle Ages list but didn't survive to later ages.
However, many of the surrounding structures did.
The compound was built on the foundations of the destroyed Jianchu Temple in 1412 and claims to be the most ancient religious site of its kind.
It's also huge. Dabaoen Temple contains over 30 cabins and about 150 monasteries.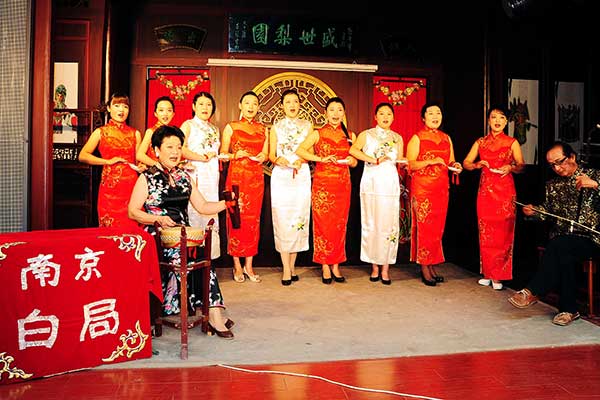 Performers of Nanjing baiju, a kind of traditional local narrative singing with a history of more than 700 years.[Photo provided to China Daily]
Qinhuai River
Boats, garden culture and folk customs energize the Qinhuai River. It hosts a Confucian temple, night market and lantern fair. It's a perfect place to enjoy Nanjing's go-with-the-flow momentum.