TIANJIN — A Chinese-built dredging vessel, the largest of its kind in Asia, departed a port in East China's Jiangsu province for its first sea trial on June 8.
Tiankun, constructed by Tianjin Dredging Co Ltd, a subsidiary of China Communication Construction Co Ltd (CCCC), will undertake a three-day trial at sea, according to the company.
"The sea trial will test its power system, speed and anchoring, and check other navigational aids such as radar and gyrocompass," said Wang Jian, deputy chief engineer of CCCC Tianjin Dredging.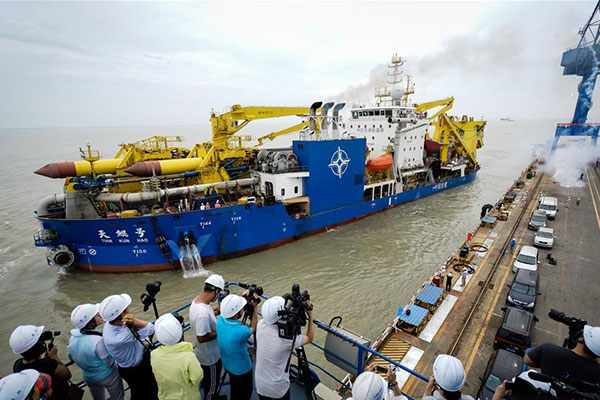 Chinese-built dredging vessel Tiankun, the largest of its kind in Asia, departs a port for its first sea trial, in Qidong, East China's Jiangsu province, June 8, 2018.[Photo/Xinhua]
After being tested, the vessel will sail back to the shipyard and is expected to be delivered in August, according to Wang.
More than 120 staff including vessel crew and engineers are on board.
The 140-meter-long vessel, with the designed capacity to dredge 6,000 cubic meters per hour, can dig as deep as 35 meters under the seafloor.
On seafloor with rocks, the vessel's 6,600-kilowatt dredging equipment can mince hard rocks and pump the silt into the vessel.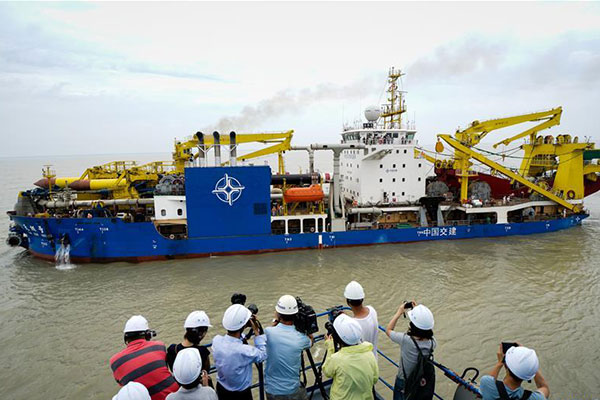 Chinese-built dredging vessel Tiankun, the largest of its kind in Asia, departs a port for its first sea trial, in Qidong, East China's Jiangsu province, June 8, 2018.[Photo/Xinhua]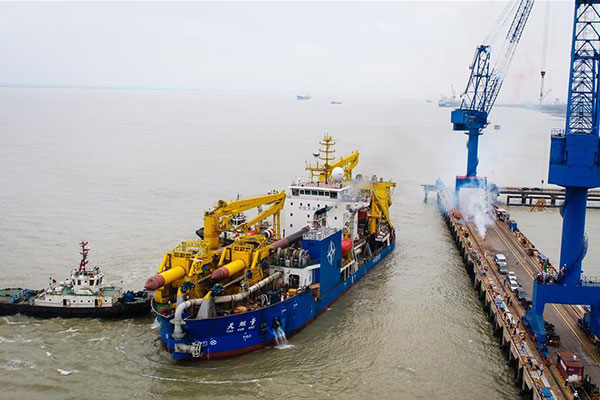 Chinese-built dredging vessel Tiankun, the largest of its kind in Asia, departs a port for its first sea trial, in Qidong, East China's Jiangsu province, June 8, 2018.[Photo/Xinhua]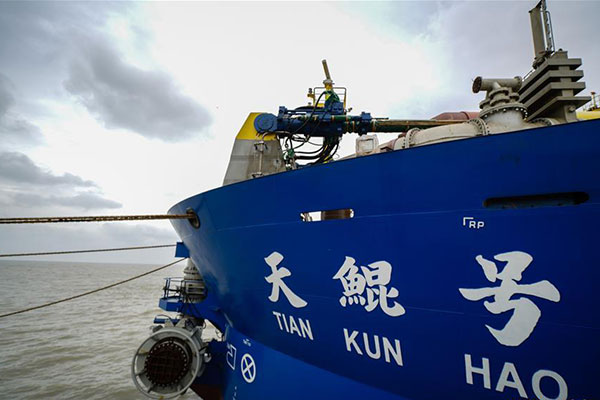 Chinese-built dredging vessel Tiankun, the largest of its kind in Asia, is seen at a port before its first sea trial, in Qidong, East China's Jiangsu province, June 8, 2018.[Photo/Xinhua]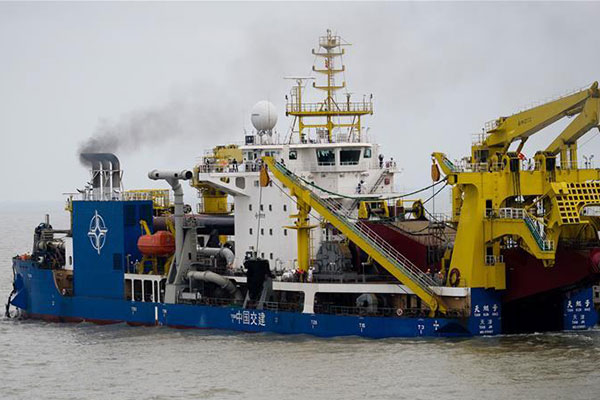 Chinese-built dredging vessel Tiankun, the largest of its kind in Asia, departs a port for its first sea trial, in Qidong, East China's Jiangsu province, June 8, 2018.[Photo/Xinhua]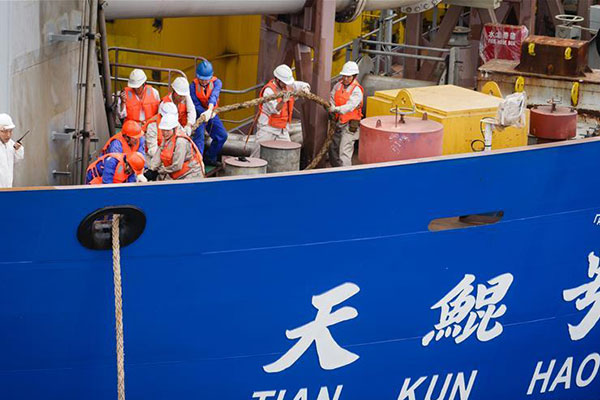 Workers make preparation for the sea trial of Tiankun, a Chinese-built dredging vessel, at a port in Qidong, East China's Jiangsu province, June 8, 2018.[Photo/Xinhua]