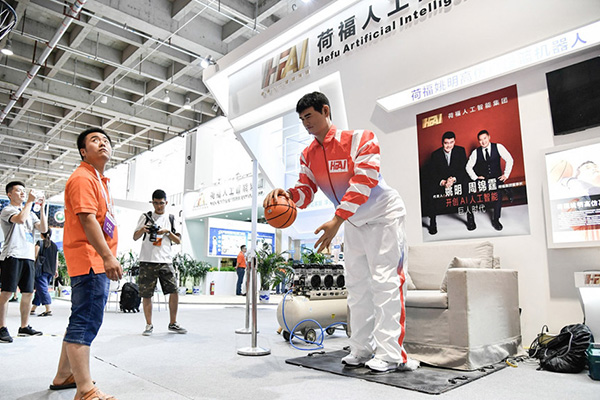 A life-size robot that looks like Chinese basketball star Yao Ming at the 2018 World Robot Conference in Beijing, Aug 15, 2018. [Photo/IC]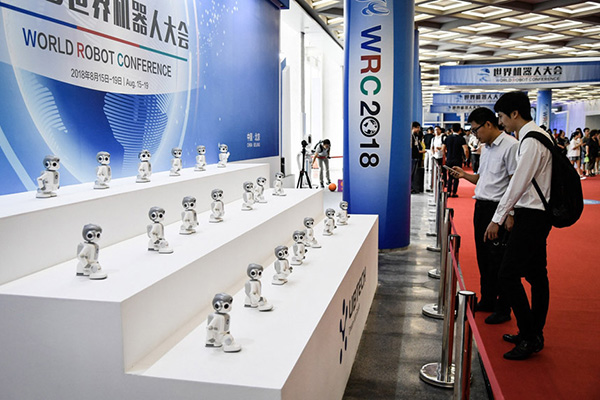 A group of mobile robots "dancing" to music at the closing ceremony of the 2018 Pyeongchang Winter Olympics are on display at the 2018 World Robot Conference in Beijing, Aug 15, 2018.[Photo/IC]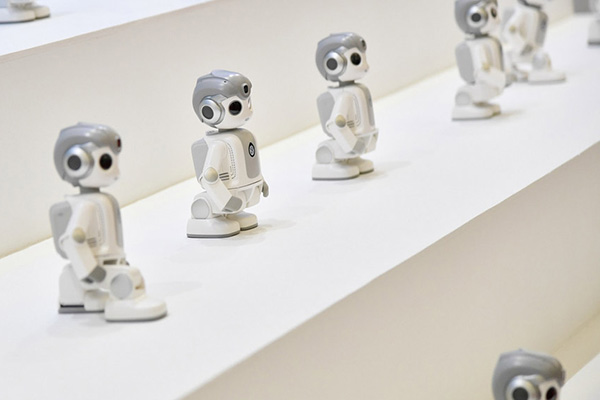 A group of mobile robots "dancing" to music at the closing ceremony of the 2018 Pyeongchang Winter Olympics are on display at the 2018 World Robot Conference in Beijing, Aug 15, 2018.[Photo/IC]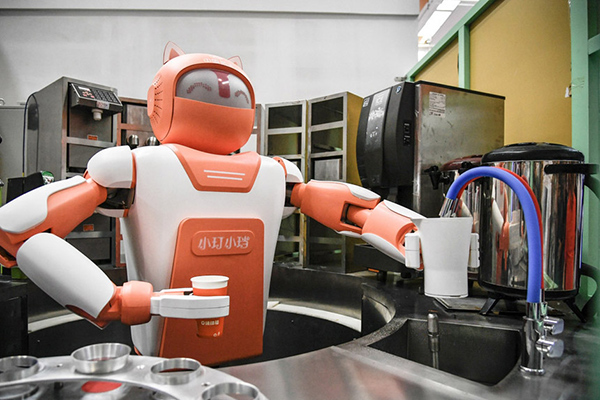 A robot makes milk tea at the 2018 World Robot Conference in Beijing, Aug 15, 2018.[Photo/IC]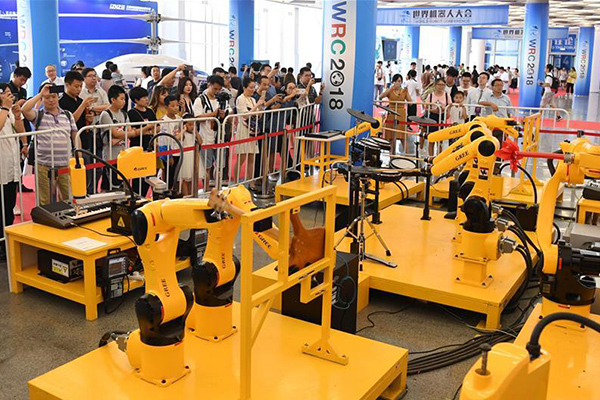 Visitors watch the performance of a robot orchestra at World Robot Conference 2018 in Beijing, capital of China, Aug15, 2018. [Photo/Xinhua]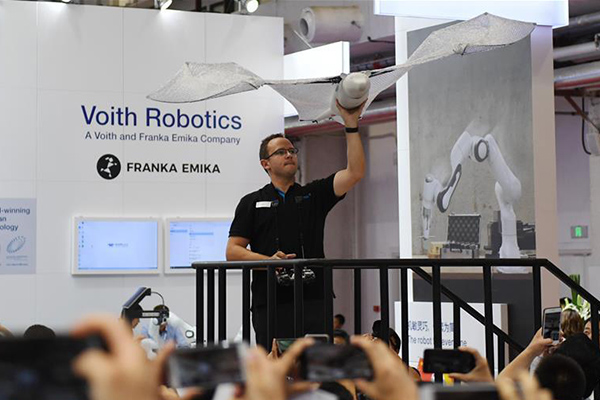 An exhibitor displays a bat-like bionic robot at World Robot Conference 2018 in Beijing, capital of China, Aug 15, 2018.[Photo/Xinhua]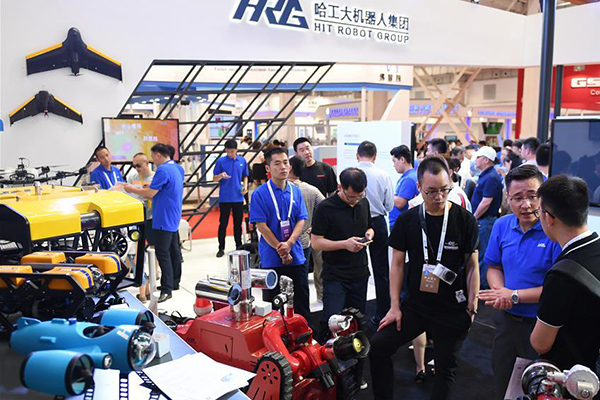 People visit the HIT Robot Group booth at World Robot Conference 2018 in Beijing, capital of China, Aug 15, 2018. [Photo/Xinhua]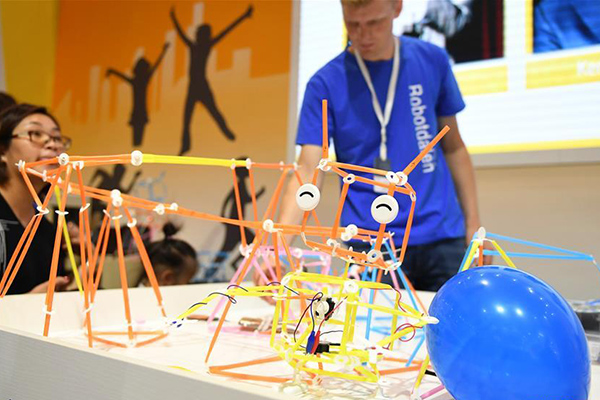 People visit the HIT Robot Group booth at World Robot Conference 2018 in Beijing, capital of China, Aug 15, 2018. [Photo/Xinhua]
The nation will ramp up resources to strengthen international cooperation as it strives to build a globally competitive robotics industry and accelerate the use of smart machines in manufacturing, healthcare and other sectors.
Miao Wei, minister of industry and information technology, the nation's industry regulator, said with robotics getting increasingly intertwined with artificial intelligence, big data and other technologies, the sector is playing an important role in driving economic growth.
"China, as the world's largest robot market, sincerely welcomes foreign companies to partake in the strategic opportunity to jointly build a global industrial ecosystem," Miao said at the opening ceremony of the 2018 World Robot Conference in Beijing on Aug 15.
According to Miao, the ministry will roll out measures to encourage wider cooperation among Chinese companies, their international peers and foreign universities in technological research, product development and talent education.
China has been the world's largest market for robot applications since 2013. The trend has been further fueled by a corporate push to upgrade labor-intensive manufacturing plants.
As the nation deals with an aging population, the demand for robots on assembly lines as well as hospitals is expected to jump significantly. Already, people aged 60 or older account for 17.3 percent of the total population in China, and the proportion is likely to reach 34.9 percent in 2050, official data show.
Vice-Premier Liu He also attended the opening ceremony. He stressed that in the face of such demographic changes, China's robotics companies should move fast to adapt to the trend and get well-positioned to meet the potential huge demand.
In the past five years, China's robotics industry has been growing at about 30 percent a year. In 2017, its industrial scale hit $7 billion, with the production volume of robots used in assembly lines exceeding 130,000 units, data from the National Bureau of Statistics show.
Yu Zhenzhong, senior vice-president of HIT Robot Group, a major robot manufacturer in China, said the company is partnering with foreign robot heavyweights such as ABB Group of Switzerland as well as Israeli companies in product development.
"International cooperation is of crucial importance to build a well-organized global industrial chain. We help foreign companies better tap into the Chinese market and frequent communication can generate new ideas for cutting-edge technologies," Yu said.
HIT Robot Group was established in December 2014 with funding from the Heilongjiang provincial government and the Harbin Institute of Technology, an elite Chinese university that has conducted years of cutting-edge research on robotics. The university was the manufacturer of China's first space robot and lunar vehicle.
Yu said the company has also established a venture capital fund to invest in promising artificial intelligence startups in the United States.
Yang Jing, general manager of self-driving business division at JD, said the large scale commercialization of robots will come earlier than most people have expected.
"Systematic unmanned logistics solutions, for instance, will be far more efficient and cost-effective than human delivery services in future. We are now already offering unmanned delivery services in a string of universities," Yang added.