POLICY BRIEFING OF THE STATE COUNCIL ON JAN 16, 2015
Consumption was the largest engine of the economy in 2014 with an estimated annual increase of 12 percent, a senior official said at the first weekly State Council media briefing.
Vice-Minister of Commerce Zhong Shan said that consumer spending contributed 48.5 percent of GDP growth in the first three quarters of 2014.
Total retail sales of social consumer goods rose about 12 percent to nearly 27 trillion yuan ($4.4 trillion) last year, with Internet-based shopping surging to around 50 percent, Zhong said at the briefing.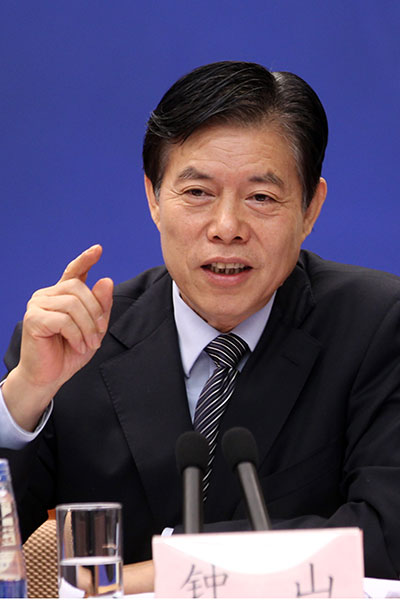 Zhong Shan, vice-minister of commerce , speaks at the first weekly policy briefing of the State Council in Beijing, Jan 16, 2015.[Photo by Zou Hong/english.gov.cn]
"Great development potential can be tapped as consumption tends to be more personalized and diversified. This will present huge business opportunities to domestic and foreign investors," he said.
With strong public demand, catering industry revenues expanded by more than 10 percent, while spending on communication equipment also witnessed robust momentum with a nearly 30 percent rise.
Zhong said the government has promoted domestic trade and distribution, especially in senior care, health and home services, information, tourism, housing, green industry, education, culture and sports.
"We have also beefed up infrastructural development in distribution, launched pilot public welfare wholesale agriculture markets, designated e-commerce demonstration cities and introduced e-commerce to rural areas," he said.
In a bid to further improve consumer sentiment, Zhong said the government has also cracked down on IP infringement and counterfeiting.
In addition, the food safety watchdog has stepped up efforts, earmarking the distribution of 30,000 tons of over 300 different types of agricultural products to more than 400 million residents.