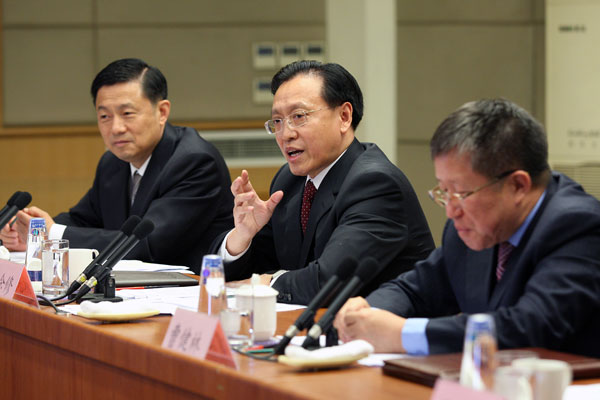 The State Council holds the weekly policy briefing on June 5, focusing on the encouragement of mass entrepreneurship and innovation.[Photo by Wang Zhuangfei/China Daily]
Guo Weimin (host):
Ladies and gentlemen, welcome to today's policy briefing. The State Council's executive meeting discussed policies and measures to push forward mass entrepreneurship and innovation. In order to help you to get more information in this field, we have the Vice chairman of the National Development and Reform Commission Lin Nianxiu and Vice-Minister of Science and Technology Cao Jianlin to give you a brief introduction and take your questions. Mr. Qi Chengyuan, an official in charge of high-tech with the NDRC, is also with us today.
Lin Nianxiu:
Friends from the media, good morning. I'm very happy to attend today's policy briefing. Yesterday, the State Council's executive meeting approved a document to push forward mass entrepreneurship and innovation. The document provides a top-level design to benefit the public and prepare for the future. Now, I'm going to make a brief introduction.
The Party Central Committee and the State Council attach great importance to entrepreneurship and innovation. President Xi Jinping has issued specific requirements about accelerating innovation-driven development. Premier Li Keqiang stressed the need to push forward mass entrepreneurship and innovation, and build the new engines for development. To implement the guidance from the Party Central Committee and the State Council, the National Development and Reform Commission, along with other 20 departments, including the Ministry of Science and Technology and the Ministry of Finance, jointly drafted this document after summarizing the experience at home and abroad, as well as drawing opinions from various sectors.
The document is based on the whole situation, highlights reform and innovation, and pays attention to rules of entrepreneurship and innovation. It aims to motivate the funding chain to lead entrepreneurship and innovation, and then to support the industries and boost employment with mass entrepreneurship and innovation. The document could be summarized as "a mainline", "two coordination" and "four foothold".
"A mainline": speeding up the implementation of policies to ensure that the policies are feasible and conducted.
"Two coordination": coordinating the policies that were already issued and the upcoming ones, and coordinating startups by the professionals and "grass-root" level entrepreneurs.
"Four foothold": based on reform and innovation; based on coordinated moves; based on entrepreneurship-oriented; based on strengthening supervision of implementation.
The document has three parts, staging nearly 100 measures concerning about 30 aspects.
Lin Nianxiu:
The first part depicts general guidelines to further support entrepreneurship and encourage more people to start their own businesses. To better facilitate innovative entrepreneurship, all policies, mechanisms and public services must be in line with the following principles. We must ensure the market fully plays the vital role in resource allocation while providing better governmental regulations. We must remove unfriendly polices for startups, lift curbs on market entry and talent mobility to truly vitalize entrepreneurs. We must continue to deepen reform, insist on demand-orientation, enhance policy synergy and implementation, as well as promote more cooperation.
The second part gives eight detailed measures.
First, we must set up a healthy system to encourage innovation, by enhancing the fairness of market competition, streamlining business registration procedures, protecting intellectual property rights, as well as facilitating cultivation and mobility of business talents.
Second, we must make preferable policies on taxation to provide startup companies with adequate fiscal support.
Third, we should fully make use of financial tools to make it easier for startups to attract investment.
Fourth, we need to enlarge investment in startups by diversifying financing resources such as the introduction of state-owned capital.
Fifth, we need to better serve startup companies in facilitating incubation and improving professional services from third parties. We also need to make these companies benefit from China's 'Internet Plus' strategy and preferable policies such as service coupons for innovative purposes.
Sixth, we need to set up platforms to enhance coordination and synergy in public services, technology and regional cooperation.
Seventh is to provide support to startup talents. We have proposed measures to attract scientists and researchers, university students and foreigners to begin their businesses in China.
Eighth, we need to expand channels of starting business by supporting the development of e-commerce in smaller cities and mobilizing local resources, as well as encouraging immigrants who return to their hometowns to start new businesses.
Lin Nianxiu:
In the third part, we strengthened three aspects of the supporting measures: to reinforce the organization and leadership, to enhance the coordinated correlation in policies, and to step up the supervision on the implementation of policies. We'll put all our strength into one in terms of the policies' interactive correlation between ministries, and between ministries and local governments, by establishing a mechanism of inter-ministry joint meetings, a mechanism of policies' coordinated correlation, and an inspecting and supervising mechanism.
Our next move following the document's official release is that we'll seize the time to make a detailed plan of implementation and to enact related work mechanisms with other ministries and departments. We'll clarify road maps and timetables for each assignment from the document, to ensure the measures are taken seriously and put into action.
Thank you and I'd like to take questions, now.
Guo Weimin (host):
Now let's invite Minister Cao.
Cao Jianlin:
Good morning friends from the press. I'm very glad to have the opportunity to introduce the progress regarding mass entrepreneurship and innovation. Just now, NDRC Vice Chairman Lin has introduced what was said at the State Council executive meeting this week. On this topic, I will mainly talk today about items related to science and technology.
Over the past two years, mass entrepreneurship and innovation have ignited a great deal of enthusiasm. The government has always attached great importance to science and technology, and implementing the strategy of invigorating China through science, education, and innovation-driven development. As Lin and I clearly remember, one of the most important aspects of reform and opening up — especially the promotion of science and technology reform — is to transform it into practical production power. Many researchers have left their universities and institutions to start their own small and micro-sized businesses.
Cao Jianlin:
Since the beginning of the 1990s, China started to build high-tech zones nationwide. There were specific incubators which served small scientific and technological enterprises and helped them to develop. We can say that is also mass entrepreneurship and innovation. China's economic power increased, science and technology became popular, and with the development of education, more and more people have a better command of technology. Now there are entrepreneurship cafes and hallways, crowdfunding communities are emerging and some have even attracted overseas technology. The entrepreneurship in science and technology plays a guiding role in today's new wave of business.
A guideline was released by the State Council on March 2. To implement its deployment, the Ministry of Science and Technology held a promotion teleconference and this was well received. Currently, almost all important cities or provincial capitals have such incubators. This year we are running the fourth entrepreneurship and innovation competition. This provides an important display and financing platform for mass entrepreneurship and innovation.
Lin just said that related measures will be made. I believe that it is a new wave promoting the development of our country's social economy, people's lives and science and technologies.
Next I'd like to answer your questions, thank you.
China News Services:
Vice-chairman Lin, could you tell us the significant new measures in the mass entrepreneurship and innovation document? How will they affect expectations for China's economic development?
Lin Nianxiu:
It is a good question as people are now very interested with the highlights of this document. The promotion of mass entrepreneurship and innovation is quite a complicated project which involves various areas, including the innovation of management systems, talent training as well as the transformation of scientific achievements.
The document has more than one hundred policies and measures covering 30 fields.
Now, I'd like to introduce the new measures from three key aspects.
First, some new mechanisms will be established to support businesses that are starting.
For example, the registration conditions for the place of business for new companies will be eased and a pilot program will be carried out for the enterprises to cancel their registration in a simple manner. Convenient market exit mechanisms and new supervisory patterns that are based on credit will also be set up and improved.
In terms of intellectual property rights protection, the document demands that a number of major cases that violated IPR be investigated, and more severe punishment be imposed on willful and repeated infringements.
It also required innovation-related courses to be included in the national education system, and the input of teaching faculties to be increased.
Lin Nianxiu:
Second, new finance and taxation policies will be formulated.
For example, the document requested stronger policy support for entrepreneurship and innovation and encouraged appropriate preferential treatment concerning the use of water, energy and network services to be offered to various incubators such as "mass makerspaces".
Regarding tax preferences, the document said that inclusive taxation measures should be improved and pilot polices such as allowing the payment of individual income tax by installments be promoted nationwide. Taxation polices that facilitate the entrepreneurship and employment of college graduates, the disabled, veterans and the registered unemployed should be put into place.
The document also said policies will be introduced to support the development of Internet finance, guide and encourage the regulated development of financing platforms, as well as for carrying out financing pilot programs.
In the meantime, risk controls will be strengthened as well as increasing financing support for starting-up and innovative enterprises.
Third, you can also see innovation in developing new modes to provide services for entrepreneurship.
The document pointed out that the incubation of entrepreneurship should be combined with the technological achievements and the cooperation between domestic and outbound capital be encouraged, and new incubators be set up.
It also requested enhanced international cooperation by introducing advanced overseas entrepreneur incubation models.
The document clarified that areas that meet certain conditions should continue to explore ways to provide better public services. Entrepreneurs will be provided with services concerning entrepreneurship training, consultation and software development.
It urged relevant management and operation mechanisms to be established and regulated.
It also requested better integration of information resources about entrepreneurship and innovation, the establishment of a centralized release platform of entrepreneur policies as well as efforts in improving the professional service system and increasing information transparency.
The above policies and measures that I mentioned are only part of the document. I think the introduction of the document bears great significance in further revitalizing entrepreneurship and innovation in the society and creating the new engine of economic development after the Chinese economy enters the stage of new normal.
Thank you.
Bloomberg:
Could you specify measures to encourage financing to start medium-and-small-sized enterprises, as I have learned some small companies have met difficulties in getting loans from banks? The second question is about the range of innovation, does it cover fields including raising the level of automation of factories and using robots to improve production efficiency?
Lin Nianxiu:
Financing is one of the most pressing issues facing business starters at the moment. We conducted research and are aware of the problems. First, newly started companies are usually quite small, with no assets that would allow them to receive loans from banks. Second, the country's laws and policies have not caught up with the pace of the development of financing demand of new businesses. Third, the current management system of state-owned assets
has contained some state-owned institutions' passion to invest in new companies.
Lin Nianxiu:
In order to solve these problems, we made some relevant policy arrangement s in the document mainly to tackle the financing issue by expanding direct and indirect investment.
Regarding direct investment, we will build up a multilevel capital market and optimize its rules to help companies get investment directly from the market. For example, we will study how we can develop the system to lead Internet and high-tech companies — that have yet to make a profit — to list on the growth enterprise market.
We will also guide investment to go to the initial stage of starting businesses. The National Development and Reform Commission and the Ministry of Finance recently started to work on a plan concerning a fund for startup investment to provide financing support to medium-and-small-sized enterprises. We will also improve policies to promote angel investment, build up and improve a mechanism to guide startup investment and expand channels of financing for business starters — and much more.
Regarding indirect investment, we will encourage banks to improve their financing services for such companies, develop new methods to support them, improve the policies related to issuing loans to the companies — and push forward the development of using intellectual property rights as collateral for loans according to the law and regulations.
Lin Nianxiu:
Additionally, the document has issued policies in areas such as financial subsidies, tax cuts, openness of the technology platform and developing the public service system — and we are doing our utmost to cut the costs of new businesses, expand their financing channels and create an efficient and convenient environment for them to operate.
Cao Jianlin:
I'd like to answer the second question. We initiated a contest for innovation and entrepreneurship, which attracted venture investment. Winning contestants can get investment. The three contests we have so far held resulted in credit of more than 10 billion yuan.
As for automation and robots, that is a hot topic for China's innovation and new businesses. The cost of labor is rising, so we are replacing it — as quickly as possible — with automation facilities, which will make the production process much more stable and reliable. Now you can see lots of robots and automation facilities at companies which have made advances in innovation. China ranked first in the world last year in terms of the number of newly added robots, and it is expected to stay in that position over the next few years. We also managed to develop and produce many robots ourselves — and I believe China's technology in this regard will improve rapidly.
Lin Nianxiu:
The State Council recently issued an industrial development blueprint titled "Made in China 2025". Automation products including robots feature prominently in this blueprint. Mr. Cao said that China has a huge market for robots. We surpassed Japan last year to be the biggest market in the world. There are now 30 robots for every 10,000 people in China, only a tenth of the figures for Germany and Japan. So you can imagine the potential. At present there are more than 500 Chinese enterprises developing and producing robots — and we will encourage more to do so. We have cost advantage in that regard. A manager at a company I recently visited told me the China-made robots they were using cost only $20,000 each, while similar imported robots cost $150,000 each. Robots will contribute to our economic growth in the future.
Cao Jianlin:
I'd like to add that the Chinese companies making robots are mainly small ones driven by innovation. They set their targets in quite specified aspects.
Guang Ming Daily:
With the graduation season approaching, the business startups of graduates are attracting a great deal of attention. Are there any new policies in this field? And are there any policies supporting college students to start a business without losing their student status?
Cao Jianlin:
The Ministry of Science and Technology and the Ministry of Education have made long-term studies in this field. Governments at all levels have encouraged graduate entrepreneurship and mass innovation for several years, with a number of measures from local authorities. Graduates who start their own businesses enjoying subsidies, such as the incubator policy, where house rent and Internet access fees can be reduced and a certain amount of financial assistance is available.
There is a popular belief that Chinese students are good at studying, but not at coming up with new ideas. I think the national education should include lessons regarding innovation and entrepreneurship, which the Ministry of Education is making arrangements for, so that students can learn some basic knowledge and communication skills. In regards of the subsidy policies, here is some data: Guangdong province will grant some 2.5 billion yuan during the next four years, Zhejiang province is ready to issue allowance bonds of 100 million yuan this year, and Sichuan province has also decided to set up subsidies with the first payment of 200 million yuan, the majority of which is targeting the graduates.
As far as I know, there are many colleges and universities already allowing students to start up businesses before graduation. You can consult the Ministry of Education for more details.
China Central Television:
The State Council released a guideline in March to boost the development of the "makerspaces" and mass entrepreneurship, in which measures including lowering the basic requirement for business startups, were listed. May I ask how the measures are actually enacted, and how recent development of the mass makerspaces is progressing?
Cao Jianlin:
Since the State Council released the guideline on March 2, we've been focusing our daily work on the implementation of the measures. I'd like to offer some data here.
We found the progress even faster and more efficient than we expected earlier, thanks to the central government's focus on this field, as well as the support from the ministries, especially the National Development and Reform Commission, the Ministry of Finance, and the Ministry of Education.
So far there're 129 national-level high-tech zones in China, each of which has developed special areas to support and offer services for mass entrepreneurs and the innovators. To be precise, 75 mass makerspaces have been included in the management system of the national-level incubators for tech enterprises. By the end of 2014, there were 1,700 incubators for various types of technological enterprises across the country, covering a total area of some 68 million square meters.
Personally, I believe the actual number may be bigger, amounting to more than 100 million square meters. Our statistics further show that there are more than 80,000 medium-to-small or small-to-micro sized tech companies in China. They provide jobs to 1.75 million employees and will recruit more than 150,000 university graduates this year. The employment number is impressively large. To my knowledge, from my work experience in international exchanges, the number has already drawn widespread international interest.
Cao Jianlin:
Besides, we have seen positive responses from the provincial and municipal governments after the guideline was released on March 2. Now they are pushing forward pilot projects for entrepreneurship and innovation, like that in Shanghai, and the provinces of Jiangsu, Henan, and Sichuan, and in Qingdao, Xi'an city. The local governments also fund the projects too.
Another thing we're pushing is the ongoing fourth national contest of entrepreneurship and innovation. The contest is expanding its scale and influence after the Party and the State Council provided massive support for it.
We've even got offers from European countries, and the US and Russia to co-organize the contest, and we hope to send Chinese entrepreneurs abroad as well as invite some of the foreign contestants to compete in China.
Xinhua News Agency:
Many innovation enterprises are looking for ways to solve short-distance transportation problems — for example, niu.com just released a new type of electric vehicle. However, there are contradictions between short-distance transportation and current traffic laws and regulations. So I'd like to know what does the government think of enterprises exploring innovations in this field?
Qi Chengyuan:
Your question is very realistic. The core problem is the new business mode that emerged in the development of innovation and entrepreneurship. From my point of view, we should fully play the decisive role of market-allocated-resources. All big industries developed from small. With the fast development of technology, many new modes will occur due to the mix of Internet and other fields, such as Didi Dache, the taxi-hailing app.
I think the government should consider this from three aspects: Attitude toward the development of new industries and business modes should be more open. Everything will go through a process of exploration and development, especially the innovation and entrepreneurship we are talking about today. President Xi Jinping has stressed on many occasions: To maintain a continuous growth of the social economy, market vitality is important, innovation should be practical, and policies should be loosened. Premier Li Keqiang also mentioned many times that the government should dare to reform in this field to leave space for market and society.
Qi Chengyuan:
Second, we need to create a friendly environment that encourages new businesses. The government needs to create a fair and open environment for new businesses, and allow these enterprises to compete according to market rules. The Central Party Committee and the State Council have issued policies to achieve that goal. For example, they have issued a document this year to deepen reform and speed up innovation-driven development, where they required authorities at various levels to lift irrational barriers to entry for new technologies, products and business patterns. The State Council said in another document aimed to develop cloud computing that it will greatly support the development of e-commerce this year, and speed up reforms to nurture new economic growth points and lift barriers to developing e-commerce.
Third, we need to make sure new businesses develop according to laws. It's possible new businesses will collide with current rules, which focus on traditional industries. We need to guarantee room for the development of new businesses as well as improve the rules and regulations we have. This is necessary for guaranteeing fair competition. We will discuss with relevant government departments to try to formulate new laws and regulations and revise current ones.
Last but not least, we need to ensure consumers' safety while developing new businesses. Thank you.
Cao Jianlin:
I'd like to make some supplements in terms of technology. Actually, some new industries are created because of new technologies. Some innovative technologies tend to affect the existing rules. This is quite normal and we have started to support these technologies very early, such as solar photovoltaic power generation. Now China has taken the lead in DNA sequencing, a technology that enables DNA sequencing on infants to discover possible genetic diseases early. Every time such technologies appear and bring about some new industries, there tends to be conflict and confrontation with the existing standards and industries. Generally speaking, we take an active attitude toward such progress because we know that no one can resist it and what we should do is make adjustments accordingly. Besides creating the environment for the development of these technologies, we should also guide and support their development as long as they are conducive to energy saving and alleviating pollution, such as the short-distance transportation and new energy transportation you've mentioned. Of course, we will also take measures to supervise and regulate these technologies.
Guo Weimin (host):
Actually, this also involves the policy formulation of industries and departments.
Qi Chengyuan:
The State Council has requested that new polices to be carried out on regulating taxis this year.
Cao Jianlin:
With good batteries, some new-energy cars could travel several hundreds of kilometers. However, such vehicles are sold at a cheap price and some people need them, we could regulate their application in certain areas.
Economic Daily:
You mentioned that the central and local governments have many policies to support entrepreneurship and innovation, but some policies are intangible. How can you ensure those who start businesses or make new things can benefit from the new policies?
Lin Nianxiu:
We did some research when we made the latest document. So far, departments of the State Council and local governments have come up with more than 2,000 policies to support public entrepreneurship and innovation. These policies have played significant roles in this regard, but we do see some problems. Some policies are not systematic. Some have complicated procedures to go through. The actual effects were not very good.
For some entrepreneurs, the policies are intangible. That problem is what the latest document aims to solve. We want to make sure that policies are practical and can work together to push forward entrepreneurship and innovation. Now that the 93rd executive meeting of the State Council have approved the document, we will move on to make sure policies are put into practice. Our key requirements are inclusiveness, practicability, usefulness and guidance.
Inclusiveness means to stimulate all parties in the market. Public entrepreneurship is different from elite entrepreneurship. Public innovation is different from a small circle's innovation. In the past, we gave support to certain areas, persons, enterprises. But that won't solve the problem. The document aims to give beneficial policies that include everybody. This is a very important feature of the document, covering policies in human resources, government procurement, taxation, finance and social security. Beneficial policies put forward previously should gradually cover small and micro-businesses, newly established enterprises and entrepreneurs, so that an equal environment can be formed.
Practicability means to make policies purposeful. The reason why some policies are not well implemented is because they are not position-targeted. In regard to public entrepreneurship, it is very important to help them solve problems such as financial difficulties, market information, policy support, technical support and public service. The document made some new policies according to these problems, such as venture investment funding, multiple business licenses based on the same place of registration, innovation subsidy bonds, which are all highly-targeted.
Usefulness means policies should coordinate with each other, instead of conflicting. So we particularly stress the importance of cooperation between departments, and between the central government and local authorities.
Guidance means to supervise and inspect the implementation of policies. President Xi Jinping and Premier Li Keqiang have emphasized several times that any policies should be put into practice, which is an important instruction we should abide by. The State Council has sent inspection teams to make sure policies be earnestly implemented, the majority of which aims at those concerning public entrepreneurship and mass innovation. We will also issues a guidance of the policies put forward in the document with the Ministry of Science and Technology, the Ministry of Human Resources and Social Security, the Ministry of Finance, and the Ministry of Industry and Information Technology.
Guo Weimin (host):
Is supervision from media welcomed?
Lin Nianxiu:
Very welcome.
People's Daily:
What measures does the document have to create an environment that is friendly to business startups and innovation?
Lin Nianxiu:
The State Council has issued a series of documents containing policies to encourage business startups and innovation in recent years. They have achieved good results in general. However, problems remain, such as a lack of fair competition and fair access to resources in some fields. Also, there are a lot of restrictions on market entry. Barriers to entry, sometimes invisible, exist in many industries, making it hard for private enterprises and small and medium-sized enterprises to enter these industries. There is no sound system yet to guarantee that talent is flowing freely. The issue of helping college graduates start their own businesses also needs addressing. The notion of starting one's own business and being innovative is not popular enough, and there is great room for creating an environment that encourages innovation and tolerates failures.
The document has come up with measures to deal with these problems. It asks authorities at various levels to ensure fair play in the market by setting up and improving a system to disclose credit information of enterprises; and make a list of enterprises that gravely violate the law. The enterprises' credit performance will determine whether they will be able to enter a market and enjoy favorable policies.
Lin Nianxiu:
The document also will help talent move more freely. It asks the authorities to push reform of the social security system and lift barriers to talent moving freely. There should also be an evaluation system that encourages people who are creative and brave.
The document asks the authorities to promote entrepreneurship and support various kinds of entrepreneurship competitions to make the society value innovation and entrepreneurship.
Cao Jianlin:
I would like to add my opinion about an innovation-friendly environment. First, there needs to be infrastructure such as the Internet, convenient transport and telecommunications. Second, we need the ability to turn an innovative idea into reality. Third, there need to be many people who know how to innovate. Also, we need support from venture capital funds.
We need tutors and training that guide people on their way to starting their own businesses. We can gather these people and startup entrepreneurs from around the country, where there is basic equipment and conditions for experiments, so they can put their ideas into practice. This is what many incubators are doing nowadays. For example, tutors often come to Zhongguancun (the IT and innovation hub in Beijing) to give lectures and training on how to start a business and how to innovate. Many of those who come to the lectures are college students. This can help startup entrepreneurs solve some of their troubles. The essence of innovation and entrepreneurship is facing failure with courage or tolerating failure. On the other hand, startup entrepreneurs hope to hone their abilities and improve through training.
Thank you.
Guo Weimin (host):
That is the end of today's policy briefing, thank you.