In 2012, the Hollywood movie starring John Cusack, the United States rescues people in a Chinese-made Noah's Ark-like ship, which settles on land once cataclysmic waters have receded.
In real life too, China has an eye on building futuristic infrastructure. Leading science-fiction writer Liu Cixin, 51, envisions the country's streets full of electric cars. Simultaneously, Liu pins his hope on relatively cleaner fuels—solar, wind and even nuclear—to take over thermal and coal energy in the decades ahead.
"Gasoline stations will be replaced by charging stops where cars will go to power their batteries," Liu says over the telephone from Yangquan city in northern Shanxi province.
Present-day Chinese people shop and work remotely, underscoring his next point: meeting someone in person would become passe in the coming years. Futuristic cities will develop in pragmatic ways as people seek out spacious living environments, he says.
While analysts view the country's property market currently as cooling off, companies claim their big plans are going ahead.
The world's tallest building, of more than 200 floors, is proposed for Changsha city in central Hunan province, in a bid to overtake—by about 10 meters—Dubai's Burj Khalifa, the nearly 830-meters-tall reigning champion.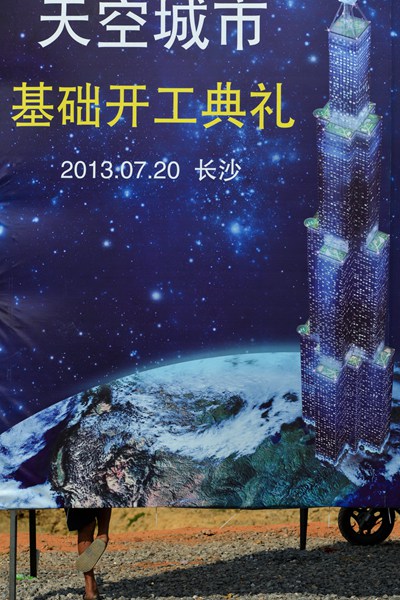 A billboard that illustrates the planned Changsha Sky City is erected in the city.[Photo/Xinhua]
The Changsha Sky City will be made mostly of factory-assembled materials that are being tested for pollution control and earthquake resistance, its developer Board Sustainable Group says on its website. Zhu Lingfang, a spokeswoman for the developer, insists that "Sky City will be built", but refuses to provide details.
Hong Kong-based Smart Hero will construct a "floating city" in Dalian, a northeastern seaport, an official at the real estate company says, requesting anonymity.
But China's modern skyline has domestic experts thinking about the need to reflect traditional architecture in futuristic buildings. Today, it is difficult to tell cities apart, especially in coastal areas, says Liu Linghong, 55, vice-president of the Architecture and Culture Society of China.
"These cities are full of Western-style high-rise buildings, minus the local uniqueness," he says at his office in the ultramodern Wangjing Soho in Beijing. The rise of young Chinese architects is helping reverse the trend, he adds.
Xing Yi contributed to this story.