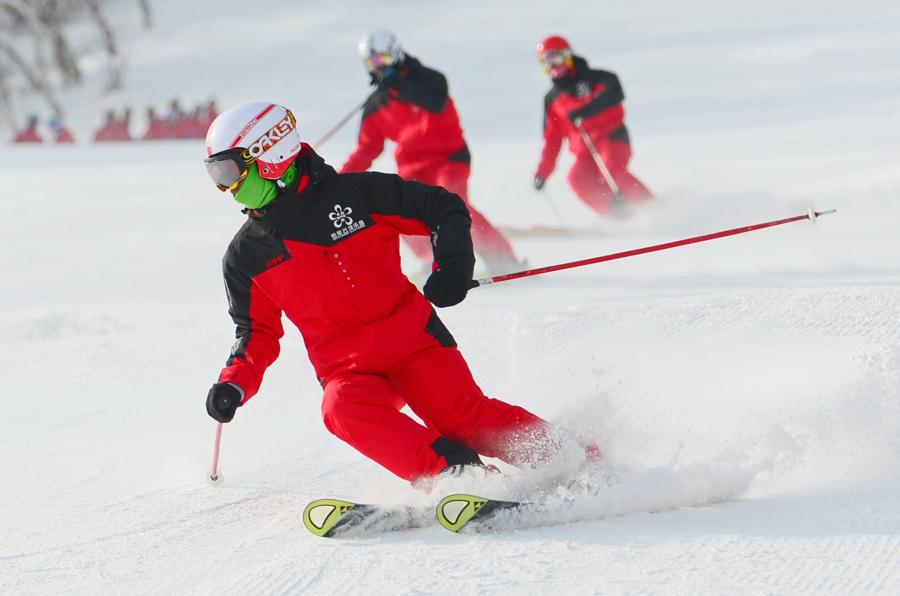 Visitors enjoy a day at a ski resort in Chongli, Hebei province, Dec 8, 2015.[Photo/Xinhua]
Despite a strong wind blowing, the bustling scenes at northeast Beijing's Nanshan Ski Resort on Dec 5 signified an increased participation in sports, even in winter.
As early as 11 am at the resort, there was already a long line of skiers waiting to board the ski lift at the foot of the mountain trails, and a larger crowd queuing in the reception hall to check in on the opening day of the resort's 2015-16 snow season.
Xu Xinwen, marketing director of the resort, said Nanshan welcomed almost 5,000 skiers on its first business day this winter and the daily visitor number is expected to reach new heights around the New Year holiday.
"The passion for skiing seems to have skyrocketed in recent years in Beijing as more and more people embrace sports participation as leisure and a healthy lifestyle," Xu said.
The booming ski resort business around Beijing underscores how participation in exercise and sports has soared against a backdrop of urban consumption, as Chinese shift their focus toward leisure and healthy recreation instead of basic living necessities.
The trend is shown in the results of the latest survey on mass sporting participation, which were announced by the General Administration of Sport of China last month.
Motivated by the pursuit of a healthy lifestyle, the proportion of Chinese who exercise at least three times a week with medium intensity had increased to 33.9 percent of the country's population by the end of 2014, an increase of 5.7 percentage points from 2007, according to a national exercise survey by the China Institute of Sport Science.
"On Feb 15, 2011, the State Council issued the National Fitness Program (2011-15), which outlined the development of mass participation in sports for the 12th Five-Year Plan. It put fitness in line with the overall development of the economy and society," said China's Sports Minister Liu Peng.
"During the past five years, sports for all has made great progress, as it has been raised to a national strategy," Liu added.
The survey analyzed data from 53,401 people under the age of 19 and 81,828 aged 20 and above from 31 provinces, autonomous regions and municipalities between January and April.
In addition to mandatory physical education in schools, 74.2 percent of Chinese children and adolescents from 6 to 19 took part in extracurricular exercise at least once a week in 2014.
Of the surveyed adults aged 20 and above, more than 80 percent of them exercise for at least half an hour in the past year, with the most participants enjoying brisk walking, jogging and table tennis.
The survey also found that awareness of embracing sports exercise as a lifestyle choice has been raised significantly, with 93.8 percent of respondents agreeing that sports participation is of great importance as a way of improving fitness, recreation and social interaction.
As China shifted its sporting focus from gold-medal-winning success at major international events to improving the general levels of public fitness and wellbeing after the 2008 Beijing Olympics, encouraging fitness has become a top priority for the central government.
Feng Jianzhong, China's vice-sports minister, said at a news conference on Dec 8 that mass sports participation and sports industry growth are important criteria for China to become a legitimate world sporting powerhouse, not just athletic results at major events.
"The fitness level of our people and how much they get involved in sports activities on a regular basis should play a greater role in the assessment of our country's sports development," Feng said.

Fitness for all
Last October, the State Council, China's cabinet, issued a blueprint to grow the country's fledgling sports industry.
It plans to increase the gross value of the industry to 5 trillion yuan ($772 billion) by 2025, when it's expected to account for about 1 percent of GDP compared with 0.63 percent in 2013.
The plan also aims to increase the number of people participating in exercise regularly to 500 million by 2025 while providing a 2-square-meter average sports ground area per capita by then.
According to the General Administration of Sport of China, the country's sports industry contributed an added value of 356.4 billion yuan to the total gross output of 1.09 trillion in 2013. The per capita area of sports ground now is 1.5 sq m.
Since the plan was issued, the GASC has held a series of meetings with more than 20 relevant ministry-level departments including the National Development and Reform Commission, the Ministry of Education and the Ministry of Finance to work on detailed policies, regulations and measures to boost sports participation while also providing better fitness services.
The central government has granted subsidies of 870 million yuan this year to 1,212 sports venues around the country to ensure they open to the public free-of-charge or for only low fees.
As part of the 2008 Beijing Olympic legacy, Aug 8, the opening date of the sporting extravaganza, was designated National Fitness Day.
All public sports facilities and State-run training venues are open to the public for free on that day, and fitness promotions and competitions have been held across the country annually since 2008.
Lin Leping, an aerobics enthusiast in her 60s, said the fitness campaign has changed her life and those of her peers with the promotion of exercise knowledge and guidance.
"I've participated in an athletic dance team organized by the community for three workouts per week since 2008. A lot of my neighbors have joined similar groups for exercise thanks to the fitness promotion as well as exercise guidance offered by volunteer trainers," she said.
With the status of public sports participation counting in the performance assessment of local governments, a growing number of mass fitness events have been held annually to benefit local residents.
In November, the 2015 China Sports & Recreation Convention was held in Ninghai, Zhejiang province, with a range of events including a mountain marathon, freestyle roller skating contest and an amateur cycling race attracting thousands of local participants.
Ten Chinese cities including Huangshan in Anhui province, Yixing in Jiangsu and the host Ninghai were awarded the top 10 sports and leisure destinations at the convention for their convenient sports infrastructure and broad public sports participation.
"Sports participation has become an emerging life necessity of urban Chinese people after food, clothing and housing.
"Both the government and enterprises should take the opportunity in the sports market for better public health improvement and business growth," said Bao Mingxiao, director of the sports social research center of the China Institute of Sport Science.
Challenges ahead
However, a lack of scientific exercise guidance, sports venues and facilities is hampering the mass fitness campaign, the survey showed.
The survey found that 47.1 percent of respondents aged 20 and older exercised without any guidance last year, while 15.7 percent of respondents received fitness tips from professional trainers, free-of-charge community instructors and other professionals.
The self-reliant approach to sports has exposed Chinese fitness enthusiasts to risks of injury, said Jiang Chongmin, a researcher for the CISS.
"Insufficient fitness guidance from either public facilities or commercial clubs as well as people's lagging awareness of adopting those tips before taking action remain a serious issue hampering their fitness," he said.
Among all the survey respondents aged 20 and above who take regular exercise, a lack of venues was cited as the second biggest challenge to maintain their routine, following a lack of time.
More than 65 percent of the respondents expect to see more accessible and affordable sports facilities be built around their neighborhoods.
To address the issue, the GASC has unveiled a plan for the next five years to train more social fitness instructors to guide people for free in communities, while working with local urban planning departments and property developers to build more exercise facilities with public funds.
Liu Guoyong, director of the GASC mass fitness department, said the sports authority would provide more affordable and accessible fitness services and low-price venues to achieve the goal of improving China's general fitness level.
"The development of the fitness program requires the participation of all parts of the society," Sports Minister Liu said. "During the next Five-Year Plan period (2016-20), we will deepen sports reform and further improve sports in all aspects, including sports for all."