China will have 500 giant pandas in captivity by 2020, said China's wildlife watchdog.
The State Forestry Administration provided an overview on Jan 7 of the situation of giant pandas in captivity.
By the end of 2015, there were 422 giant pandas in captivity around the country. Of the 43 cubs born last year, 40 survived.
During the 12th Five-Year-Plan period (2011-15), the number of giant pandas, both in the wild and in captivity, grew quickly.
According to the Fourth National Survey on Giant Pandas, the population in the wild across the country reached 1,864. More than 66 percent of wild pandas and 53.8 percent of their habitats are strictly protected.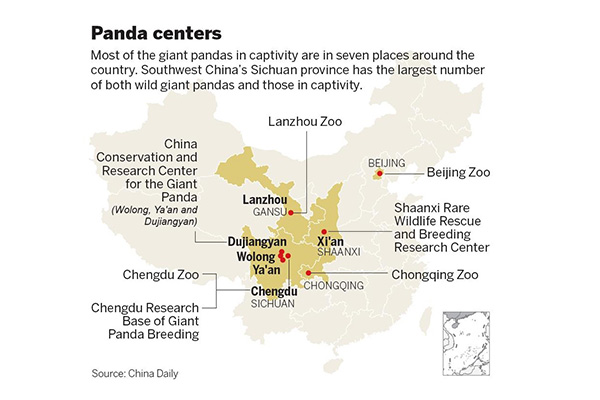 The administration promised to launch another giant panda protection project in the next five years, including drafting a national guideline on giant panda protection, establishing a patrol and monitoring system and further improving legal protection of giant pandas.
Most of the giant pandas in captivity are now in Sichuan province, such as at the Chengdu Research Base of Giant Panda Breeding and the China Conservation and Research Center for the Giant Panda, as well in Shaanxi province.
Zhang Guiquan, deputy head of the conservation and research center, which has 216 giant pandas, said that in the past year, the center bred 26 cubs, of which 23 survived.