Chinese home appliance makers are giving dimensions of reality to the Internet Plus strategy championed by Premier Li Keqiang. Slowly but surely, they are pressing ahead with the task of integrating Internet technologies with their various operations.
The result of that strategy is consumers on the move can now control their television, refrigerator and air conditioners at home through their mobile phones.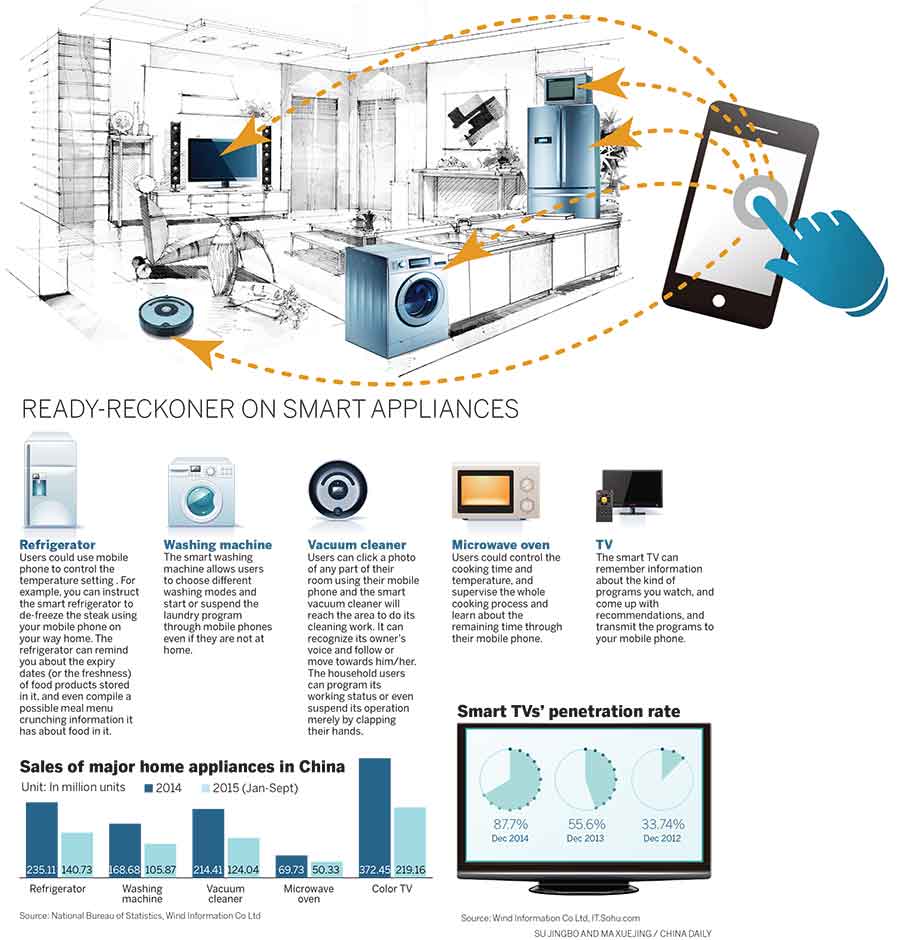 In other words, Internet technologies, which were hitherto used largely in low-end manufacturing, are making medium and high-end manufacturing intelligent as well, marking Chinese industry's emphasis on technological innovation and upgradation.
Electronics giant TCL Corporation is leading the drive. Its 2014 strategy for transformation of its operations, titled "Double Plus", is now taking the form of "Intelligence Plus Internet" and "Products Plus Services", with focus on a new business model and user involvement.
"We have switched focus from product management to user management. We provide intelligent products and services using the Internet, big data and cloud computing," said Liang Qichun, assistant president of TCL.
The Guangdong-based company has established an open, interactive system to guide and motivate prospective users/buyers of its appliances to participate in the whole process of product design, development, testing and evaluation.
"We conduct big data analysis of user needs, behaviors and habits through the establishment of a user database to make personalized smart products," said Liang.
Thus, TCL now makes a range of smart products like TVs, set-top boxes, cellphones, wearable devices, IMAX home theaters.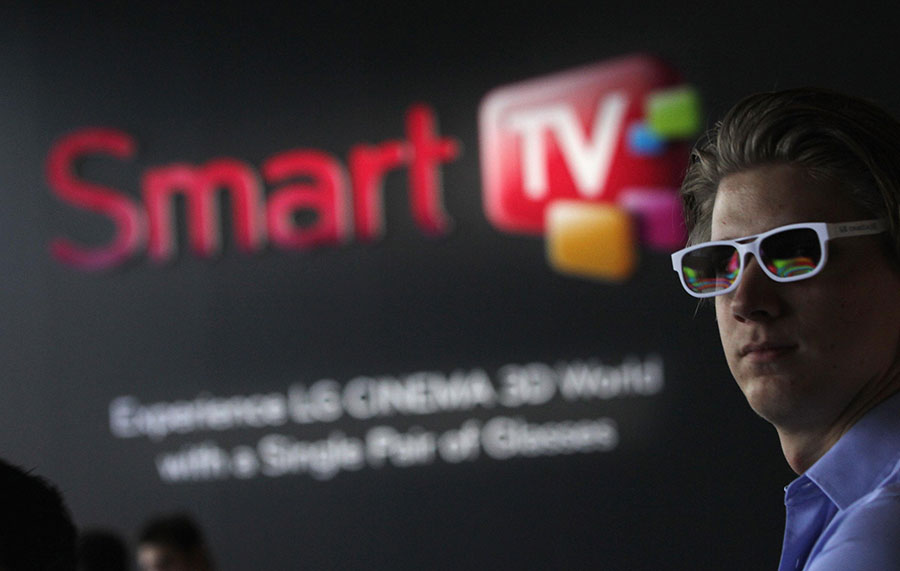 A visitor wears 3D glasses while watching a presentation of 3D smart TV. Chinese companies are stepping up smart TV production to meet growing demand. [Photo/Getty Images]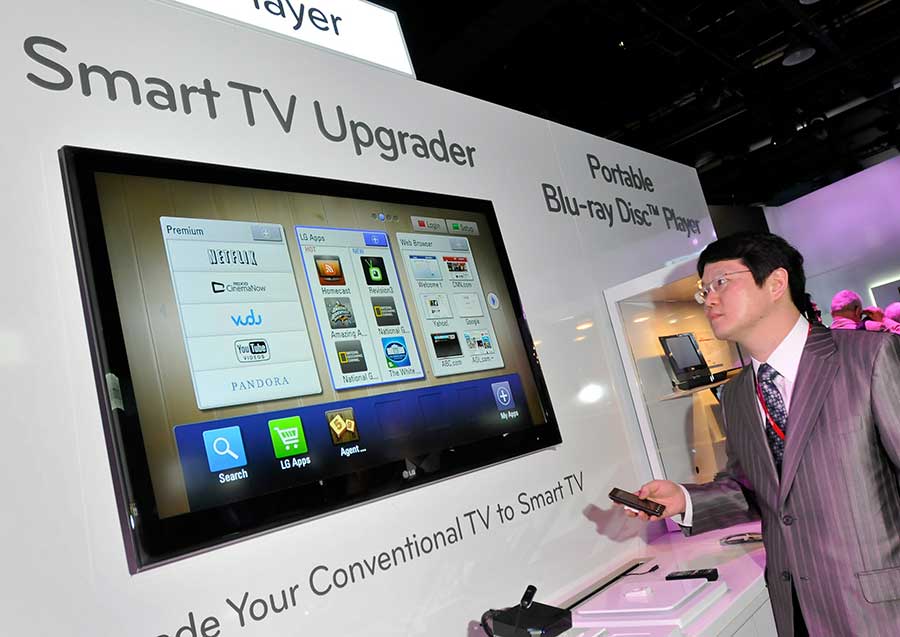 A man controls a smart TV upgrader set-top box with a smartphone at the Consumer Electronics Show in Las Vegas. [Photo/Getty Images]
Its smart home system is a solution to "manage multi-terminals by using just one machine". Management and remote control of a number of smart appliances is unified through an intelligent app.
The company has established a smart TV platform, Guangzhou Huan Network Technology Co Ltd, which connects 32 million smart terminals. Through tie-ups with Internet giant Tencent Holdings Ltd and video streaming website iQiyi.com, it has built a TV ecosystem that offers videos, games and life services.
That's not all. Through another tie-up with the China Research Institute of Film Science and Technology, it promotes GoLive TV, which moves a cinema into the living room: users can watch a movie playing at a cinema in real time. There are already more than four million users of GoLive.
In December of last year, TCL struck a strategic pact with LeTV Holdings Co Ltd to jointly develop innovative products/services to leverage their combined user base and supply chain resources.
This emphasis on modern technology seems to be having a positive impact on its sales. In the first three quarters of 2015, TCL's revenue reached 74.11 billion yuan ($11.6 billion), up 7.08 percent year-on-year. Net profit came in at 2.07 billion yuan.
"In future, we will continue to strengthen cross-border cooperation and provide users with rich and differentiated content experience," said Liang.
TCL is also giving its modern manufacturing methods a touch of "green". It aims to protect the environment by reducing emissions. In 2009, it set up TCL-AOBO Environmental Protection and Development Co Ltd in Tianjin, with an investment of 150 million yuan. The company mainly deals with the recycling, dismantling and processing of electronic waste like used home appliances and other products, including ironware and plastics.
"Through the introduction of a top-class production line and the use of advanced technology, we have established a recycling industrial chain to safely process electronic waste in order to reduce pollution and ensure comprehensive utilization of resources," said Liang.
About four million home appliances and electronic products have been processed and recycled in 2014.
TCL tied up with Internet search engine company Baidu Inc to give its recycling drive an online dimension. Users need to merely upload photographs of their electronic waste. TCL would then use its networks of sales, service, logistics and specialized recycling, to provide door-to-door recovery service.
Shi Wanwen, TCL's senior vice-president, said the company aims to build an effective waste appliance recycling and processing platform.
Toward that end, TCL upgraded its overseas factories, including the production line in Poland and Mexico, to improve its capacity of sustainable production and build up green factories.
Liang said, "The Internet era gives us a good opportunity to beat competitors from Japan and South Korea. Our use of the Internet (in manufacturing and recycling) is just next to that of the US. We (manufacturers) should all combine traditional manufacturing industry, which has strengths in technology, channels and global expansion, with Internet to build up an innovative industrial ecosystem."
Home appliance makers such as Sichuan Changhong Electric Co Ltd and Konka Group Co Ltd are emulating TCL in intelligent manufacturing by making use of the Internet's potential.
Changhong started its technological transformation in 2013 by launching a "smart strategy". In March 2014, the Sichuan-based company launched CHiQ products, including TVs, refrigerators and air conditioners, and set up a cloud service platform and a big data center.
Its users tap their mobile phones instead of remote controllers to control CHiQ TV.
The CHiQ refrigerator can remind users about the expiry dates of food on its shelves through image recognition technology which it accesses via cloud computing. Similarly, the CHiQ air conditioner can detect the temperature of human body and automatically adjust the ambient temperature.
For its part, Konka wants to transform itself into a platform for content, apps and net-friendly hardwares from a product-maker. Through tie-ups with partners, Konka is seeking to make its smart TVs capable of playing varied content like games, shopping, health and educational videos.
Wu Siyuan, chairman of Konka Group, said in 2014 that "we make efforts to build Konka into a hardware company which knows the most about Internet".
Zhang Yanbin, assistant director of All View Cloud, a Beijing-based consultancy specializing in home appliances, said, "It (transformation of manufacturing) is an inevitable trend, otherwise Chinese home appliance enterprises will be phased out."
Owing to the rising cost of human resources, falling profits and fierce competition, Japanese electronics giants such as Sony, Panasonic, Toshiba, Sharp have exited the Chinese home appliance market gradually and turned to business-to-business or B2B activities, construction, nuclear power, housing, automobiles and Internet of vehicles.
"Compared with their Japanese counterparts, Chinese enterprises still have some advantages, including the comparatively low manpower cost, the adoption of Internet in production, and regularly updated technologies," said Zhang.
He also said the home appliances industry is still very promising as demand still exists, and the speed at which products are updated is faster than before.
"We should improve the quality of products by means of intelligent manufacturing to rebuild the image of brands and enhance the international influence of brands," said Zhang.
Liang Zhenpeng, an independent home appliances and IT analyst, said, "The Internet is just a tool and an external factor to push the transformation." He said Chinese manufacturers should focus on transformation of their operational models spanning R & D and every stage of the production process.