BEIJING — President Xi Jinping and other senior leaders met the Chinese sports delegation at the Great Hall of the People on Aug 25.
Xi said the Chinese athletes and coaches have demonstrated the Olympic spirit and the spirit of Chinese sports with their brilliant performances at the Rio Olympic Games and they have brought glory to the country and helped raise the nation's confidence.
Also present at the meeting were Premier Li Keqiang, Zhang Dejiang, Yu Zhengsheng, Liu Yunshan, Wang Qishan and Zhang Gaoli, all members of the Standing Committee of the Political Bureau of the Communist Party of China (CPC) Central Committee.
The Chinese women's volleyball team put a perfect ending to China's Olympic campaign, beating Serbia 3-1 to win the coveted gold medal which China last won in 2004.
China swept 26 gold, 18 silver and 26 bronze medals at Rio, ranking among the top three on the medal or gold medal tally.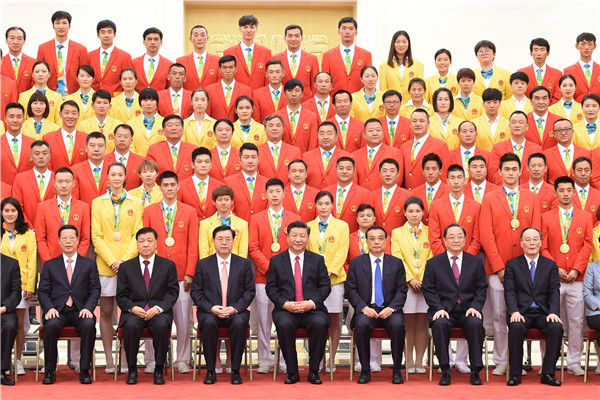 President Xi Jinping (C front) and other senior leaders Premier Li Keqiang (3rd R front), Zhang Dejiang (3rd L front), Yu Zhengsheng (2nd R front), Liu Yunshan (2nd L front), Wang Qishan (1st R front) and Zhang Gaoli (1st L front) meet with Chinese Olympic delegation at the Great Hall of the People in Beijing, capital of China, Aug 25, 2016. [Photo/Xinhua]
"You have written a new chapter in Chinese sports history," Xi told the Chinese delegation.
Xi praised the Chinese Olympians for being "goodwill envoys" during their exchanges with athletes from all over the world, as well as with international sports organizations.
He also hailed the Chinese Olympians as great athletes with sporting morals and role models for the Chinese youth.
The President also praised those athletes who didn't win medals but had tried their best.
On the Chinese women's volleyball team, Xi said: "The whole nation is excited at China's first volleyball gold in 12 years.
"The Chinese women's team feared no one and played to their best."
President Xi also urged Chinese to host "fantastic, extraordinary and excellent" Winter Olympics and Paralympics in 2022.
"I hope Chinese will take the preparation for and hosting of the 2022 Winter Olympics and Paralympics as a great opportunity to advance our sports development," he said.
The President concluded his speech with well-known slogans: "Go athletes! Go Team China! Go China!"