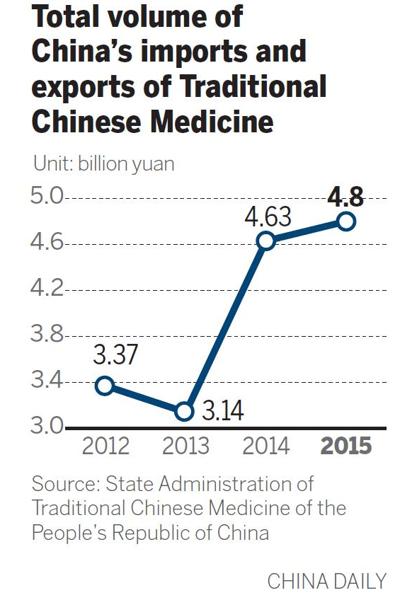 Total volume of China's imports and exports of Traditional Chinese Medicine.[Photo/China Daily]
Traditional Chinese Medicine can play a greater international role in preventing chronic diseases and avoiding soaring medical costs, Wang Guoqiang, vice-minister of the National Health and Family Planning Commission, said on Nov 23.
"Not only is TCM the treasure of the nation, it's also one of China's contributions to the world," said Wang, who is also director of the State Administration of Traditional Chinese Medicine. "We hope to extend the scope of cooperation so that TCM can play a greater role in cooperation with other countries," Wang said.
Chronic diseases such as cancer and cardiovascular disease account for 70 percent of deaths in China, according to Chen Kaixian, a member of the Chinese Academy of Sciences, who addressed delegates at the Ninth Global Conference on Health Promotion in Shanghai.
"Modern medical research has found that the top pathogenic factor (in chronic diseases) is an unhealthy lifestyle and behavior, rather than disease," he said. "Therefore, it's necessary to fundamentally change the medical goal to disease prevention and health maintenance, which should be the core of sustainable medicine."
Zhang Boli from the Chinese Academy of Engineering and president of the Chinese Academy of Chinese Medical Sciences suggested that other countries adopt a "China-style" approach, which is to develop traditional and complementary medicine and Western medicine with equal importance.
"We should shift emphasis from disease to quality of life and from physical illness to psychological balance," he said.
Such shifts have received the backing of major organizations such as the World Health Organization, which in 2013 released the Traditional Medicine Strategy (2014-23) aimed at harnessing the potential contribution of traditional and complementary medicine to health, wellness and people-centered care.
However, the development of traditional and complementary medicine is not unique to China.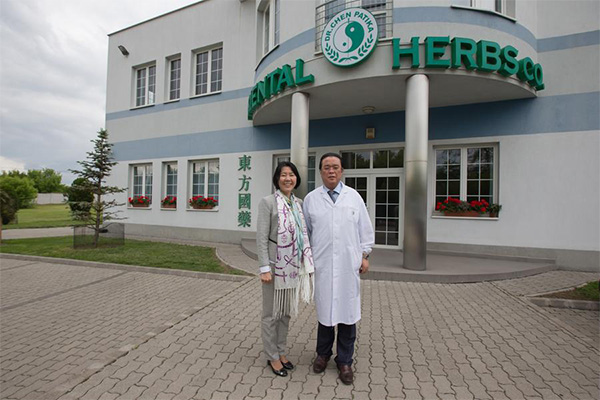 Chen Zhen and Wang Fan are a Chinese couple who opened a Traditional Chinese Medicine (TCM) company in Budapest, the capital of Hungary. They pose in front of their TCM factory in Budapest, capital city of Hungary, May 19, 2016. [Photo/Xinhua]
"In South Africa, nonconventional medicine is also used, but it is referred to as complimentary medicine," said Precious Matsoso, the session's moderator, and director-general of health policy and planning for South Africa's Ministry of Health.
The Chinese government has promoted cooperation and communication between other countries in the TCM sector by including it in an action plan for the Belt and Road Initiative released last year.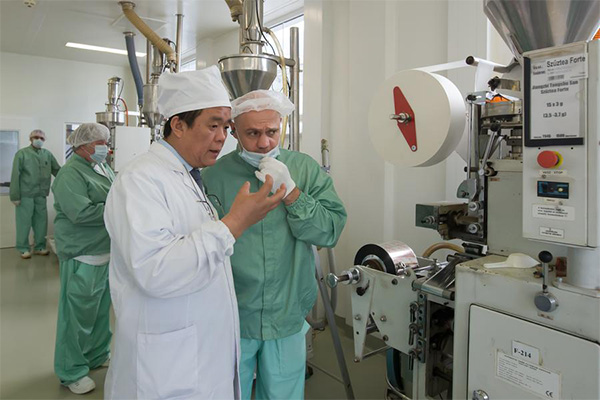 Chen Zhen talks with an employee at the TCM factory in Budapest, capital city of Hungary, May 19, 2016.[Photo/Xinhua]
This year, it plans to build 20 TCM centers around the world, which will include clinics and areas to learn about TCM, and provide workshops for medical professionals.
Seeing TCM's clear benefits as a preventive approach to chronic disease and its cost effectiveness, other countries are beginning to follow China's lead.
"One-hundred percent of health centers will be able to provide traditional medicine services by 2020," said Zhang Qi, director of the WHO's department of traditional and complimentary medicine. "Thailand plans to achieve the same."