Critical illness insurance has been provided for over one billion Chinese people, according to government statistics, which fulfills the promise Premier Li Keqiang had made this year.
Critical illness insurance partners with basic healthcare insurance, which covers over 1.3 billion people, to benefit people's welfare, The Beijing News said.
This March, Premier Li said in The Government Work Report that the government will invest more into easing the burden of more patients with severe illnesses.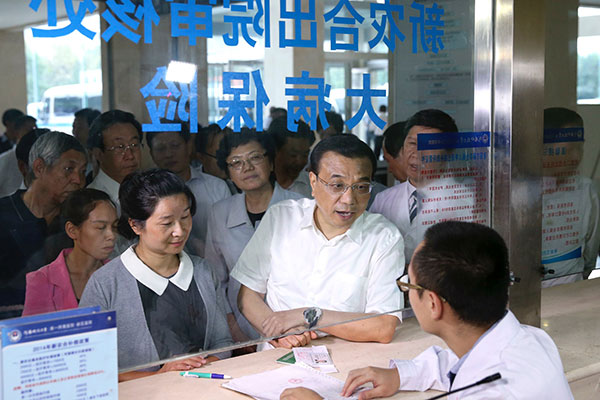 "Critical illness insurance not only guarantees treatment, but also serves as a cure for worry," the Premier said.
From January to September, the actual reimbursement ratio for people suffering from critical illnesses has been increased 13.85 percent, and the highest reimbursement was 1.17 million yuan, data showed.
And a reimbursement approach guided by the government and run by the insurance market was gradually implemented as 16 insurance companies nationwide undertook the critical illness insurance business in 31 provincial regions, covering 87.6 percent of citizens.
Premier Li was also concerned about the implementation of related policies. When he visited a family that was especially poor in Ningxia Hui autonomous region, he carefully asked them about the medical reimbursement situation. When he visited the First Hospital affiliated to Henan University of Science and Technology in Luoyang city of Henan province, he inquired about the medical payment and reimbursement ratio at several payment windows.
The Premier said at a State Council executive meeting that poverty can be caused by critical illness, and critical illness insurance could bring them security, which is not only a "good thing", but also a "stabilizer" for all of society.
Exploring the critical illness insurance system contributes to the social security system and the combination of both social security and commercial insurance, and it provides a safety net to ensure that people can work or start their own business without concern, the Premier stressed.