China opened two major high-speed rail lines on Dec 28, linking the country's less developed southwest with built-up coastal areas.
It also marks Yunnan province's entry into the nation's high-speed railway network. The new lines link its capital, Kunming, with Shanghai and Guangzhou.
Twenty-nine of 31 provincial-level regions on the Chinese mainland are now served by high-speed railways, excluding only the Tibet and Ningxia autonomous regions.
The 2,252-kilometer Shanghai-Kunming rail line traverses five provinces-Zhejiang, Jiangxi, Hunan, Guizhou and Yunnan-and cuts rail travel time between the two cities from 34 to 11 hours, according to China Railway Corp, the nation's rail service provider.
It's the nation's longest east-west high-speed railway. Trains run from 300 to 350 kilometers per hour, depending on topography.
The new Kunming-Guangzhou line cuts travel time from 16 1/2 hours to 8 hours and 52 minutes, running at 200 to 250 km/h.
A high-speed grid of four north-south lines and four east-west lines is taking shape. In 2008, China set a target to build the grid by 2020. Only two sections have not opened yet, the Jinan-Shijiazhuang and Baoji-Lanzhou lines.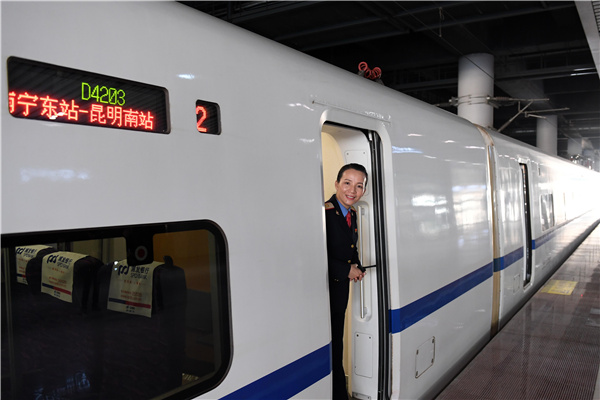 China opens two major high-speed rail lines on Dec 28, marking Yunnan province's entry into the nation's high-speed railway network. [Photo/Xinhua]
"The two new high-speed lines and the newly opened transportation hub at Kunming South Railway Station are important basic infrastructure to link with neighboring countries in South Asia and Southeast Asia," China Railway Corp said in a statement.
The system also aims to help eradicate poverty by transforming the high-speed rail industry into an economic driving force.
Peng Wan, a 28-year-old train fan from Kunming, took a day off work on Dec 28 to catch the first bullet train departure from his hometown.
"In the early 1990s, I took a train from Kunming to Guiyang for the first time. It took about 20 hours. The travel time from Kunming to Guiyang has been reduced, to 17 hours and then to 10 hours, and now to only 2 1/2 hours. Guizhou is our neighbor and we can travel back and forth in the same day," he said.
In July, the National Development and Reform Commission issued an updated national railway development plan envisioning 38,000 km of high-speed railways by the end of 2025, up from more than 20,000 km now.
The current system accounts for 60 percent of the world's high-speed railroads, according to China Railway Corp.
"We will accelerate the construction of railways in central and western parts of China. We will also boost the expansion of intercity and suburban rail links," Zhang Dawei, deputy head of the Transport Ministry's planning department, said in July.
By the end of 2020, plans call for more than 80 percent of mainland cities with a population of at least 1 million to be covered by high-speed railways.