Despite challenges including anemic world growth and volatile global financial markets, China pressed ahead with key reforms in 2016, had steady growth and improved its global influence. The following ten phrases recap the economic year.
Supply-side structural reform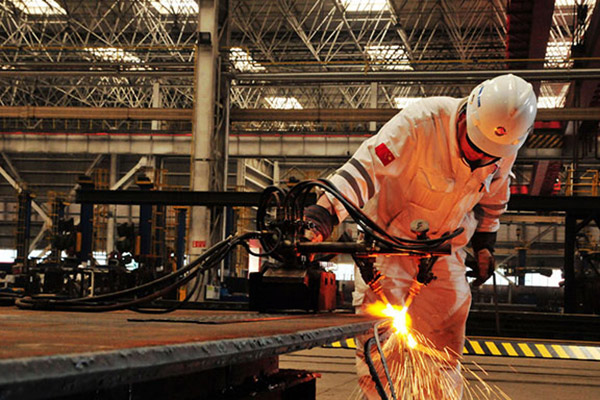 A Chinese worker processes steel at a factory in Qingdao city, East China's Shandong province, July 1, 2016. [Photo/IC]
"Supply-side structural reform" is now a catchphrase in China. Throughout the year, the authorities pushed forward five tasks: cutting industrial capacity, reducing the housing inventory, lowering leverage, cutting corporate costs and improving weak economic links.
The reform has steadily progressed since policymakers proposed it at the end of 2015. A large number of zombie enterprises were shut down this year. Industries plagued by overcapacity and lagging technology must now move up the value chain to stay competitive.
Economy stabilizing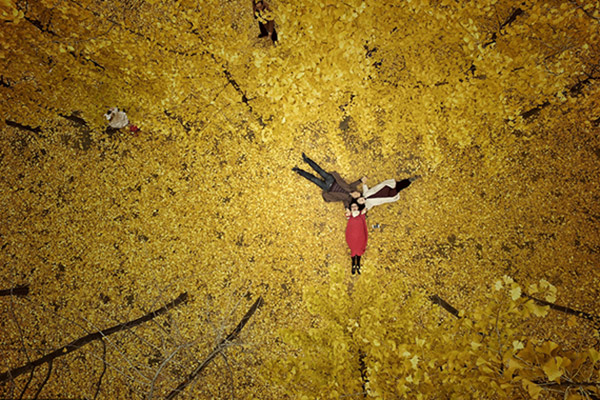 Visitors lay on a golden blanket of ginkgo leaves in Xianyang, Shaanxi province, Nov 18, 2016.[Photo/VCG]
China's capital market fluctuations at the start of 2016 signaled it was going to be a tough year. However, despite the rocky start, the economy is ending the year on a firm footing, and this year's growth target will be met.
In the first three quarters, GDP growth was 6.7 percent, within the government's target of between 6.5 and 7 percent.
At the Central Economic Work Conference held earlier this month, China's leaders said the economy has stayed in a proper range in 2016, but with more quality and efficiency.
Capacity-cutting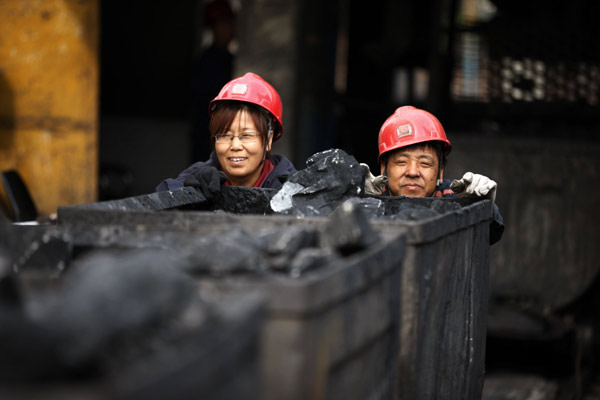 Workers at a coal mine in Huaibei, Anhui province. [Photo/China Daily]
Looking back at the economic priorities set for 2016, industrial overcapacity was always going to be a key battlefield.
Steel and coal, the two most troubled sectors, were prioritized in the battle against overcapacity. In February, the government announced crude steel capacity should be cut by 100 million tons to 150 million tons by 2020, with about 45 million tons to be achieved in 2016.
Coal capacity reduction was set at half a billion tons over the next few years, with 250 million tons expected for 2016. Progress came faster than expected. In November, the State Council announced both targets for the year had been achieved ahead of schedule.
Property market controls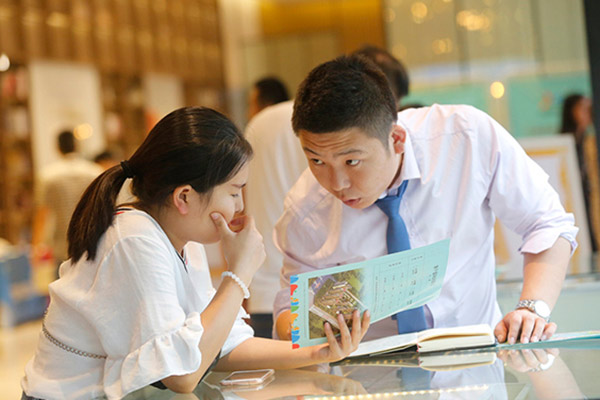 A potential homebuyer talks with a seller in Zhengzhou, Henan province, Sept 10, 2016.[Photo/IC]
It has been a roller-coaster year for China's property market. Prices heated in the first nine months on the back of progressive policy easing. They then cooled as the government imposed tough home-buying rules in late September.
The price increases came amid an expansion of the money supply, including a surge in mortgage loans, that saw investors looking to profit from a rising market.
Aware of the asset risks, Chinese authorities introduced measures from late September in more than 20 cities, including Beijing, Shanghai and Shenzhen, to rein in home prices and contain market speculators.
RMB goes international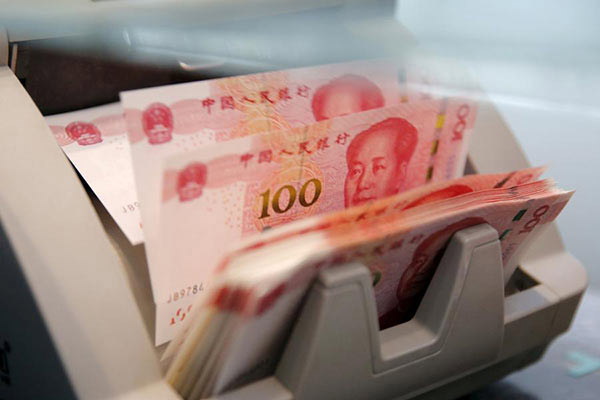 Chinese 100 yuan banknotes are seen in a counting machine while a clerk counts them at a branch of a commercial bank in Beijing, March 30, 2016. [Photo/Agencies]
China made steady progress in internationalizing its currency this year. The yuan's inclusion in the International Monetary Fund Special Drawing Right currency basket in October was a big step forward.
The Shenzhen-Hong Kong Stock Connect, the second link between exchanges on the Chinese mainland and Hong Kong, debuted Dec 5, a move believed to cement the yuan's status as a settlement currency.
Although the central parity rate of the Chinese currency has weakened by more than 6 percent against the US dollar this year, it remains relatively stable against other major currencies.
Poverty alleviation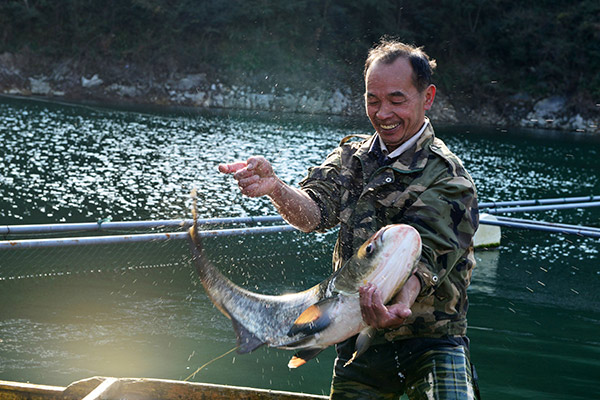 A fisherman catches a fish on a lake in Jianhe county, Southwest China's Guizhou province, Dec 29, 2016. [Photo/Xinhua]
China made progress in poverty alleviation in 2016 by adopting more targeted measures.
In early December, guidelines were issued calling for enhanced collaboration between developed eastern regions and under-developed western regions to bridge the regional development gap and meet 2020 poverty-reduction targets.
The country is on track to achieve the target of lifting 10 million people out of poverty this year.
Northeast rejuvenation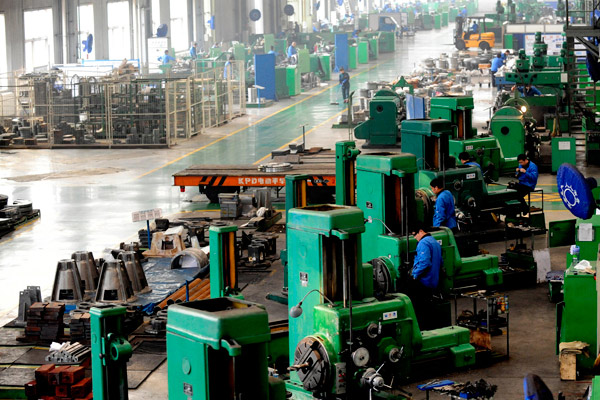 Workers at Shenyang Blower Works Group in Shenyang, Northeast China's Liaoning province, Feb 21, 2011. [Photo/VCG]
The northeast, including Liaoning, Jilin and Heilongjiang provinces, was one of the first regions in China to industrialize. Its traditional industries include steel, automobiles, shipbuilding, aircraft manufacturing and petroleum refining.
However, this once-robust industrial base is bearing the brunt of the country's slowdown, trailing well behind other regions in terms of GDP growth.
China is determined to rejuvenate its northeast "Rust Belt" through reforms and economic restructuring. State-owned enterprises (SOEs) will be restructured, private firms will receive more support, and the region's equipment manufacturing sector will be modernized.
G20 and global economic governance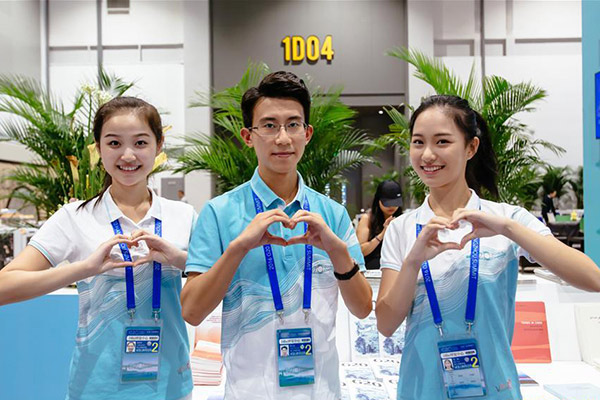 Volunteers pose for a photo at the Media Center of the 11th G20 Summit in Hangzhou, capital of East China's Zhejiang province, September 2, 2016. The 11th G20 Summit was held in Hangzhou from September 4 to 5. [Photo/Xinhua]
The Group of 20 major economies helped pull the world economy through the global financial crisis, but a weak world economy and a problematic global governance system are thirsty for new ideas.
China is playing a role in improving global economic governance, including the establishment of the Asian Infrastructure Investment Bank as a way to support other multilateral financial institutions faced with growing global financing demands.
During the G20 summit held in September in the eastern Chinese city of Hangzhou, participants agreed to push forward reforms of the International Monetary Fund and World Bank.
Belt and Road Initiative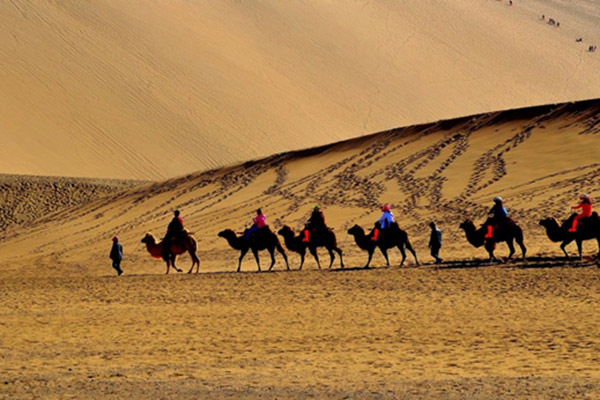 Tourists ride camels on the Mingsha Sand Dunes during a visit to Crescent Moon Spring on the outskirts of Dunhuang county.[Photo/China Daily]
China's Belt and Road Initiative attracted worldwide attention and has been widely welcomed since its introduction three years ago. In 2016, with efforts of many countries, the initiative accomplished a series of achievements in many fields, implementing several landmark projects.
More than 100 countries and international organizations have voiced their support or strong interest in participating in the initiative, and China has signed cooperation deals with more than 40 of them.
SOE reform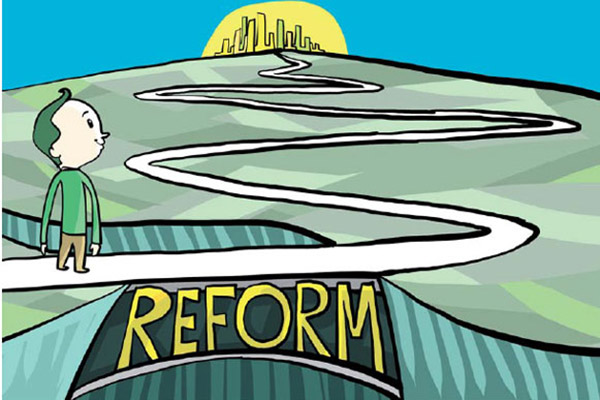 [Photo/China Daily]
Since China published guidelines on its SOE reforms last year, steady progress has been made, including accelerating mergers and acquisitions, and freeing up closed industries to private capital.
From power supply to tourism, consolidation in numerous sectors has gathered pace this year. Chinese policymakers have promised to take substantial steps toward mixed-ownership in the electricity, oil, natural gas, railway, civil aviation, telecommunications and military industries in 2017.