Home grown Chinese companies are set to outperform their multinational rivals in winning over the next generation of Chinese executives in the coming decade, according to a report from top management consulting firm Bain.
Many Chinese executives are willing to forego a perhaps more predictable career path at a multinational company and choose the steeper learning curves and career trajectories associated with local companies, the report says.
James Root, a Bain partner and co-author of the report, said: "Locally owned companies have upped their game in terms of the experience, salary, and employee training and development they provide, in an effort to woo talent away from their multinational competitors."
"Their fast-growing operations present opportunities for China's homegrown talent to rapidly take on leadership roles."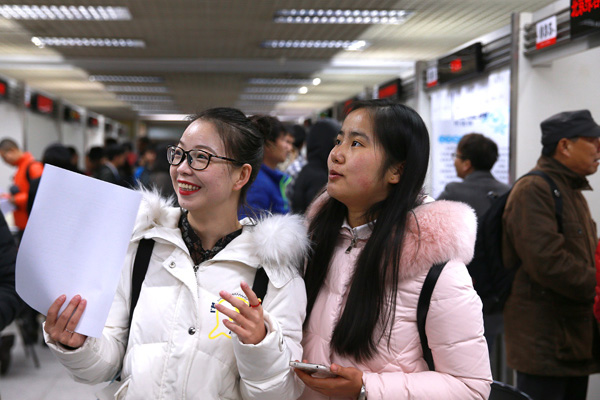 Two undergraduates look at job information at an employment fair in Beijing on Feb 6. [Photo/China Daily]
Decades ago, it was not uncommon for many Chinese business leaders to build their careers at multinational companies in China. They were, in part, attracted by good opportunities for personal development, excellent salaries and benefits packages, and the chance to be involved in international assignments.
However, the talent landscape has changed.
In the past five years, only 10 percent of executives at multinational companies have come from local firms, while almost one-third of the leaders of Chinese firms used to be employed at multinational counterparts, the Bain analysis shows.
This is because local companies are expanding their operations and now offer career growth opportunities that fully compete with established multinational companies.
Feeling encouraged, Chinese nationals will continue to move to local employers as homegrown companies are learning from their competitors, business leaders predict.
Yu Zhiwei, vice-president of LinkedIn China, said: "Some argue that top leaders are likely to go back to their former foreign employers eventually, because training and promotions at local firms are, to some extent, arbitrary. But I'm remaining positive. Local firms are learning fast from their multinational competitors in terms of culture, gender equality and work-life balance."
Luo Jun, chief executive of Tujia, the five-year-old house-sharing platform based in Beijing, said: "The emergence of China as a local economic leader results in localization of human resources ... People will continue to switch jobs to local companies."
However, Zhao Ruobing, senior vice-president of CreditEase, said that Chinese job seekers need to ready themselves for the challenges resulting from this change.
She said: "They must overcome cultural differences, adjust to less structured organizational processes and manage an increase in workload. Executives need to understand that multinational firms and local companies are at different stages of maturity so they can adapt and succeed in the new environment."
As for multinational companies, another author and a Bain partner Stephen Shih said, they had better respond with new strategies to retain managers.
Shih said: "I don't think multinational companies are putting in place new plans to help retain their leaders, and they need to do that."
The research, jointly conducted by Bain and LinkedIn China, analyzed 25,000 Chinese executives whose titles are directors or above. They come from 220 major corporations across 18 industries, representing both the manufacturing and service sectors.