China's consumer prices beat market expectations in January to hit a three-year high thanks to pickup in consumption and travel activities during the Spring Festival season, but analysts said inflation may ease in February and not become a major concern this year.
The consumer price index grew by 2.5 percent year-on-year last month, up from 2.1 percent in December, the National Bureau of Statistics said on Feb 14.
The increase is believed to come mainly as a result of the increasing consumption and travel expenses during the Lunar New Year holiday, which began in late January. "The new year holiday pushed up consumer inflation since prices of food, travel and services rose significantly during that period," said a report by the Bank of Communications.
Food prices, which account for about one-third of China's CPI basket, were up by 2.7 percent year-on-year, while nonfood prices increased by 2.5 percent. "The core CPI, which excludes food and energy prices, rose above 2 percent for the first time since February 2014," Bank of Communications analysts said in a research note. "The trend of continually rising core inflation deserves close monitoring."
Because of the relatively high base of inflation last February, when Spring Festival fell, the index is likely to ease significantly this month, said Hu Yuexiao, analyst of Shanghai Securities. It could drop to 1.5 percent, Hu said.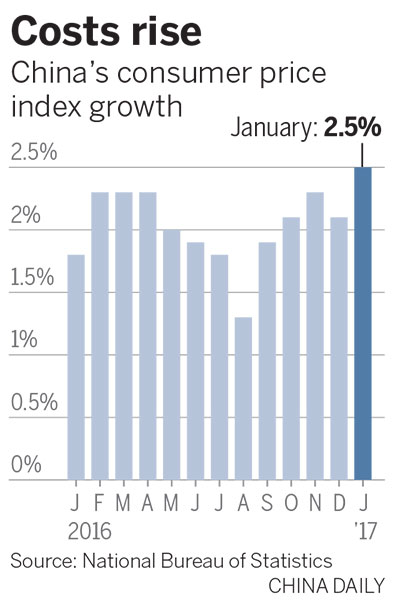 [Photo/China Daily]
Consumer inflation for the year is not expected to be high, analysts agreed.
China's producer price index, which gauges factory-gate prices, rose also faster than expected in January, indicating the economic fundamentals are strengthening.
PPI rose by 6.9 percent year-on-year in January, a five-year high. The rise was mainly due to the carry-over effect of last year's price changes and rising prices of raw materials and energy products in the global market, said Sheng Guoqing, senior statistician of the NBS.
"The rising PPI indicates the country's economic growth is firming up," said the Bank of Communications research note. Policymakers, however, should pay attention to the problem of rising industrial prices encroaching on corporate profits, it said.
Data released this month showed China's manufacturing purchasing managers index, which reflects the manufacturing sector's activities, had expanded for six consecutive months as of January. Exports and imports also picked up strongly in the same month, consolidating views that the world's second-largest economy is on firm ground.
The stabilizing economic fundamentals have led to discussions on whether the central bank will raise interest rates. The central bank has already started to guide market rates higher through open market operations and a boost in liquidity.
China's monetary policy in 2017 has been set to be "prudent and neutral", according to the Central Economic Work Conference late last year.
"The central bank is likely to continue on that path in the months ahead, as policymakers battle excess leverage, yuan weakness and capital outflows, and nascent inflationary pressure," Tom Orlik, chief Asia economist for Bloomberg, told Reuters.