The news conference on the fifth session of China's 12th National People's Congress (NPC) was held at the Great Hall of the People in Beijing on March 4. Fu Ying, spokeswoman for the session, answered questions from media at home and abroad. Here are the highlights of the news conference.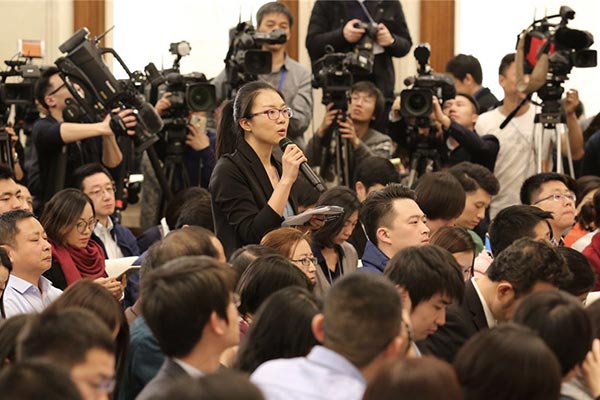 A China Daily reporter raises a question to Fu Ying, spokesperson for the National People's Congress (NPC) annual session during a news conference in Beijing, March 4, 2017.[Photo/China Daily]
China to raise defense budget by about 7 percent.
China will increase its defense budget by about seven percent in fiscal year 2017, and overall military spending will account for about 1.3 percent of GDP.
Fu said these figures were decided by the Chinese government based on economic conditions and national defense requirements.
Fu said there is no need for other countries to take caution against China's defense measures because the nation has never caused any harm to others. The spokeswoman said China's improvement of its defense capabilities is in the interest of regional peace and security.
China expects US policies to have positive impact on bilateral ties
Despite policy adjustments in the US under the Trump administration, the two phone calls made between the presidents of China and the US have sent a clear signal — Beijing and Washington want more cooperation.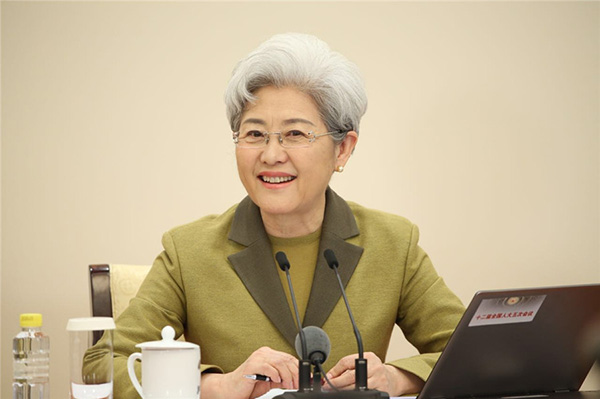 National People's Congress spokeswoman Fu Ying speaking at a news conference in Beijing, March 4, 2017.[Photo/China Daily]
US policy moves under the new government will impact relations with China, while Beijing expects the impact to be "positive".
China will make more effort to bring more information on the country to the US and the whole world.
China actively participates in international affairs
China values the current international order, with the United Nations at the center, and actively participates in international affairs.
China is a founder and beneficiary of the current global governance system, with the UN at the center.
The country also is willing to be a reformer of the existing global governance mechanism and has put forward its own proposals.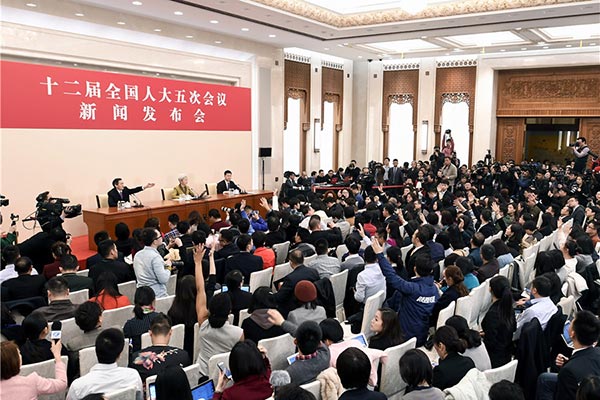 National People's Congress spokeswoman Fu Ying speaking at a news conference in Beijing, March 4, 2017.[Photo/Xinhua]
Property tax bill not to be discussed this year
There is no plan to submit a property tax bill to lawmakers for deliberation this year.
"There have been a lot of discussions on this issue; as such a bill involves a wide range of interests," Fu Ying said.
China's current housing tax mechanism mainly taxes the development and sale of property, without taxing homeownership or the market value of homes.
A reform plan approved by the Third Plenary Session of the 18th Communist Party of China Central Committee in 2013 made clear that the legislation of taxes in the property sector would be accelerated.
Water and soil pollution prevention in China to be heightened
China is stepping up legislation to prevent water and soil pollution as "water and soil pollution in some areas in China is very serious".
Fu Ying also called for public participation in the revision of the Water Pollution Prevention and Control Law, adopted in 2008, and in the formation of the Soil Pollution Prevention and Control Law.
In the past several years progress has been made in environmental protection in China, but it still falls far short of public expectations, and air pollution, in particular, is very serious in parts of China in winter, so persistence is needed, Fu said.
China-India ties should move forward despite issues
China and India should carry on cooperation despite any differences, as the two sides have had thorough communication through diplomatic channels.
"We cannot settle some problems for the moment, but we should not stop stepping forward just because of the problems," Fu Ying said.
Mentioning that there have been some disagreements existing between China and India for years, the spokeswoman called on the two countries to boost mutual understanding.